By Terry Miller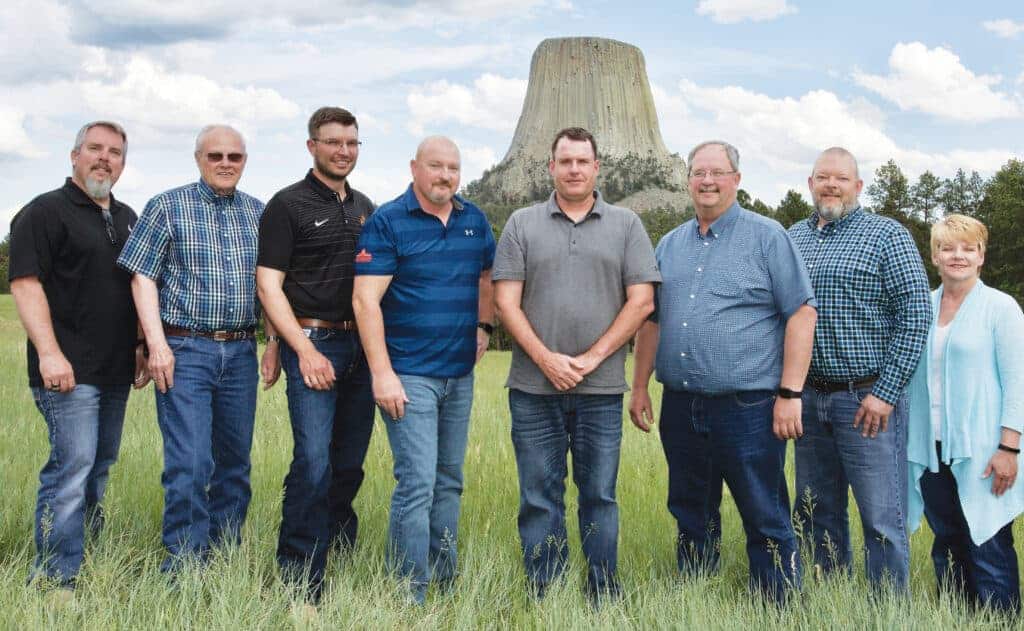 Hulett, WY—Neiman Enterprises, headquartered here, has made a sizable investment in capital improvements to its Montrose Forest Products plant in Montrose, CO so that it can increase output of ESLP studs while also tiptoeing into the Ponderosa Pine production.
The family-owned business owns three other sawmills, two in the Black Hills of South Dakota and one in Wyoming. The stud mill in Montrose, purchased in 2012, is its most recent acquisition.
"When they bought the mill, they put in an all new back end of the sawmill: sorter, stacker, trimmer, line, all USNR Optimization in both of the breakdowns and the board edger, so they invested a lot of money right out of the gate," General Manager Mike Kusar said.
Neiman Enterprises also put Wellons Controls on the dry kilns and added new hardware inside them, installed a new dust collection system, and put in a tarping station for the flat bed lumber trucks. Most recently, a brownfield planer mill equipped with a Newman 1600 Planer and USNR transverse high grader was installed.
"The point of putting in a new USNR double 8-inch arbor gang saw and the planer mill is to take advantage of being able to process other species and other products," Kusar explained. "Currently, we cut dead Engelmann Spruce and Lodgepole Pine primarily. Eventually, that dead timber is not going to be any good to us and we are going to have to switch gears from the studs using the dead wood to green wood stud production. We are also going to do what Neiman does at their other mills best and that is make Ponderosa Pine boards: 1×4, 1×6, and 1×8. This mill will be 12-foot and shorter. The other mills process up to a 16-foot, but we are going to do 8s, 10s, and 12s."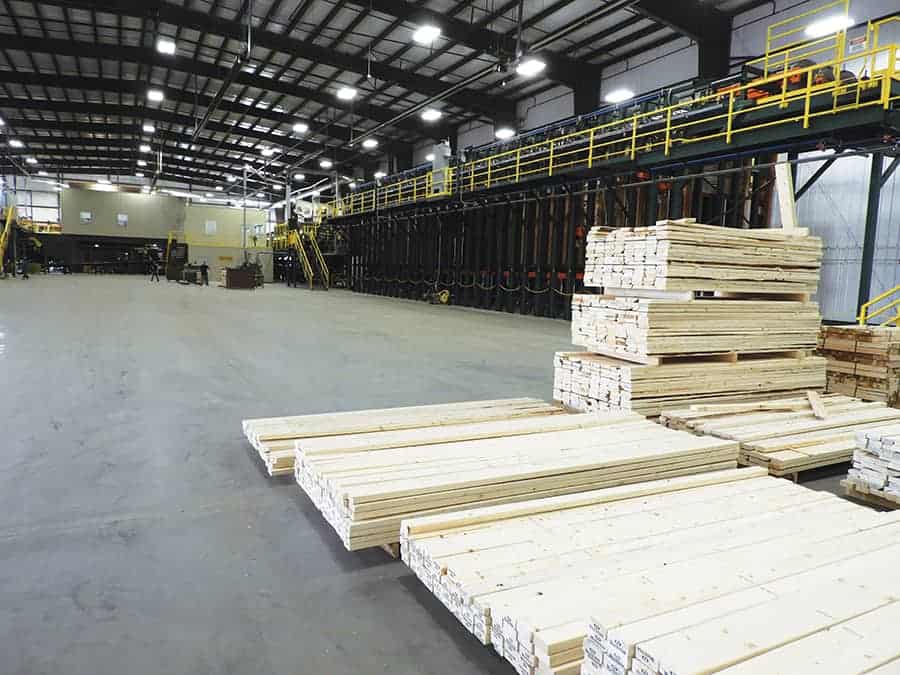 Sales Manager Mike Stevens said: "Right now, we are hitting about 85 million a year in stud production. I would expect our stud production to continue to grow, and we will feed in bits and pieces of this Ponderosa Pine for a while. We will maintain as much stud production as we can while peppering in the Ponderosa Pine, but we will get to a point where that standing dead availability isn't there. My hope would be that we build that to about 40 million board feet per year of Ponderosa Pine, but we are going to have to walk before we run."
Kusar predicted that the 160-acre Montrose facility eventually will spend about half of its time producing studs and the other half on processing Ponderosa Pine. It currently makes two products in dimension, a 2×4 and 2×6 stud and an Economy and Better, which is generally used for pallets and crates. Every package of studs gets end waxed.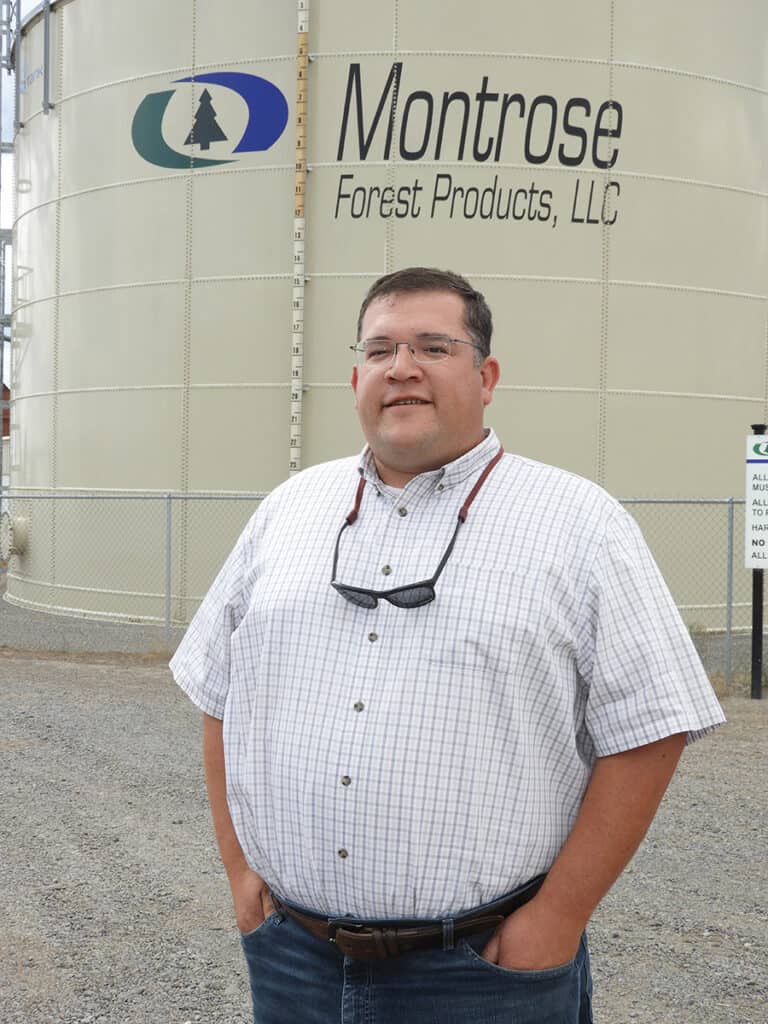 Kusar pointed out that the new planer mill will let them cut almost any length a customer wants as well as precision end trim. "We do all standard 92-5/8, 104-5/8, your 116s and your 120s, but we can do a million lengths in between those as well," he remarked.
"Right now, the three sawmills up here (two in South Dakota, one in Wyoming) are doing about 200 million feet of Ponderosa Pine, mostly in 4/4 boards," Stevens said. "We do some 5/4 and 6/4 shop in Hulett for the window and door plants, but it's a small percentage of our lumber production. Spearfish Forest Products primarily produces 4- to 8-inch boards. On the same site is Spearfish Pellet Company Inc., which makes heating pellets. Then we have Rushmore Forest Products, located in Hill City, SD, which also manufactures 4- to 8-inch boards. Lastly, Devils Tower Forest Products in Wyoming not only makes boards, but also cuts 5/4 and 6/4 shop."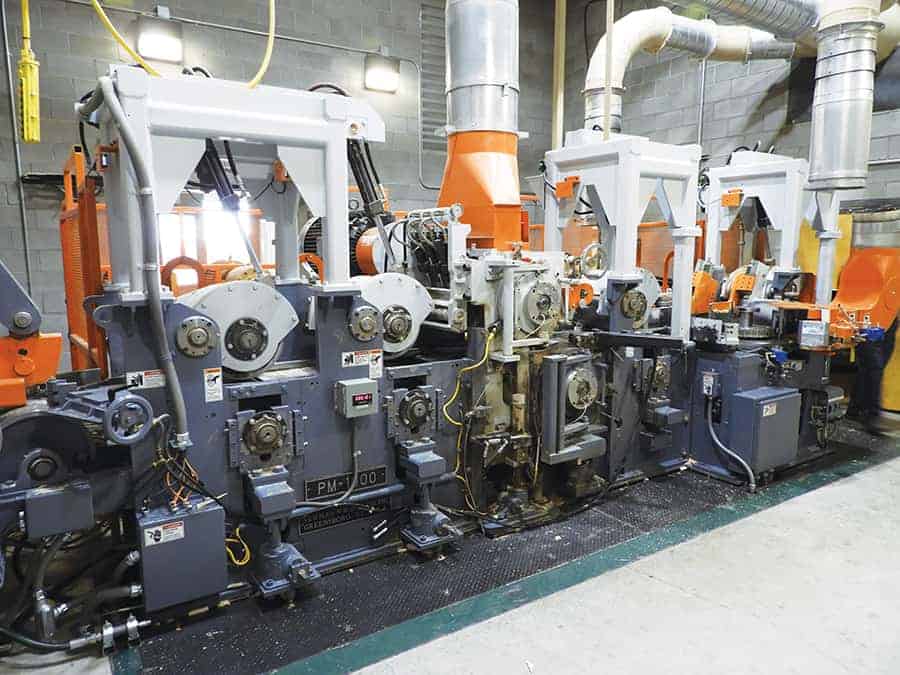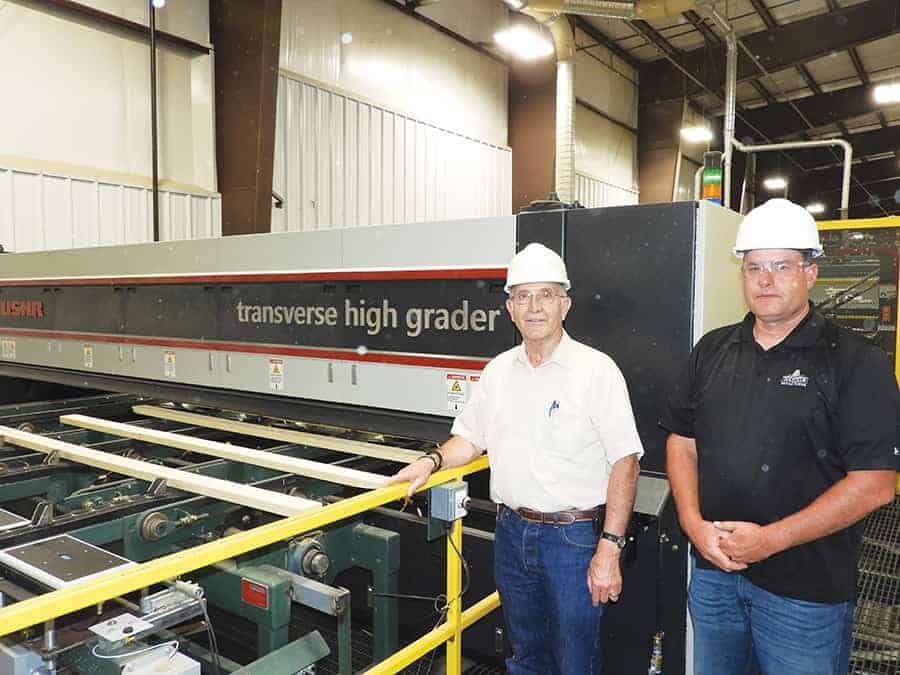 All four mills are WWPA grade-stamped mills. The company offers all WWPA patterns, NELMA patterns, and custom patterns upon request. All patterns are made with Weinig moulders at each location, and Montrose will install a Weinig moulder as production increases and justifies one. "We are currently doing about 40 million feet of patterns, and we expect that volume to grow," Stevens said.
The majority of Neiman Enterprises' customers are distributors, though Stevens noted that the company also does a lot of business with wholesalers that have reman capabilities. "They are a huge part of what makes us successful," he commented.
Retail also is an area where Neiman Enterprises has seen growth. "What's been going on in the country the past three or four months with COVID, retail has certainly been the biggest influence on our market," he said.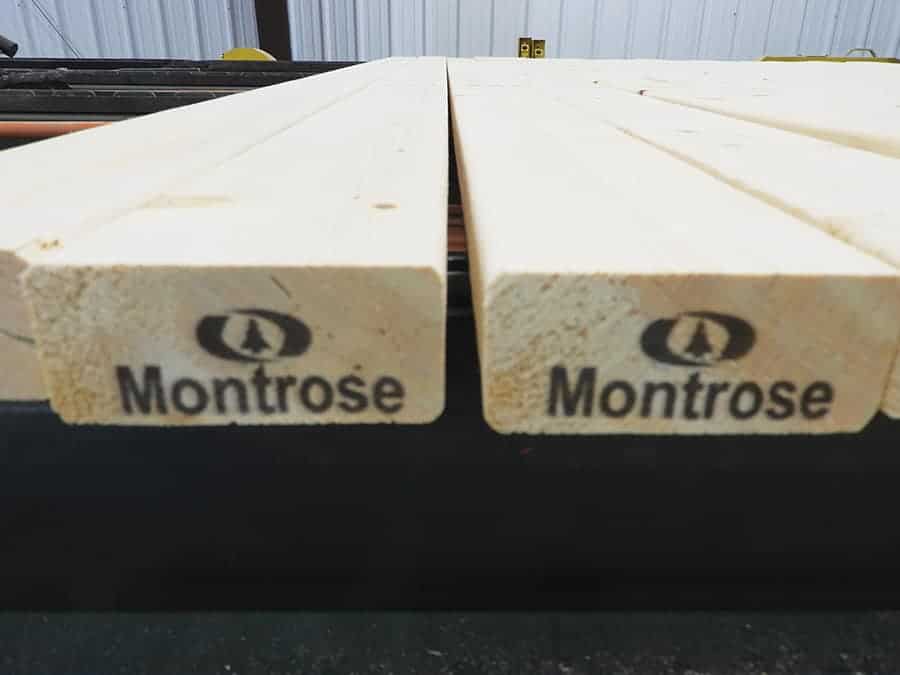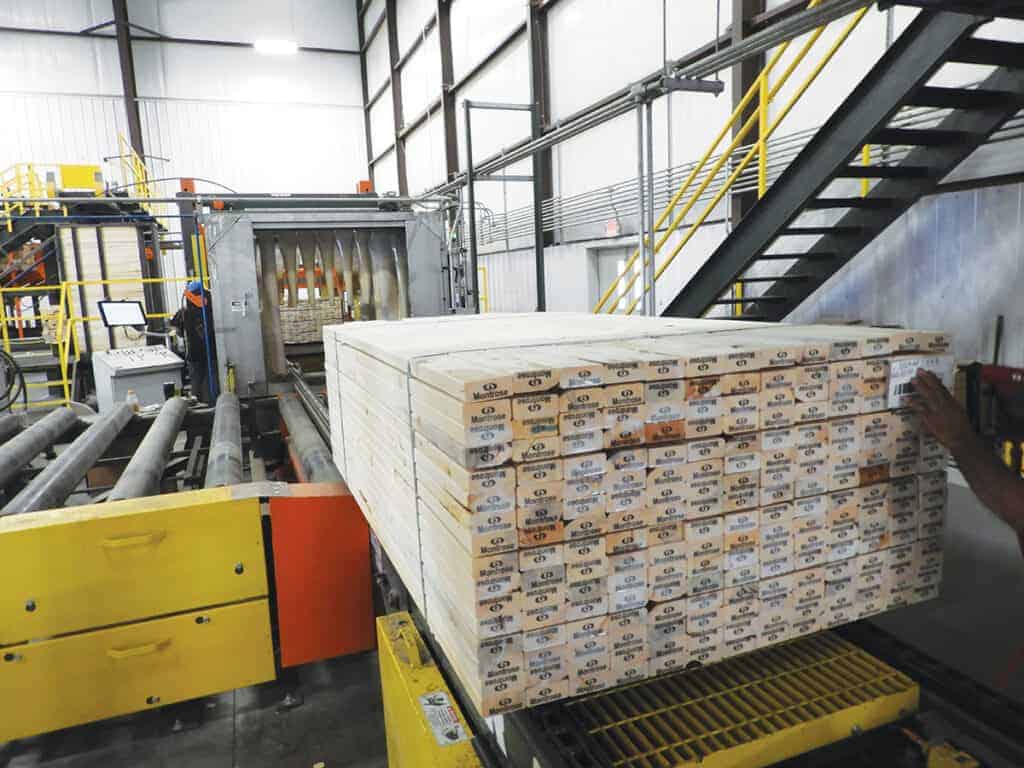 Stevens recounted that his team held meetings two weeks into the pandemic to discuss "what we were going to curtail, how we were going to hold up, how we were going to maintain our health as a company, the health of our employees, how bad this was going to get. My projection was this was going to be devastating.
"We were meeting daily trying to figure out a game plan and then, all hell broke loose," he recalled. "It was a complete 180, we couldn't keep up and we still can't."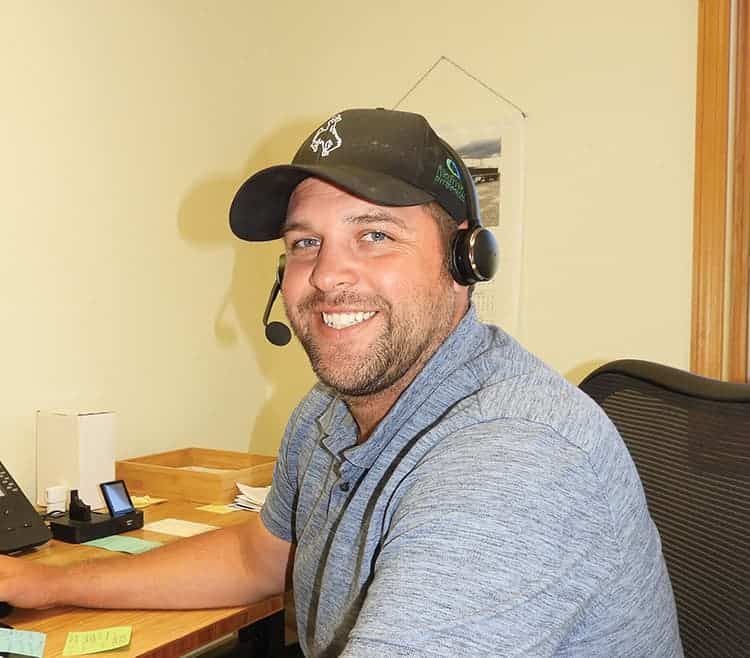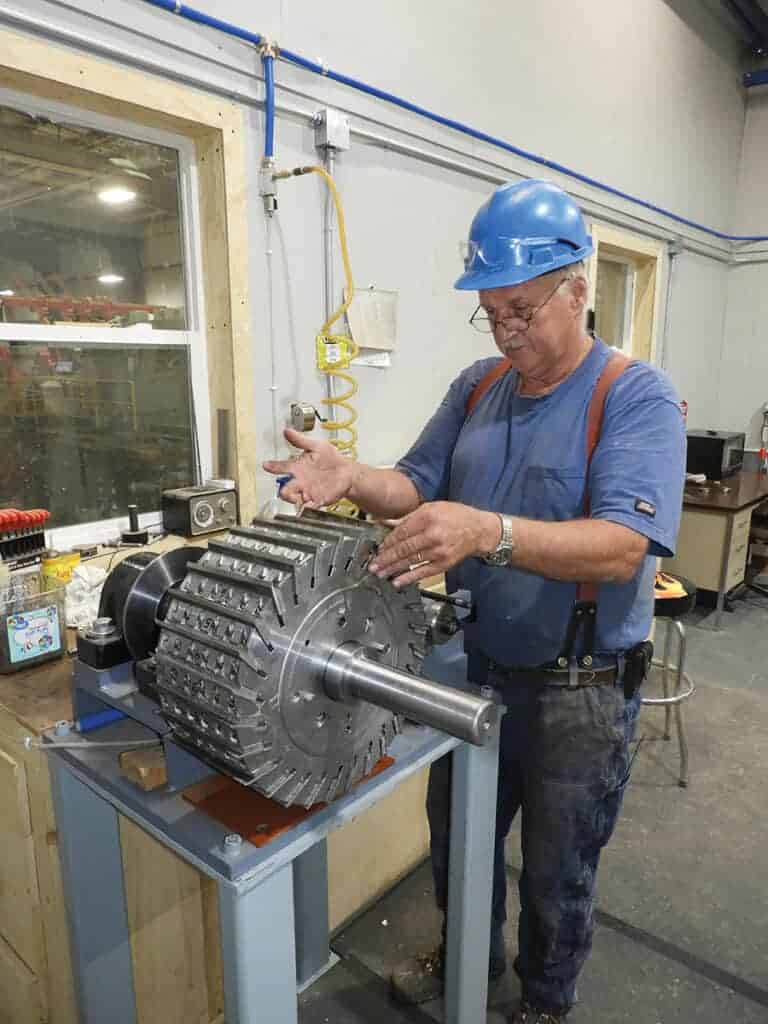 As most people now know, the flood of orders was precipitated by the home-bound do-it-yourselfers. "You can't work for three weeks, what are you going to do," Stevens asked. "You were building a deck, building a fence, or putting up an accent wall. So the retail side on the appearance boards was huge. Then the studs started coming on and now the studs are the same way. Studs are just going nuts."
A broad distribution network means products can be shipped across the United States and a percentage goes to Mexico. "We're the only game in town east of the Rockies, and our bread-and-butter markets are the Great Lakes area and Midwest," Stevens said. "Our proximity to the market is obviously a lot better than 99 percent of your stud production out there," Kusar commented. "When we ship, everything is tarped. This facility in the near future will be able to ship studs and boards on the same truck."
Besides Stevens and Kusar, key personnel among the company's roughly 500 employees include Jim D. Neiman, CEO; Marcus Neiman, co-CEO; Chad Voyles, CFO; Tom Shaffer, COO and general manager; Sheri Stinson, secretary-treasurer; mill managers Matt Swanson, Joe Ortner and Dee Brown; lumber sales representatives Brian Benson, Wes Bush, Wayne Jordan and John McPartland, shaving sales; Dela Bears, sales support; D.J. Wolfskill, company pilot who also handles sales; and Corey Knapp, transportation manager.
Neiman Enterprises has been a member of North American Wholesale Lumber Association since around 1999, shortly after the annual Traders Market was begun. "It is by far the best game in town today," Stevens said. "NAWLA has grown to be the premier meeting place to have face-to-face meetings with customers. We could not visit the number of people that we see at that show not only financially, but we wouldn't have the time."
For further details, visit www.neimanenterprises.com.