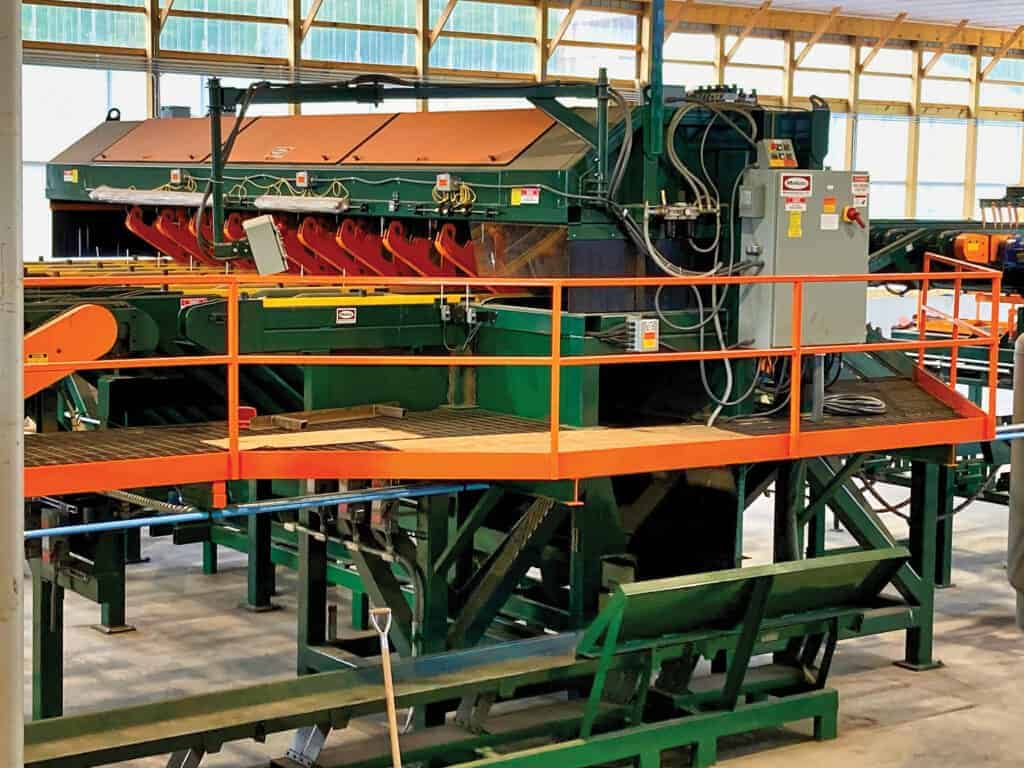 MERCERSBURG, PA—Gessner Logging & Sawmill Inc., located in Lykens, PA, recently installed a custom designed mill system from Mellott Manufacturing Co., Inc., located here. The drop saw trimmer and grading station line create an integrated flow to maximize efficiency and trimming accuracy along with grade recovery. 
The system includes a Mellott 6 ft. 17-degree slant band headrig, 42" bar turner, drop belt, rollcases, transfers and vibrating conveyor systems. The installation included a Cleereman LP42 tilted carriage.
Gessner opted to rebuild their fire damaged Mellott 48" debarker, converting it to hydro-electric, to be used as a butt reducer ahead of a Nicholson R2 ring debarker, that is followed by a Mellott belt conveyor with an MDI TWA-2000-HD surround metal detector system.
The Mellott ruggedly built trimmer is designed with the ability to be used for production of crane mat material. It trims up to 8" and will pass 12" cants. Not only is this trimmer heavily built, but also the innovative saw ladder design allows for quick belt replacement without loss of saw alignment. The trimmer features dual assist springs to raise saws quickly and stacked cylinders for three saw positions (trimming, partially raised to pass boards and small cants, and fully raised to pass through ties and large cants). The trimmer system is made of modular components, and the control packages are easily designed to fit each particular application. To make installation as seamless as possible, Mellott fully tests the trimmer system before shipping, according to Mellott.
Mellott systems are custom designed as required. Customers benefit by having manufacturing along with in-house engineering and design capabilities and a willingness to work together to provide the best options for each project, according to the company. For more information, go to www.mellottmfg.com.