West Bros Furniture Introduces New Lineup with U.S. Hardwoods
Available this month, West Bros Furniture, a case goods manufacturer located in Hanover, ON, is introducing a new lineup of writing desks. Walnut, White Oak and Cherry are among the U.S. lumber species used in these products.
West Bros' design partner was Blake Tovin and together they are releasing the new desks, mostly 52-inch designs. In a statement, West Bros said these pieces aim to complement the manner in which people work from home.
All the desks' drawer construction is dovetail joinery in Maple, according to a company spokesperson.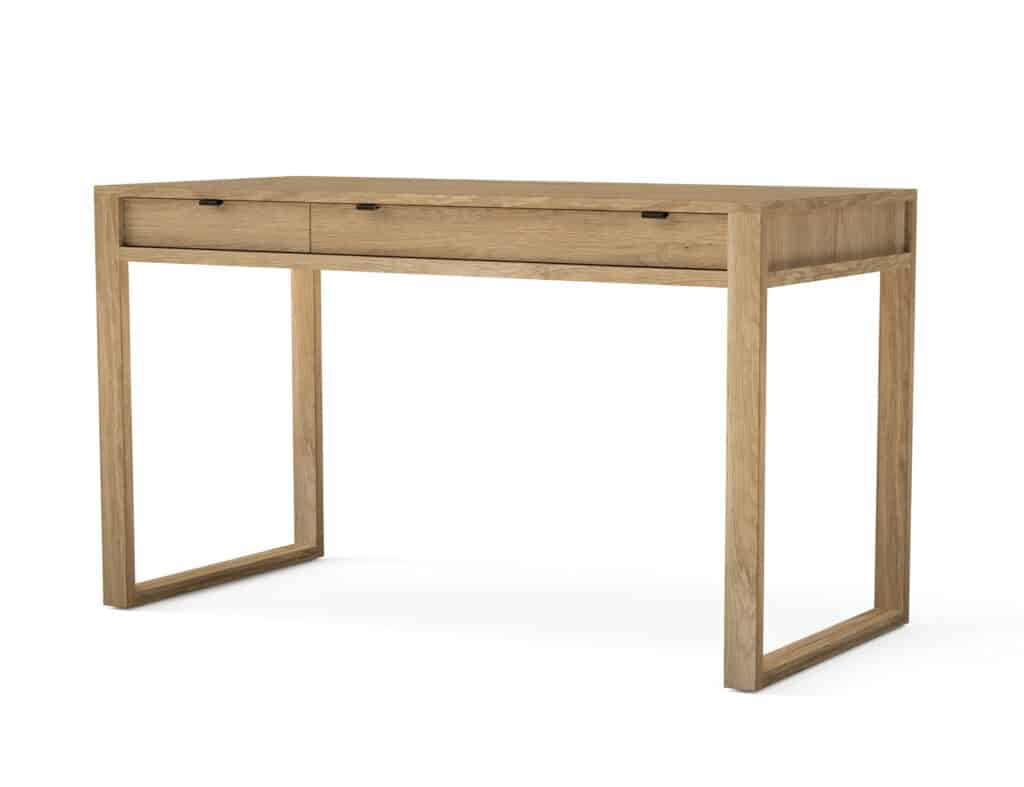 The new desk lineup includes: Camber, made of solid Cherry; Phase, manufactured with Black Walnut and White Oak; Serra, made of solid Walnut; Fulton, featuring White Oak solids and veneers; and Hayden, as well as Odeon, comprised of solid White Oak.
West Bros has been producing high quality, sustainable solid wood in their Ontario plant for over two decades. The company remains family owned and operated.
Learn more at www.westbrosfurniture.com.
CITT Releases Statement on China's Decorative Plywood Imports
The Canadian International Trade Tribunal (CITT) recently issued a determination that decorative plywood imports from China have not injured and are not threatening to injure Canadian producers of the product.
The Canadian Hardwood Plywood and Veneer Association (CHPVA), located in St. Lazare, QC, said in a statement that it was surprised and disappointed by this decision.
In a parallel investigation the Canada Border Services Agency (CBSA) determined that large volumes of Chinese imports of decorative plywood were being dumped and subsidized at margins of up to 300 percent. The CITT was responsible for determining if the unfairly traded imports had caused injury to the Canadian industry or threatened to do so in the future.
In recent years, several Canadian companies producing decorative plywood have gone out of business in the face of competition from dumped and subsidized Chinese imports. The complaint was filed to address the impact that unfairly traded Chinese imports have had on the Canadian market.
At the time of this writing, the CHPVA found it difficult to understand how the Tribunal reached the conclusion it did in this case. Subsequently, CHPVA and coalition member companies filed an appeal of the CITT decision in the Federal Court of Appeal in Ottawa on March 19.
The CHPVA is the national association representing the Canadian Hardwood plywood and veneer industry in all technical, regulatory, quality assurance, and product acceptance.
Its members manufacture rotary, sliced, and jointed Hardwood veneer, as well as decorative panels used in manufacturing furniture, paneling, cabinetry, doors, shelving, and other similar products.
Its associate members are businesses engaged in production, sales, and distribution of materials and machines for the industry, or that provide services such as brokerage, research, consultation, and transportation to the industry.
For additional information: Patrick Laurin, executive vice president, at plaurin@chpva.ca. 
Lawmakers Ask Biden and the Justice Department to Act on Lumber
The National Association of Home Builders (NAHB) recently reported that Reps. Jim Costa (D-Calif.) and Jodey Arrington (R-Texas) recently sent a letter to President Biden and the Department of Justice urging the administration to respond to rising building material prices and supply shortages, particularly, lumber, that are harming the housing market and threaten the economic recovery. The two lawmakers also attached a letter sent last fall for former President Trump to address that was signed by nearly 100 members of the 116th Congress seeking action on the lumber issue.
Using data provided by the NAHB, the lawmakers stated that "shortages of lumber have nearly tripled the price of lumber since mid-April 2020, causing the price of a new single-family home to increase by more than $24,000."
NAHB's top priority is to find solutions that will ensure a lasting and stable supply of lumber for the home building industry at a competitive price. NAHB is urging the Commerce Department to investigate why lumber production — particularly sawmill output — remains at such low levels during a period of prolonged high demand.
Reps. Costa and Arrington mirrored those concerns and stressed the need to boost sawmill activity in their letter to Biden and the Department of Justice. "Unfortunately, this unprecedented price increase on new homeowners, as well as home builders, will persist until new sawmills come online and current mills re-open and operate at full capacity," the letter stated. "To address this issue, we ask your Administration to facilitate a discussion with all stakeholders, including sawmills, home builders, loggers, and distributors, to ensure all needs are met in a timely manner."
Read all housing news at www.nahbnow.com.
FHFA Extends COVID-19 Multifamily Forbearance Through June 30
The Federal Housing Finance Agency (FHFA) recently announced that Fannie Mae and Freddie Mac (the Enterprises) will continue to offer COVID-19 forbearance to qualifying multifamily property owners through June 30, 2021, subject to the continued tenant protections FHFA has imposed during the pandemic. The programs were set to expire March 31, according to the National Association of Home Builders.
"COVID-19 continues to financially impact Americans across the country, thereby hindering many tenants' ability to pay their rent. To help tenants in financial distress and property owners, FHFA is extending the multifamily COVID-19 forbearance and tenant protections through the end of June 2021," said Director Mark Calabria.
Property owners with Enterprise-backed multifamily mortgages can enter a new or, if qualified, modified forbearance if they experience a financial hardship due to the COVID-19 emergency. Property owners who enter into a new or modified forbearance agreement must:
Inform tenants in writing about tenant protections available during the property owner's forbearance and repayment periods; and Agree not to evict tenants solely for the nonpayment of rent while the property is in forbearance. Additional tenant protections apply during the repayment periods. These protections include:
Giving tenants at least a 30-day notice to vacate; not charging tenants late fees or penalties for nonpayment of rent; and allowing tenant flexibility in the repayment of back-rent over time, and not necessarily in a lump sum.
In addition to requiring written tenant notification, the Enterprises have posted the tenant protections to their respective online multifamily property lookup tool websites. The property lookup tools on the Fannie Mae website and Freddie Mac website make it easier for tenants to find out if the multifamily property in which they reside has an Enterprise-backed mortgage.
Learn more at www.nahbnow.com.
NWFA Completes 54th Home with Gary Sinise Foundation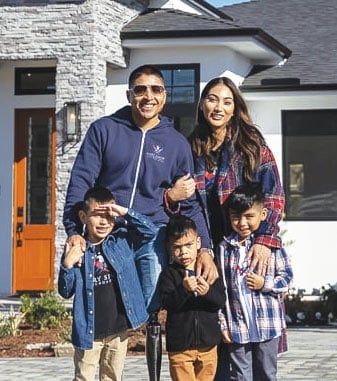 The National Wood Flooring Association (NWFA) of St. Louis, MO, has provided flooring for its 54th home in support of the Gary Sinise Foundation R.I.S.E. program (Restoring Independence Supporting Empowerment).  The R.I.S.E. program builds custom, specially adapted smart homes for severely wounded veterans and first responders.  The home dedication for United Stated Marine Corps Corporal Josue Barron took place recently in Temecula, CA.  Flooring for the project was donated by NWFA member Mannington.
Corporal Barron joined the 0311 (infantry) and was a fire team leader with 3rd Battalion 5th Marines out of Camp Pendleton. His first deployment was the 31st Marine Expeditionary Unit in 2009, which took him to Japan, Korea, Thailand, the Philippines, and Australia. He was injured in 2010 during his second deployment to Afghanistan while on foot patrol. On the way back to the base, his engineer stepped on an improvised explosive device (IED), hitting them both, and resulting in amputations for both.
"Corporal Barron joined the Marine Corps when he was just 17 years old, and credits them with providing the discipline and leadership he needed in his life," said NWFA President and CEO, Michael Martin. "He received a Purple Heart and combat action ribbon for his actions, and credits other disabled veterans who face tougher challenges with inspiring him to overcome his own. We're honored to partner with Mannington to provide flooring for his new home."
In addition to the 54 homes already completed, NWFA currently is working with its members to source wood flooring for 13 additional R.I.S.E. homes in various stages of planning and construction.  Currently, 141 NWFA member companies have donated product, logistics, and installation services in locations throughout the United States, with a total value of more than $5.2 million.  A list of all NWFA R.I.S.E. participating companies can be found at www.nwfa.org/giving-back.aspx.
To learn more about the program, and how you and/or your company can get involved, contact the NWFA at 800-422-4556, or e-mail them at anita.howard@nwfa.org.
The National Wood Flooring Association is a not-for-profit trade organization, with more than 3,200 member companies worldwide, dedicated to educating consumers, architects, designers, specifiers and builders in the uses and benefits of wood flooring. The NWFA can be contacted at 800-422-4556 (USA & Canada), 636-519-9663 (local and international), or at www.nwfa.org.