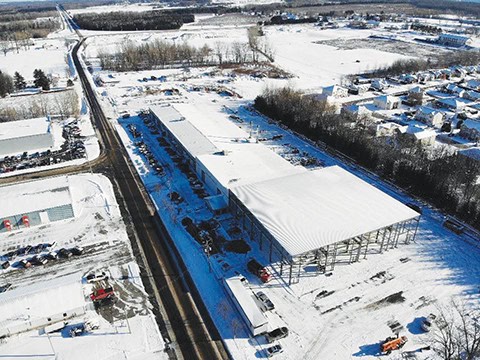 Plessisville, Quebec— As a global supplier and exporter of commercial and industrial equipment, Carbotech, with its head office here, is a major industry player that specializes in manufacturing sturdy equipment for sawmills and planer mills in the hardwood and softwood industries that need durable, reliable solutions for their operations. 
In keeping with the company's forward-thinking philosophy, work is going full steam ahead for the expansion of the Plessisville plant. This expansion will bring more than 21,000 square feet of new manufacturing power.
This major investment will do more than just boost production capacity; the expansion was also designed to allow the plant to make more log-handling equipment and systems.
The company already offers turnkey installation for its state-of-the-art solutions—resulting in immediate productivity gains for its customers, according a company press release.
This major expansion will allow the company to meet the ever-growing demand for its products, all while creating more local employment, ensuring its production capacity is always up to par with the innovative spirit for which it is known, and continuing to provide its solutions around the world, according to the press release.
Carbotech is a sought-after partner in the market. Its workforce of approximately 100 dedicated, reliable employees devotes itself to working on new concepts and patents so that Carbotech can consistently deliver superior quality equipment, the press release stated.
For over 30 years now, the company has been focusing on its four main pillars: know-how, speed, precision and toughness.
For more information, go to www.carbotech.ca.