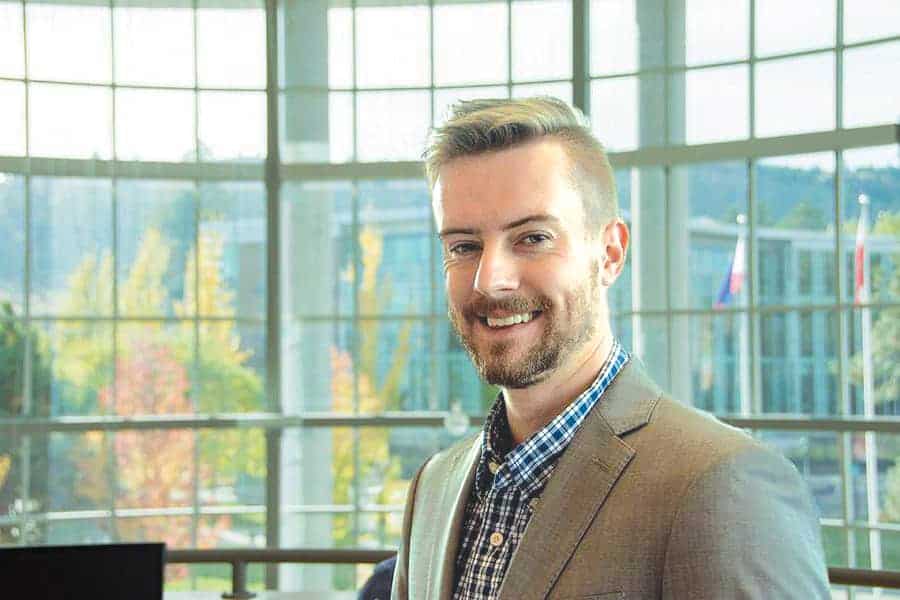 Barriere, BC— Aidan Coyles recently was promoted to a position in sales and marketing for Gilbert Smith Forest Products Ltd. (GSFP), located here. Coyles is in training to become the next sales and marketing manager for GSFP. The company is a specialty cut primary lumber manufacturer with sales regions spanning North America and the European Union, as well as Central Europe, Australia, New Zealand, Taiwan and Korea.
GSFP focuses on tight knot Western Red Cedar manufacturing with products including GS Select rough green blanks, 2×4 – 2×12 at 1-13/16 x 1/8 off; 2×4, 2×6 5/4 x6 AK S4S green decking; 2x4x8', 2×6, 2x8x8' – 16', No. 1 face rough or S4S; and 1×4, 1×6, 1×12 in S1S2E and 4×4 tight knot posts. The company offers GS Select rough blank for remanufacturers to run into pattern stock.
Coyles has worked in his present position since January of 2021. He has worked for GSFP since 2013. His first job in the industry was as a summer student in Gilbert Smith's forestry department, where he was involved in timber development, silviculture management and operational forestry. He was a summer student for five years and Woodlands Supervisor for two years.
Coyles, originally from the UK, graduated from Thompson Rivers University with a degree in Natural Resource Sciences and an MBA.
He has been listed as a Registered Professional Forester since February of 2021. In his free time, he enjoys mountain biking, hiking, camping, paddle boarding and skiing.
For more information, go to www.gsfpcedar.com.