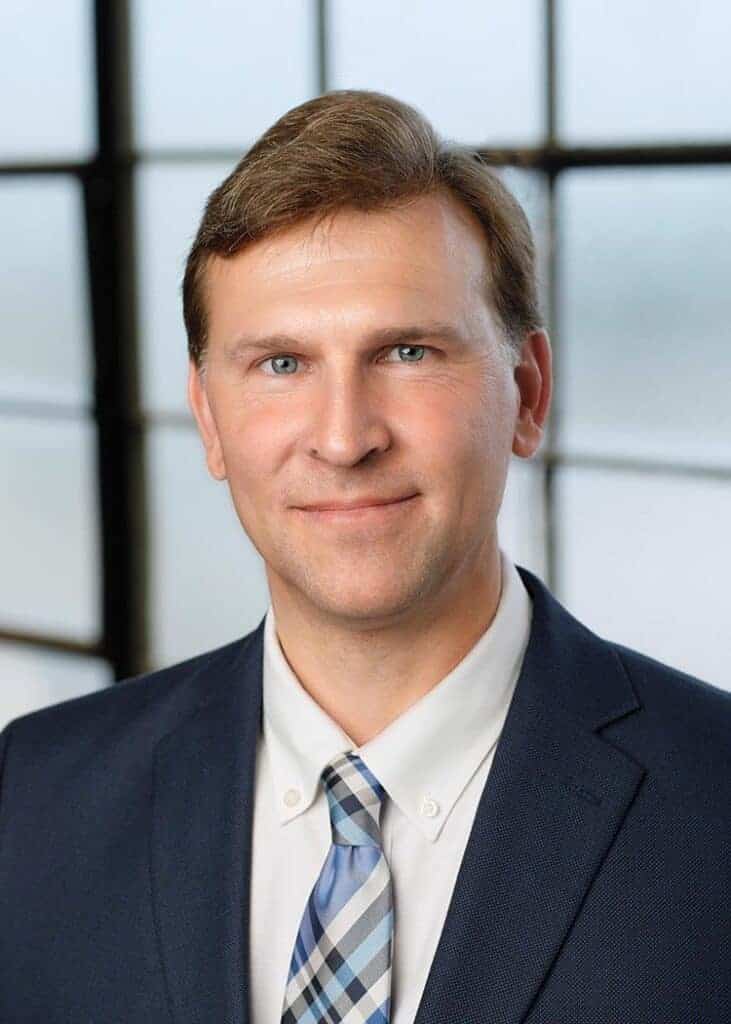 Memphis, TN—Miller Wood Trade Publications (MWTP), located here, recently announced that Chris Fehr has joined the team to cover the Midwest U.S. region. Fehr brings nearly 30 years of experience in the lumber industry and holds a Bachelor of Science degree in Forestry from the SUNY College of Environmental Science and Forestry at Syracuse University.
He began his career as a procurement forester with companies like Baillie Lumber and Coldwater Veneer before moving into lumber sales with Northwest Hardwoods, and then lumber and moulding sales with Keiver-Willard Lumber. Most recently Fehr was the national sales director for U-C Coatings, selling wood protection products to the lumber industry.
"We are extremely fortunate to welcome Chris, who has a lot of experience in the industry we serve, to our sales team for both National Hardwood Magazine and the Import/Export Wood Purchasing News," said Terry Miller, vice president of MWTP. "Chris's depth of knowledge about our industry is well-known and he is very well-respected. We are excited to have a veteran of his caliber join our team."
In his free time, Fehr enjoys hiking, kayaking, watching his daughter's college water polo games and is a lifelong fan of the Buffalo Bills.
Miller Wood Trade Publications is the premier information source for the forest products industry. Established in 1927, the company publishes 9 wood trade publications distributed to specialized markets worldwide and serving every segment of the billion-dollar industry.
To learn more, go to www.millerwoodtradepub.com.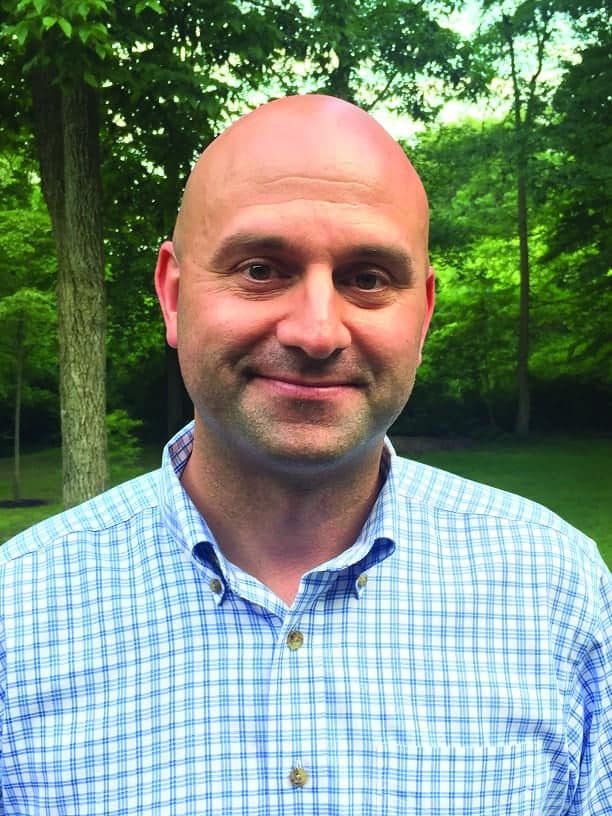 Akron, IN –James W. (Jim) Steen recently stepped down as president of Pike Lumber Co. Inc., based here, handing the reins to Craig M. Brouyette, who has served as executive vice president for the last eight years. Also, Chris Herrell has been promoted to executive vice president/vice president of operations.
Brouyette has worked for Pike in various roles, starting in the management training program in 2002. Prior to this, Brouyette graduated from Manchester College in North Manchester, IN with a bachelor's of science degree in Business Administration and worked in the insurance industry. Brouyette began his Pike career in sales, and has served as sales manager, executive vice president and continues as a member of the Pike board of directors. Brouyette has developed a passion for the Hardwood industry and is currently finishing his term as Indiana Hardwood Lumbermen's Association (IHLA) president. He has also served as IHLA Forestry Council president and will continue as a member of IHLA's executive committee. Brouyette, his wife, Michelle, and family live in Rochester, IN.
Herrell has worked for Pike in various roles, starting in the management training program in 2002. Prior to this, Herrell graduated from Purdue University in West Lafayette, IN with a bachelor's of science degree in Business Administration and worked in the meat processing industry. Herrell started his career at Pike as the kiln dried processing supervisor. He has served as the Akron production manager and vice president of operations. Herrell and his wife, Lori, live on the family's farm in rural Macy, IN.
Steen will take on a part-time role, working on operational efficiencies and other special projects while continuing to serve as a member of the Pike board of directors. He also plans to remain active in the Akron community.
Pike Lumber Co., Inc, is northern Indiana's largest manufacturer and distributor of kiln dried Hardwood lumber. Established in 1904, Pike continues to provide area landowners with forest management services, while marketing kiln dried lumber around the world.
To learn more, visit www.pikelumber.com.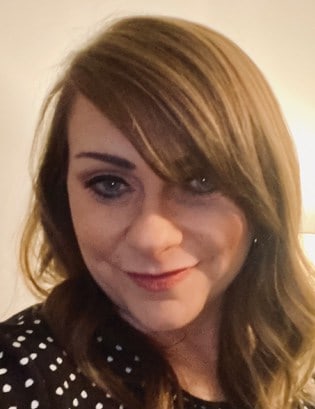 Atlanta, GA—Kellee Griffith was recently hired as a national salesperson by AHC Hardwood Group, headquartered here. Griffith is based in Clarksville, TN. Prior to joining AHC Hardwood Group, Griffith worked for Cardin Forest Products, where she began her career in the industry as a kiln-dried lumber salesperson in 2015.
AHC Hardwood Group manufactures S4S, mouldings, hobby boards, specialty trim, cabinet components, furniture parts, window and door parts and VikingWood in species to include Ash, Basswood, Cherry, Hard and Soft Maple, Hickory, Poplar, Red and White Oak and Walnut.
Griffith graduated from Marion County High School in Jasper, TN in 1996 and from Middle Tennessee State University in Murfreesboro, TN with a bachelor's of science degree in political science in 2001. She is an alum of Chi Omega sorority.
For more information, visit www.hardwoodweb.com.
Newald, WI—Cleereman Industries, located here, built a new Hardwood mill for Buskirk Lumber in Freeport, MI which recently started up. This project started in 2021 and is a brand new ground-up mill.
Cleereman Industries did all of the engineering for this mill project. This started with several onsite visits and concept drawings until the customer, Paul Kamps, was satisfied.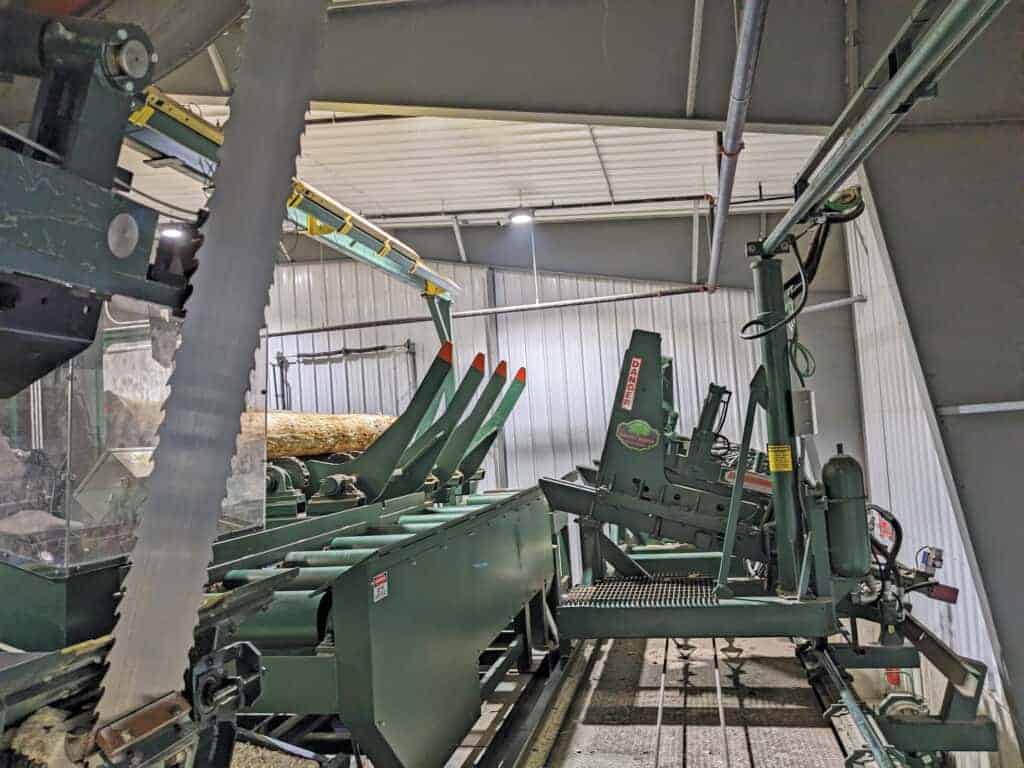 This mill starts with a Nicholson A-6 Ring Debarker line for which Cleereman Industries supplied the log decks, log hauls, metal detector, substructure and operators cab. Once logs pass through the Debarker line into the mill they kick both ways feeding two Cleereman tilt double cut LP-42 linear carriages with two 150hp hydrostatic carriage drives. These linear carriages both have Cleereman Controls with optimization package. These carriage lines include Cleereman log decks, back drop roll case for double cutting, log turners, drop belts, sawyer's cabs and Headrig roll cases.
Cleereman Industries worked with several other vendors on the project. Mellott Manufacturing supplied two 6-foot double cut band mills, 6-foot line bar resaw with run around, drop saw trimmer and grading line, and all the vibrating waste conveyors.
The Edger in this new mill was supplied by TS Manufacturing and is their Lineal Close Coupled 3-Saw Edger System with Snap Shot Scanning.
The installation of this mill was done by Ray Tharpe's team at RTM Industrial Maintenance.
"Cleereman Industries would like to thank Nicholson Manufacturing, Mellott Manufacturing and TS Manufacturing for working with us on this project," said Cleereman Vice President Paul Cleereman. "Cleereman Industries would also like to thank Paul Kamps for his continued business with Cleereman Industries."
To learn more, visit www.bidgroup.ca.
Mirabel, QC—BID Group, with its head office here, recently announced it will be expanding its digital offering with its new AI-Powered Smart Vision. Ideally positioned to lead the digital transformation, BID is bringing sawmills to higher productivity levels, the company stated. BID Group provides industry-leading solutions for its highly valued customers by delivering a complete range of smart equipment, turnkey installations, digital technologies and aftermarket services.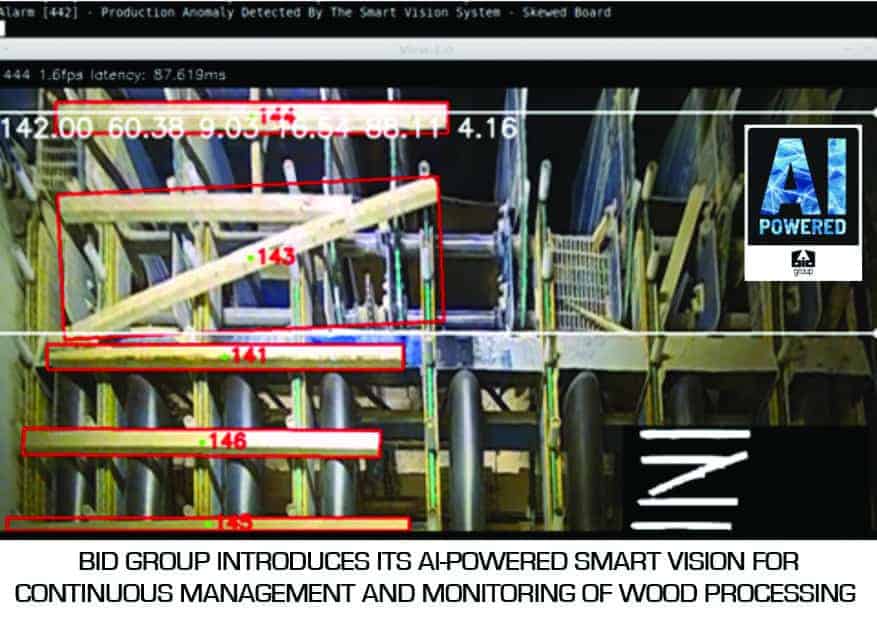 The system can be deployed at all stages of the process and uses Artificial Intelligence to analyze images from the cameras that constantly watch production and identify objects of interest, leading to an increase in productivity.
According to a company press release, BID's Smart Vision will better serve its customers by providing the following benefits and technologies to sawmill and planer mill operations:
•Identification of production anomalies that normally require mechanical and/or human intervention
•Reduction of major production stoppages and equipment breakdowns
•Alerts when a problem occurs so that action can be taken automatically or manually
•Continuous management and monitoring of one or more stages of the wood transformation process
•Ongoing measurement of quality control and optimization of equipment maintenance
"We are proud of our team and the hard work that was put into our new Smart Vision, a technology that will allow our customers to easily optimize their production flow and get the most out of their mill. Artificial Intelligence is changing the face of our industry and BID is leading the revolution by relentlessly pushing the limits," said Simon Potvin, president of Wood Processing.
BID's Smart Vision is only the beginning, the company stated; a series of applications is to be developed, in addition to the ones just launched.
Learn more about BID at www.bidgroup.ca.
Wadley, GA – Cooper Machine Company, located here, a long-established manufacturer of quality sawmill equipment, recently announced that it is partnering with the sawmill machine manufacturer EWD Sagetechnik, of Altötting, Germany, effective as of February 2023.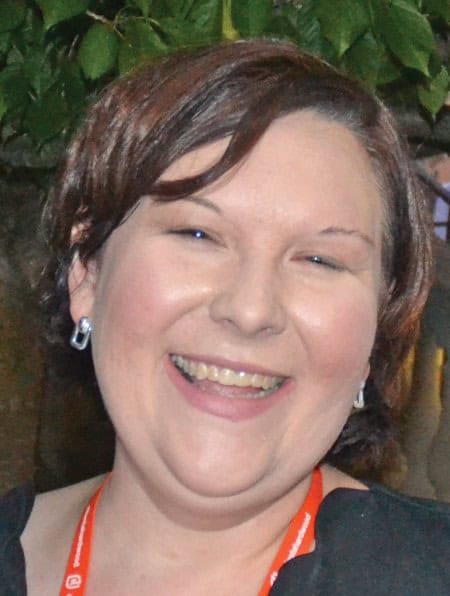 "We at Cooper Machine have been offering our customers located in the U.S., Canada, and other countries, wood processing equipment for sawmill, pallet and post and pole mills since 1965," said Frances Cooper, CEO. "This equipment has set new standards in the industry for quality, efficiency and productivity. All Cooper Machine equipment is built with our customers in mind to minimize labor and to get the most out of each log. Our company, now in its third generation of successful management, covers all services from technical development, to commissioning to sawmill staff training on our machines. Cooper Machine's focus is always on customer success."
Since 1862, the premier European innovative company EWD, with 250 employees in Germany, has been one of the world's leading companies in sawmill plant construction, according to a Cooper press release. Quality awareness, reliability and customer orientation are among the most important values of the company and represent an extremely positive success factor, according to the release.
The partnership with EWD Sagetechnik allows Cooper Machine to expand its portfolio and take advantage of the opportunity to offer an expanded range of sawmill equipment to further serve their customers' needs.
"In the future, with labor getting more expensive and harder to find, we want to offer our customers fully automated sawmills. With the same shared beliefs, we believe we have found the ideal partner in EWD Sagetechnik," explained Frances Cooper.
"Working with EWD will offer many advantages for Cooper Machine customers since we will be able to offer their wide array of well-designed, German-engineered sawmill equipment, along with service and parts located here in the U.S.," Frances Cooper noted. "Cooper Machine has committed to providing successful customer service on all EWD equipment it sells and will stock the parts needed to back the service. We at Cooper Machine are excited to be able to offer this new world of opportunities to our North American customers.
"The primary objective of both companies is to offer customers the best and most efficient sawmill solutions to promote long-term customer loyalty," she stated. "This can only be achieved with trust, good teamwork and positive results for our customers."
For information on both Cooper Machine and EWD offerings, call Cooper Machine at 478-252-5885 or visit www.coopermachine.com.
Crestview, FL–Sawmill MD, located here, recently announced that Hartzell Hardwoods of Piqua, OH has purchased a VisionTally HD High Speed system for their Piqua facility, while relocating the VisionTally system originally installed in Piqua in 2020 to their facility in Kirksville, MO.
The VisionTally HD system scans a pack of lumber in less than one minute, which is 25 percent faster than Hartzell's previous system. This will give the Piqua facility improved scan time along with the other enhancements in the VTHD system. These include new stereo cameras with higher resolution than previous cameras with twice the even-end data points which can "see" further down holes for better wane and taper detection, and improved Lidars for improved dynamic length measurements.
The accuracy of the VisionTally system along with the reports available from the VisionTally BundleQuery Database have revolutionized how Hartzell Hardwoods has relied on and uses tally information, and now they have the latest in VisionTally HD technology, according to Sawmill MD.
Ed Elliott, VP & CFO, when asked what VisionTally means to Hartzell, replied, "Hartzell is thrilled with the performance and reliability of our tally machines and they do nothing but strengthen our relationship with our customers due to the strong VisionTally reputation in our marketplace."
Contact Mike Ballard or Duncan Ferguson at SawmillMD@mindspring.com for more information on the VisionTally HD and Upgrade options, or log into their website at www.SawmillMD.com to see a video of the VisionTally system and videos of the other products promoted by Sawmill MD.
Golden Triangle, MS—The Taylor Group of Companies, based in Louisville, MS, along with Terberg Taylor Americas Group, LLC, guests from Royal Terberg Group, The Golden Triangle Development LINK, and a host of local supporters recently celebrated the groundbreaking of the new facility of Terberg Taylor Americas Group in Lowndes County. The project is a $20 million corporate investment and will create 90 jobs.
Terberg Taylor Americas Group is constructing a specialty hauling vehicle facility as a joint venture between The Taylor Group of Companies and Royal Terberg Group of the Netherlands. The joint venture will establish a factory in the state and build up a distribution network for the sales, after-sales, and rental of the Terberg models of terminal tractors.
"This is a great day for the Golden Triangle region," said Joe Max Higgins, CEO, Golden Triangle Development Link. "We are adding to our list of Blue-Chip, world-class companies. Taylor and Terberg are their industry's gold standard. That combined with the fact that they are led by leaders that are recognized outside the industry as world class talent, and the resources of the Golden Triangle gives you a recipe for success!"
The facility will be built as a scalable design so that it may continually meet production demands. The first terminal tractor is expected to be built by mid-year 2024. In time, various Terberg models will be built here to meet customer specifications.
"The Taylor Team is honored and excited to be a part of this great partnership with the Terberg family. This new facility will be world-class, manufacturing world-class products by a world-class team," stated Robert Taylor, president and COO of the Taylor Group of Companies. "The Terberg Taylor relationship is the result of two privately owned companies with very similar business models coming together to build the best terminal tractors for their customers."
To learn more, visit www.ttgcompanies.com.