Kindel Adds Work-From-Home Furniture
Kindel Grand Rapids, located in Grand Rapids, MI, has announced the expansion of their Facets program to include 'Work from Home' category products. The additions add to the program consisting of configurable chests and credenzas, bedroom, dining, occasional and bar products.
The program brings a range of luxury options to work at home products. The additions to the collection include table desks, bookshelves, file cabinets and a new mobile work unit/occasional table named the Multi-Facet. Each of these pieces pull from components and parts from the Facets chest and credenza program, an important aspect of Facets.
This new furniture uses solid U.S. Hardwoods, specifically Maple, and is manufactured only in the United States.
Facets has broad appeal because of the range of luxury choices, especially with the chest, credenza and nightstand products, according to Kindel Grand Rapids. The new work from home products offer options including hand painted fine lines, multiple species options, dual finishes, and 68 hand rubbed wood and paint finishes. The finishes include a collection of artistic, hand applied finishes that showcase the multi-step finishing process that is prized within Kindel Grand Rapids brands.
Kindel Grand Rapids is known for high-level craftsmanship and is made in the USA. The company's streamlined process combined with efficiencies of design, enables lower opening price points.
The Facets Collection additions were launched at the June, 2021 High Point Market. For more information, go to kindelfurniture.com.
Single-Family Starts Steady in May
Overall housing starts increased 3.6 percent in May to a seasonally adjusted annual rate of 1.57 million units off of a downwardly revised April reading, according to a report from the U.S. Department of Housing and Urban Development and the U.S. Census Bureau contained in a press release from the NAHB, the most recent data available.
The May reading of 1.57 million starts is the number of housing units builders would begin if development kept this pace for the next 12 months. Within this overall number, single-family starts increased 4.2 percent to a 1.10 million seasonally adjusted annual rate. The multifamily sector, which includes apartment buildings and condos, increased 2.4 percent to a 474,000 pace.
"Single-family starts held firm in May as demand remains strong despite recent gains in new home costs," said Chuck Fowke, chairman of the National Association of Home Builders (NAHB) and a custom home builder from Tampa, FL. "However, single-family permits posted a decline as higher construction costs are deterring some residential construction activity. Policymakers need to help the industry's supply-chains in order to protect housing affordability."
"Single-family permits declined to the lowest pace since September 2020 as the home building market cools somewhat to adjust to higher prices and longer delivery times of building materials," said NAHB Chief Economist Robert Dietz. "The count of single-family homes permitted but not started construction is up 53 percent over the last year due to both gains for home construction since the onset of the 2020 virus crisis and the delay of some building projects due to higher costs for materials and labor."
For more information, go to www.nahb.org.
U.S. Trade Deficit Improves
According to Manuel Gutierrez, Consulting Economist to the National Kitchen and Bath Association, "There was a modest improvement in the U.S. trade position in April, which is the most current data available at press time, with the negative balance falling from $75 billion in March to the current $69 billion. Despite this positive movement, the balance has been worsening since the beginning of the pandemic in March 2020, when the deficit was $47 billion.
"In fact, the balance of trade had remained relatively stable throughout the decade from 2010 to 2019, ranging between $33 billion and $56 billion, with a monthly average of $45 billion.
"One reason for the improvement in trade since the beginning of last year is that the U.S. economy has recovered faster than most of its trading partners. This has led to increases in U.S. imports, driven by Americans' needs, which are rising faster than U.S. exports that are dependent on the strength of foreign economies.
"Exports rose in April, up by 1.1 percent to $205 billion, but still remain below the historically high levels reached in 2019, when the U.S. economy was booming.
"Trade data includes imports and exports of both Goods and Services. The vast majority of trade dollars are in the form of Goods, accounting for 79 percent of the value of all U.S. exports and imports combined."
For more information, go to www.nkba.org.
NWFA Helps Provide Custom House for Wounded Veteran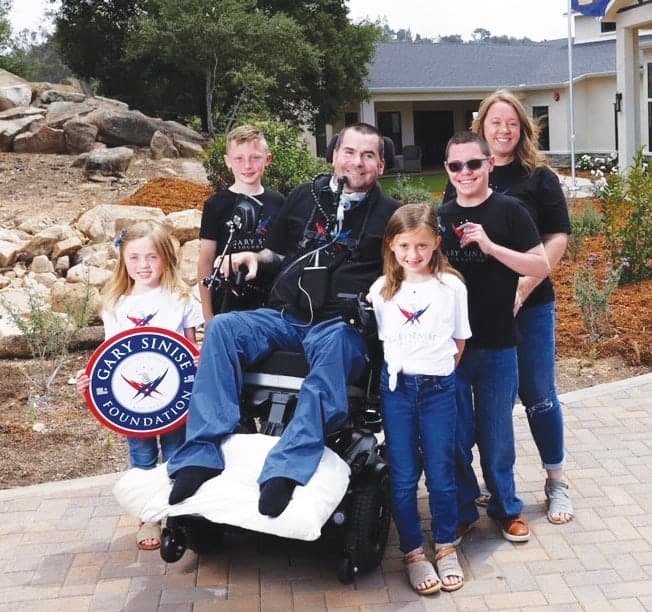 The National Wood Flooring Association (NWFA), headquartered in St. Louis, MO, has provided flooring for its 56th home in support of the Gary Sinise Foundation R.I.S.E. program (Restoring Independence Supporting Empowerment).  The R.I.S.E. program builds custom, specially adapted smart homes for severely wounded veterans and first responders.  The home dedication for United States Navy Senior Chief Petty Officer (Ret.) Kenton Stacy took place on May 21, in Poway, CA.  Flooring for the project was donated by NWFA member WD Flooring.  Installation of the flooring was donated by NWFA member West Coast Flooring.
Senior Chief Petty Officer Stacy served as an Explosive Ordinance Disposal technician. He was injured by an improvised explosive device (IED) in 2017 while stationed in Syria. The explosion resulted in the loss of both legs and both arms, as well as his left eye.
"Senior Chief Petty Officer Stacy joined the Navy shortly after marrying his high school sweetheart," says NWFA President and CEO Michael Martin. "He initially planned to serve four years before enrolling in college, but he loved both the military community and his job, so chose to continue his military career. He received numerous awards during his years of service, including a Purple Heart, a Bronze Star, and three Navy Achievement medals. He also was named the USO Sailor of the Year in 2010. We're honored to partner with WD Flooring and West Coast Flooring to provide beautiful wood floors for his new home."
The National Wood Flooring Association is a not-for-profit trade organization, with more than 3,200 member companies worldwide, dedicated to educating consumers, architects, designers, specifiers and builders in the uses and benefits of wood flooring. The NWFA can be contacted at 800-422-4556 (USA & Canada), 636-519-9663 (local and international), or at www.nwfa.org.