Maiden, North Carolina—"Load to load, Lawrence Lumber is committed to ensuring customers receive the finest quality lumber that enables them to get the best yield out of the products they are manufacturing," said Joe Gori, a partner in Lawrence Lumber and in charge of global sales. "We deliver expectations worldwide.
"Every green load of lumber that arrives in our yard is anti-stain treated with ISK Biocides Inc. products," Gori added. "This ensures the 18,000,000 board feet of lumber we ship out annually has the best possible color and presentation."
Lawrence Lumber is a 28-acre hardwood concentration yard located in Maiden, North Carolina at the base of the Appalachian Mountains. Built in 2000 by the Gori family of Rome, Italy, Lawrence Lumber utilizes state-of-the-art technology for their Appalachian hardwoods to produce some of the finest hardwood lumber for their moulding, millwork, flooring, cabinet and furniture manufacturing customers around the world.
Lawrence Lumber offers kiln-dried Red Oak, White Oak and White Ash in 4/4 through 8/4 thicknesses, Poplar in 4/4 through 16/4 and Hickory in 4/4 and 7/4 thicknesses, all in No. 2 Common and Better grades.
As for its equipment, Lawrence Lumber has a Newman Surfacer, a Cameron Rip Saw and it recently installed a new ripping and surfacing system. According to the company, this new system first surfaces lumber and then rips it to the width that the customer needs. "We rip the wood into 3-inch, 4-inch, 5-inch and 6-inch and sometimes 7-inch widths to 7-feet long and 12-feet long," Gori said. "We don't go any longer than 12-feet because we want to make sure each board doesn't get bent but stays straight."
This lumber is desirable because it's "a more finished product," Gori stated. "When customers put this lumber in their moulders, they don't have as much waste and the lumber is already hit-and-miss surfaced. Also, the lumber is cleaned a little bit, and it goes through the rip saw nice and smoothly."
With the new ripping and surfacing system, "It takes one person feeding the surfacer and then a second person taking care of the ripping saw," he said. "Also, it takes two guys putting the rips into little buggies, so you have four people working with this whole system that was installed in the summer of 2021.
For the domestic market, Lawrence Lumber manufactures 1-1/2-inch strips in Poplar and Hickory.
Currently, Lawrence Lumber takes custom orders as to the width a piece of lumber is ripped. The company is considering cutting some lumber to certain popular widths and keeping it in stock, Gori noted.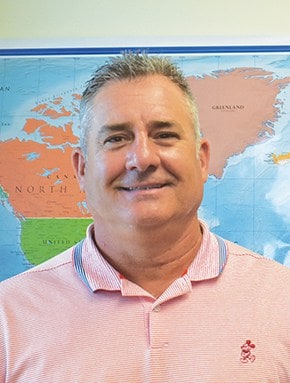 "As far as our facilities, we have four fan sheds made by SII Dry Kilns in Lexington, North Carolina, that can hold about 450,000 board feet per charge. Several years ago, SII also installed 11 dry kilns for us, including a pre-dryer, which gives our company an additional 900,000 board feet of kiln capacity," Gori explained.
In closing, some of the key people at Lawrence Lumber Company include: the three partners, Tito Gori, his son Joe Gori and Joe's first cousin, Raffaella Carriero, who handles accounting and finances; Steve Leonard, lumber purchasing manager; Ismael Torres, who manages shipping and receiving; Chris Edmisten, kiln operator; and Kelsey Scott, office manager.
To learn more, go to www.lawrencelumberinc.com.