Furniture Manufacturer Gat Creek Is Expanding Its Plant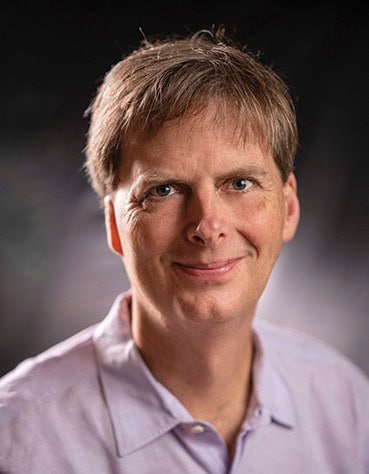 Gat Caperton, CEO and owner of Gat Creek, a furniture manufacturer located in Berkeley Springs, WV, believes we are returning to growth in manufacturing in the United States including improved employment rates in the wood furniture manufacturing industry.
His company, which uses solid U.S. Hardwoods and manufactures only in the U.S., is building a new wood furniture factory in Berkeley Springs. Completion of the facility is expected by the end of 2022.
Armed with thick black Sharpie markers, 165 Gat Creek employees recently "marked" this expansion by signing a steel girder to be installed in a new section of the factory. Caperton made brief remarks about the return of manufacturing jobs from Asia and the importance of this reversal to the economic health of rural communities like Morgan County.
Gat Creek has made plans to add 38,000 square feet to its existing 100,000 square foot solid-wood furniture factory. The plant expansion will allow for doubling the production capacity.
Gat Creek is a solid wood, American-made furniture factory making products in a range of contemporary and traditional styles. Over 250 designs are made-to-order with 64 finishes available and other options. Each piece is personally signed and dated by the builder. The company is a founding member of the Sustainable Furnishings Council and holds Silver Exemplary status.
The firm purchases No. 1 Common Maple, FAS Walnut, No. 1/No. 2 Common Ash, No. 1 Common Cherry and No. 1 Common White Oak in 4/4, 5/4, 6/4 and 8/4 thicknesses, as well as No. 2 Common Poplar in 4/4 thickness.
To learn more, go to www.gatcreek.com.
Harvard Study Sheds Light On The State Of Housing In 2022
After a record-shattering year in 2021, the housing market is at an inflection point, according to a recent study by the Harvard Joint Center for Housing Studies, located in Cambridge, MA. Higher interest rates have already taken some heat out of the homebuying market, and the large number of apartments under construction should bring some relief on the rental side. For lower-income households and households of color, though, the pressure of high housing costs is unlikely to relent. The surge in the prices of gas, food, and other necessities has made matters worse, especially now that most emergency government supports have ended. The housing stock itself is in dire need of investment to meet the demands of a rapidly aging population and the threats posed by climate change.
The costs of both owner-occupied and rental housing continue to climb. Home price appreciation nationwide hit 20.6 percent in March 2022—topping the previous high of 20.0 percent in August 2021 and marking the largest jump in three decades of recordkeeping. The runup has been widespread, with 67 of the top 100 housing markets experiencing record-high appreciation rates. And even in the other 33 major markets, home prices increased by at least 9 percent.
Surprisingly strong household growth throughout the pandemic contributed to the sharp rise in housing costs. Although making conditions more challenging for first-time buyers, the surge in home prices has been a boon for current homeowners. The massive windfall from rapid home price appreciation has no doubt widened the wealth gap between homeowners and renters.
Assuming that the Federal Reserve can tame runaway inflation without causing a serious downturn, the near- term outlook for housing demand is largely positive. Demographic shifts are favorable, unemployment is low, and wage growth remains strong. Conditions on the supply side are also encouraging, with supply-chain delays diminishing and a record number of homes set for completion in the coming months. Nevertheless, it will take time for additional supply to catch up with demand and produce any meaningful improvement in affordability, according to the Harvard report.
To learn more, go to www.harvard.edu.
NWFA Completes 62nd Home With Gary Sinise Foundation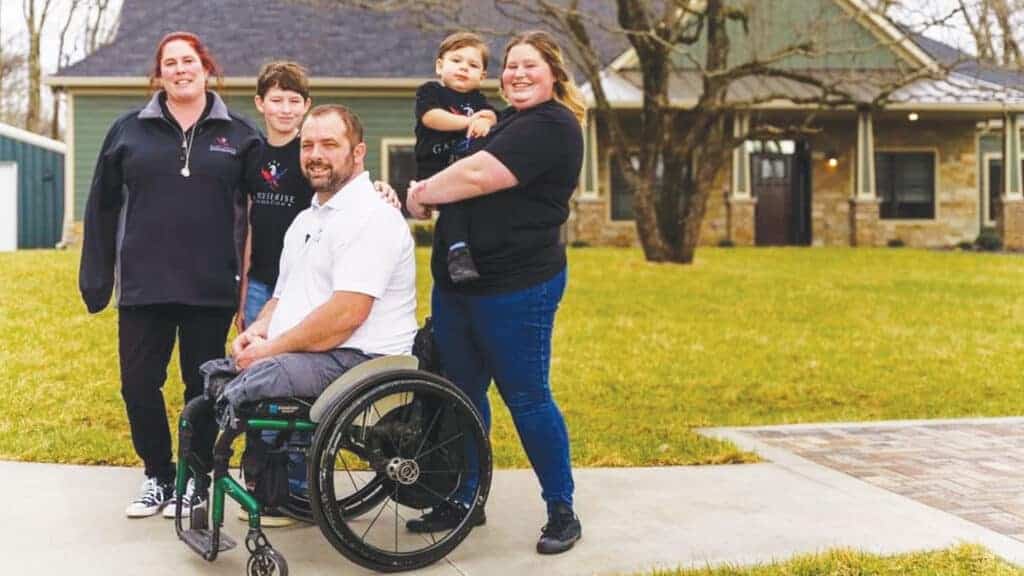 The National Wood Flooring Association (NWFA), headquartered in Chesterfield, MO, has provided flooring for its 62nd home in support of the Gary Sinise Foundation R.I.S.E. program (Restoring Independence Supporting Empowerment). The R.I.S.E. program builds mortgage-free, custom, specially adapted smart homes for severely wounded veterans and first responders. The home dedication for United States Army Sergeant (Ret.) Christopher Kurtz took place recently in Clarksville, TN. Flooring for the project was donated by NWFA member Premiere Finishing & Coating.
Sgt. Kurtz joined the Army in 2009 and was deployed with the 101st Airborne Division to the Arghandab River Valley region of Afghanistan in June 2010 where he encountered combat situations daily. He was on patrol in December 2010 when an improvised explosive device went off nearby. Sgt. Kurtz lost both of his legs above the knee, lost two fingers on his left hand, and broke his pelvis in three places.
"Sergeant Kurtz's injuries were quite severe," says NWFA President and CEO Michael Martin. "Once he was stabilized on the battlefield, he was evacuated to Kandahar Airfield, then flown to Landstuhl, Germany before arriving at Walter Reed Medical Center to undergo additional surgeries. After four years of active-duty service, he medically retired in 2013. We're honored to partner with Premiere Finishing & Coating to provide beautiful wood floors for his new home."
In addition to the 62 homes already completed, NWFA currently is working with its members to source wood flooring for 16 additional R.I.S.E. homes in various stages of planning and construction. Currently, 143 NWFA member companies have donated products, logistics, and installation services in locations throughout the United States, with a total value of more than $5.7 million. A list of all NWFA R.I.S.E. participating companies can be found at www.nwfa.org/giving-back.aspx.
To learn more about the program, and how you and/or your company can get involved, contact the NWFA at 800-422-4556, or e-mail them at anita.howard@nwfa.org.
The National Wood Flooring Association is a not-for-profit trade organization, with more than 3,200 member companies worldwide, dedicated to educating consumers, architects, designers, specifiers and builders in the uses and benefits of wood flooring. The NWFA is located at 111 Chesterfield Industrial Boulevard, Chesterfield, MO 63005, and can be contacted at 800-422-4556 (USA & Canada), 636-519-9663 (local and international), or at www.nwfa.org.
President Biden Signs Into Law A Measure Cutting Overseas Shipping Prices
According to the American Journal of Transportation, President Joe Biden signed legislation recently that is aimed at cutting overseas shipping prices, calling the new law another move by his administration to curb stubborn inflation.
The Hardwood Federation, in a statement, said the law is notable for the strong bipartisan support it received in both the House and Senate before President Biden signed it into law. The federation's HFPAC is proud to have supported all the main sponsors of the bill, the statement said. The Federation will continue to engage in next steps related to the law's implementation, especially as it relates to upcoming federal guidelines that will prevent an ocean carrier from refusing cargo, including Hardwood products for export.
According to the American Journal of Transportation, the law will stop "shipping companies taking advantage of American families, farmers, ranchers and businesses," the president said at a signing ceremony for the broadly bipartisan measure—an indication of the White House's urgency to show voters it's trying to bring down price increases stuck at a four-decade high.
"They raked in the profits and the costs got passed on, as you might guess, directly to consumers," he added, "sticking it to American families and businesses because they could."
The shipping measure seeks to alleviate supply-chain bottlenecks at sea that were exacerbated by a spike in demand during the pandemic. It directs the Federal Maritime Commission to prevent ocean carriers from unreasonably refusing to fill open cargo space with U.S. exports and to investigate late fees charged by shippers.
For more information, go to www.hardwoodfederation.com.
HBI: Growth In Trade Skills Education Is Expanding Nationwide
The number of U.S. secondary schools embracing trade skills curriculums is growing rapidly, according to the Home Builders Institute ("HBI"). The chief executive of the nation's largest nonprofit organization in construction skills training says middle and high schools are reexamining the need to expose more of their students to the trades.
"For decades, technical education took a backseat to the college-bound track in our schools. That kept millions of young people from considering the lucrative post-secondary opportunities in the trades," said Ed Brady, HBI President and CEO, "The trend is definitely turning."
HBI reports that it has experienced more than a 300 percent increase in the number of schools licensing its trade skills curriculum since the start of the pandemic. HBI programs are now in 240 schools in 37 states, compared with 79 schools in 14 states in 2019. The numbers include schools funded by HBI's "School to Skills" grant initiative. The program provides HBI's industry recognized curriculum free to schools and students. Since launching in fall 2019, Schools-to-Skills grants have funded more than $1.7 million in trade programs across 33 states in 159 schools, including 40 schools new to the program for 2022.
The Home Depot Foundation and the National Housing Endowment are continuing sponsors of Schools-to-Skills. The National Kitchen and Bath Association and the Truist Foundation provided funding for the program in 2021. The Home Depot Foundation has committed $50 million to train the next generation of skilled tradespeople through its Path to Pro program. The National Housing Endowment provides financial support for Schools-to-Skills through its Skilled Labor Fund.
Unlike costly college tuition that can leave students buried in debt, HBI's programs are tuition free for students and can lead to high-paying jobs and careers, according to the chief executive.
The expansion of training programs comes at a critical time for the residential building industry, which is starved for skilled workers.
To read more about this program, go to millerwoodtradepub.com/news-developments-august-2022/.