In 2017, San Group purchased the Coulson Sawmill, now identified as San Port Alberni "A Mill." The design and purpose of the original Coulson sawmill was to break down larger grade logs and timber to service the Japanese export market. While the original purpose may have changed to accommodate today's marketplace, the footprint left behind by Wayne Coulson to produce the finest boards and timber remains intact.
Nestled in mid-Vancouver Island, the ecologically rich area of Port Alberni, BC has access to some of the world's finest timber with which San Group then manufactures not only to structural and appearance products but also some of the finest pattern and finish type products. Vancouver Island Softwood species that comprise the input log diet for San Group include Western Red Cedar, Hemlock, Douglas Fir, Sitka Spruce and Yellow Cedar.
Since the acquisition of the San Port Alberni "A Mill", brothers Kamal (CEO) and Suki (President) Sanghera have sought to expand San Group operations in Port Alberni and support the community that eagerly welcomed them with open arms.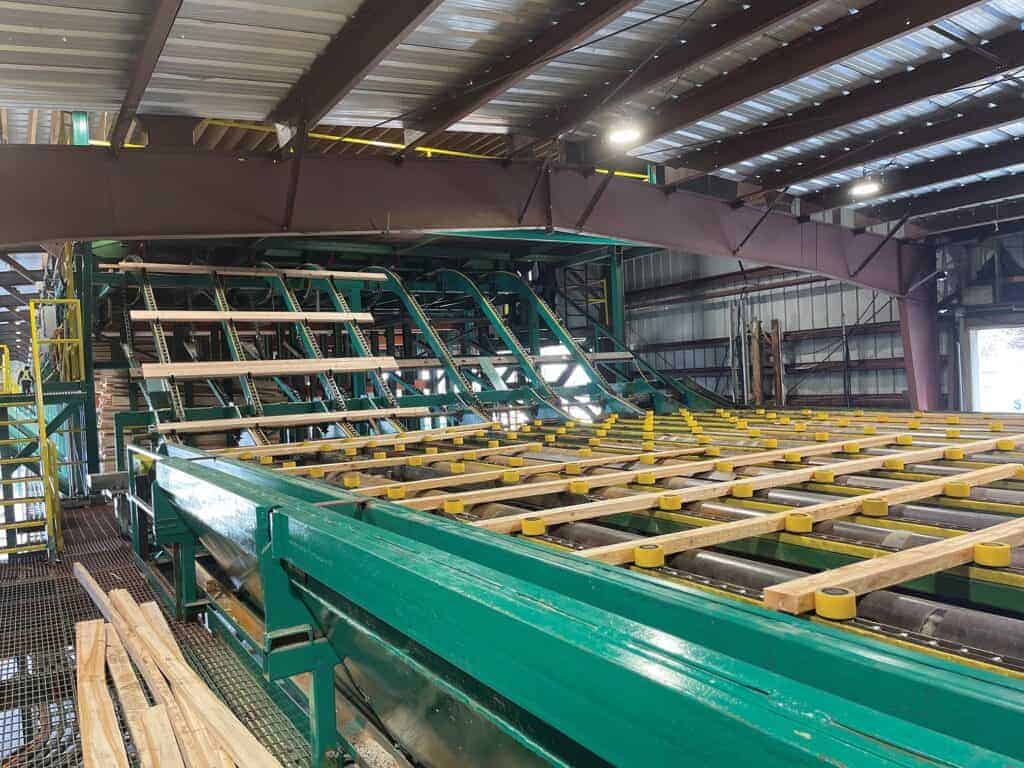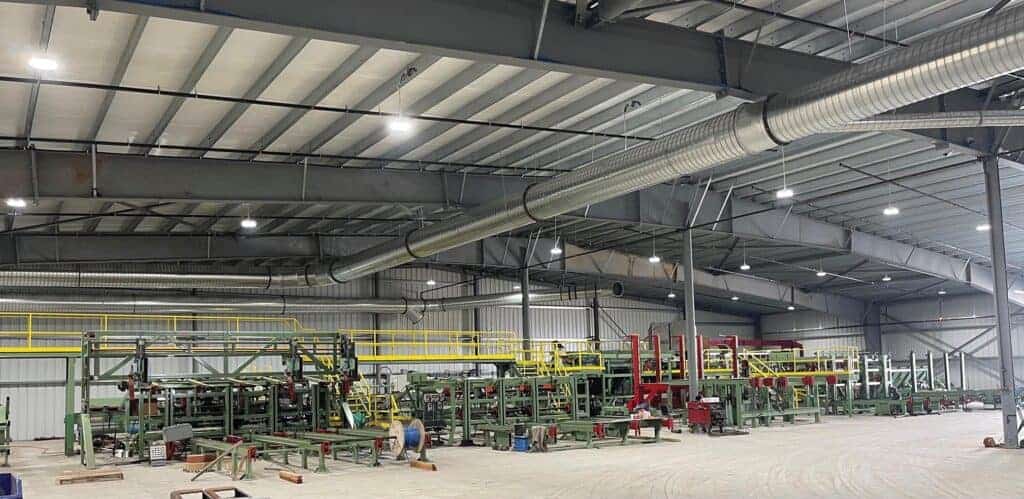 Using Every Part of the Tree is Responsible Forestry.
Responsible Forestry Practices coupled with technological advancements help ensure that no part of the tree is wasted when it's harvested.
Carefully taking into consideration the available fiber in the Vancouver Island area and the capabilities/limitations of the San Port Alberni "A Mill", Kamal and Suki knew that measured expansion was needed to keep more wood in the Alberni Valley community.
It was with these factors under consideration that several forward thinking moves were made.
San Group is excited to provide a glimpse into some developments in the areas of fiber utilization.
SAN PORT ALBERNI "B MILL" – The ability to break down a smaller diameter log cost effectively was seen not only as a major hurdle but also a necessity to be able to utilize all the varied diameters that are harvested. The decision to construct from ground up, the first new sawmill on Vancouver Island in 20 years was made and factoring in prior experience that Kamal and Suki had in Finland and Russia, the HewSaw was chosen. With the ability to consume a 3-inch top, it certainly sets San Group apart from the pack on Vancouver Island. Looking at the many options available on where to break ground on this new endeavor, it was finally decided that the east side of the previously acquired San Port Alberni "A Mill" would be the best suited option. The ability to now bring the entire log harvest via truck or water now simplifies operations logistically and sets up the San Port Alberni property as a two pronged super sawmill.
SAN FOREST PRODUCTS – With their humble beginnings in remanufacturing, Kamal and Suki along with their workforce, which they refer to as "family", knew that simply breaking down the logs was not the end of the line. While selling rough sawn timber directly from the sawmill is and always will be the biggest avenue of moving wood products, utilizing fiber that traditionally would be considered "waste," using innovative means to extract value is the vision. San Group assembled production machinery from Eastern Canada, Italy, the Netherlands and Germany to design a multi-phased, fully integrated manufacturing line.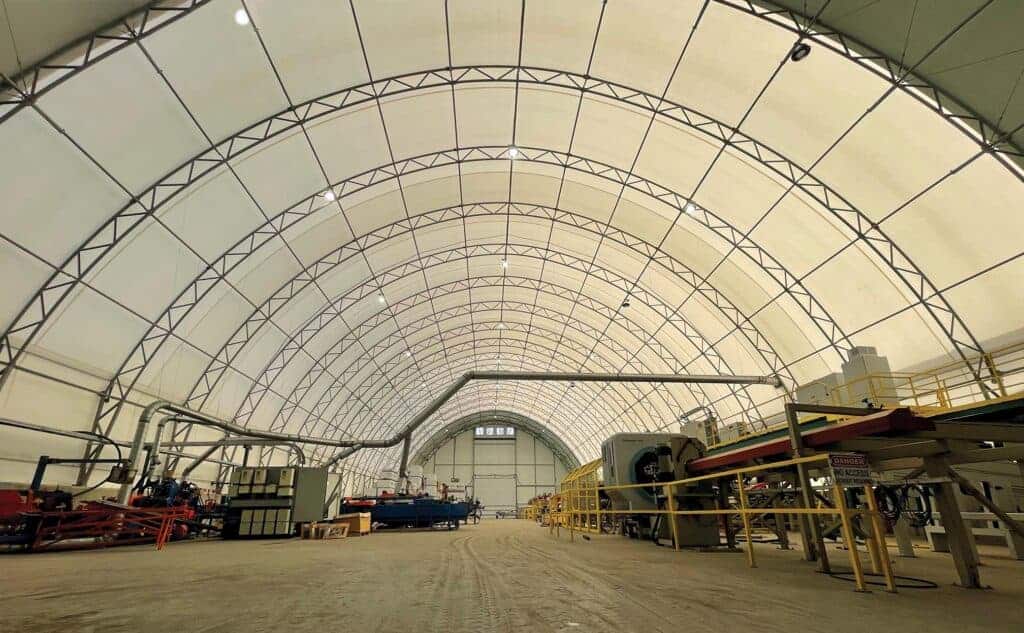 Stacker/Sort – The stand-alone building will be the first stage of any inbound lumber. Grading, sorting, trimming and dry sticking for preparation to be kiln dried. It all happens here.
Moulder – The technologically revolutionary moulder line can make even the most fantastic imagination run wild on countless custom patterns and dream projects that SAN FOREST PRODUCTS can make come true. Builders, craftsmen, and woodworkers will be overwhelmed to present the boundless possibilities patterns and textures to their clients.
Resaw – The unsung hero of the workshop. Always moving, cutting, splitting. It is either the first line, last line or all of that in between. SAN FOREST has a special place in its heart for this stout and sturdy mainstay of remanufacturing. Several single band, a twin band and the Baker Products multi cut band saw. Big cants, boards, bevel. . . you all pass these gates. All hail the mighty Resaw!
Lamination Line – SAN FOREST PRODUCTS utilizes technology along with premier engineered wood product capabilities. Multiple layers of thin wood assemble along with marine, pest and mould combating adhesives produce a fine, finished product with no competition. Stronger, straighter and much more visual, engineered products are typically used for headers, beams, rim board, and edge-forming material. SAN FOREST will also forge ahead to provide this ecologically conscious lumber as a high end, visual grade product for the most discerning of buyers.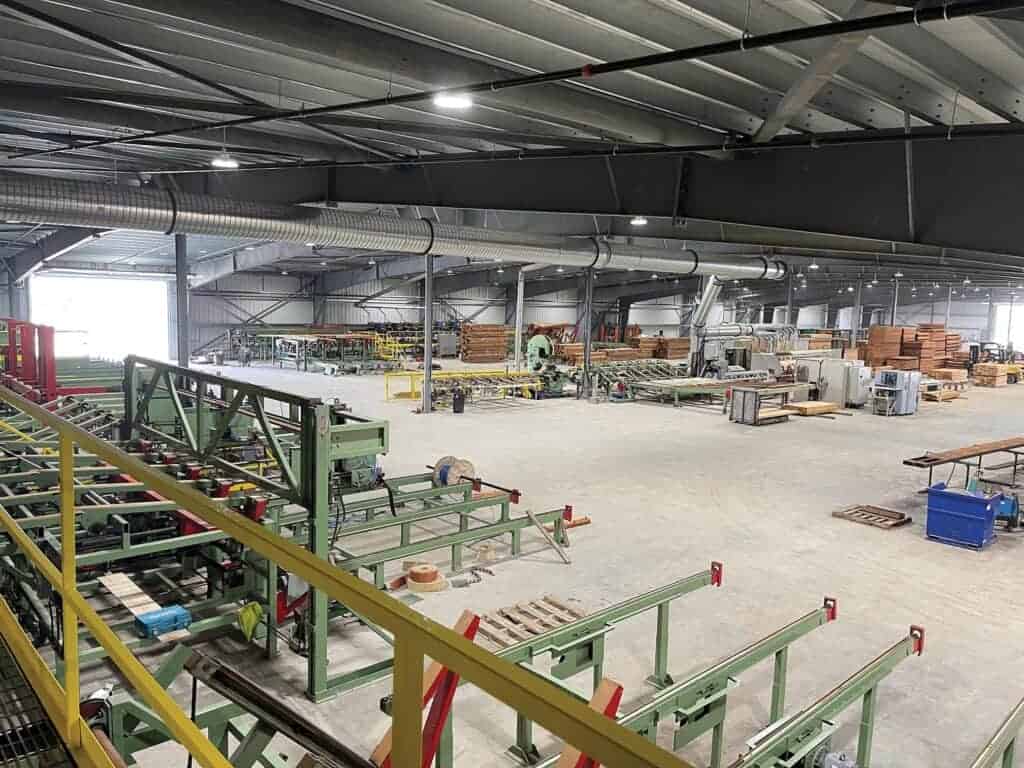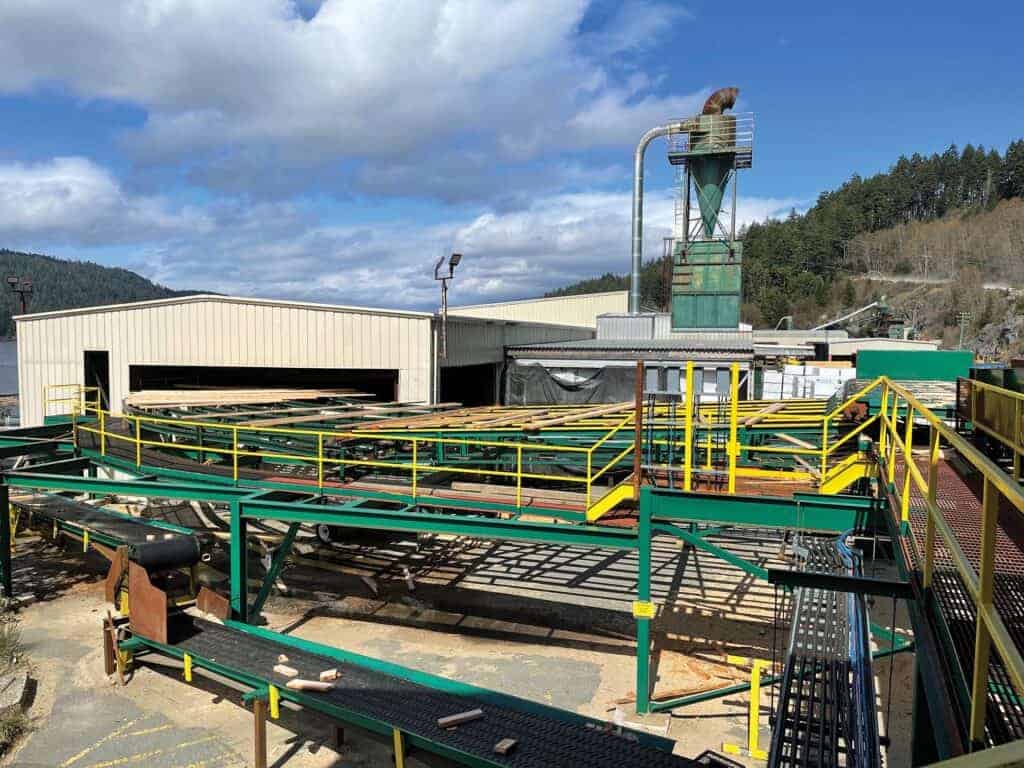 Fascia Production – A first for SAN FOREST. Home projects need the finish of an attractive board along the side of the overhang and the roof. The gutter sits atop the fascia board. SAN FOREST will be pleased to offer this transition trim between the home and the roofline which supports the shingles and helps to keep moisture out.
Veneer – To compliment the Lamination line, SAN FOREST PRODUCTS will be employing the latest technology in Veneer slicing. Why Veneer, instead of a solid piece? In the case of clear Lumber, one solitary piece can be sliced and applied over top of 20 pieces of lesser grade Lumber to extend the sustainability, beautiful warmth and flawless look that come only from clear finish. SAN FOREST will continue to innovate and explore methods to utilize every inch of fiber possible and extend the life of this precious resource.
Finger Joint – Keeping in mind the commitment of SAN FOREST PRODUCTS to maximize the potential of each tree, from every timber stand harvested, a finger joint line will be an integral part of the operation. The two most important advantages of finger jointed lumber are straightness and dimensional stability. With short lengths of wood joined into longer pieces, the warping and twisting associated with regular dimension lumber is minimized.
Dry Kilns – Controlling the moisture content is crucial to the production of certain construction and fine finished products. SAN FOREST PRODUCTS will utilize Hildebrand Brunner dry kiln chambers, at an initial capacity of 500,000 board feet will open up endless possibilities on different species, patterns and finishes simultaneously.
High Speed Planer – With a name like DOMINATION one can expect nothing short of complete supremacy over any other planer. Boasting more finishing heads than anyone else on the block, the blinding speed produces a smooth-like-butter finish that any builder will be proud to put into any project. Competing as the fastest planer in the world, the High Speed Planer DOMINATION can run over 300 boards/min, leaving any competition in the dust.
Paint/Stain Line – The demands of the consumer continue to escalate with choices, deadlines and product expectation, this trend has dictated that SAN FOREST PRODUCTS answer the call and provide more options on finished products. Primed, as well as stained products will regularly roll out from the high speed Paint/Stain Line.
When completed, the new facility spanning in excess of 300,000 square feet, known as San Forest Products will rival, if not exceed the abilities and capabilities of most remanufacturing/value-added facilities in North America. While the availability of Western Red Cedar will continue to dwindle, San Group will continue to innovate its product line with more and more fine engineered products to extend the life of this highly sought after fiber. San Group also recognizes global demand for wood pellets continues to rise to new levels. Management of the forests from which these pellets are sourced dictate that San Group, as faithful stewards of the forest, innovate and become suppliers of this responsible, renewable clean energy.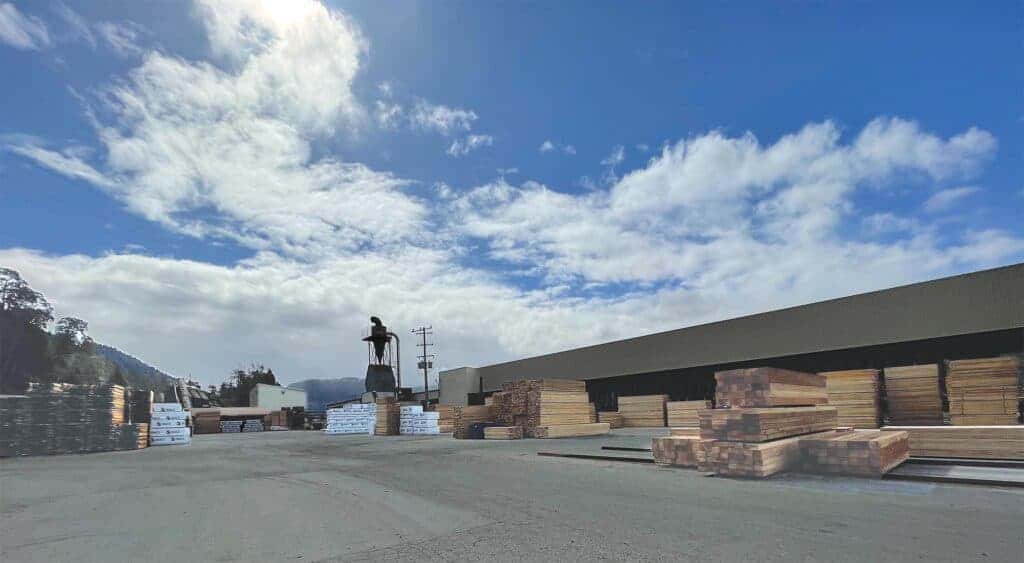 The phrase that best describes San Group's Operations is "FROM HARVEST TO HOME." In fact that phrase has become the mantra for Kamal and Suki as they pride themselves in not only planning every step from harvesting the trees, sawmilling, remanufacturing, sales and shipping but will often jump right in and get their hands dirty to complete a task so that the next stage is set. The happiest sight for a lumberman is to see the tail lights of a truck as it drives away fully loaded. That sight is a regular sight, many times a day at San Group.
The reach of San Group's products can be seen worldwide in excess of 40 countries. That number continues to grow as the reputation of San Group as a responsible steward of the forest and producer of fine wood products grows. In fact, San Group lobbied for and committed to the Port Authority of Port Alberni to grow and sustain a container shipping business right in the city, thereby not only keeping the people in Port Alberni working but also reducing the carbon footprint.
The sales team at San Group is ready to look after all of your lumber needs.
John Langstroth john@sangroupinc.com – Vice President of Sales Operations.
Adam Hazelwood adam@sangroupinc.com – North American Sales Manager.
Tyler Moore tyler@sangroupinc.com – Vice President of Export Sales.
Addison Ross addison@sangroupinc.com – Sales Oceania and North America.
Peter Zhao peter@sangroupinc.com – Sales Asia.
Ryan Hagen ryan@sangroupinc.com North American Sales.
As proud Canadians the goal is to continue to evolve, expand, and in so doing create even more family supporting job opportunities.
The future continues to look very bright for San Group as the sky is the limit. Learn more at www.sangroupinc.com.