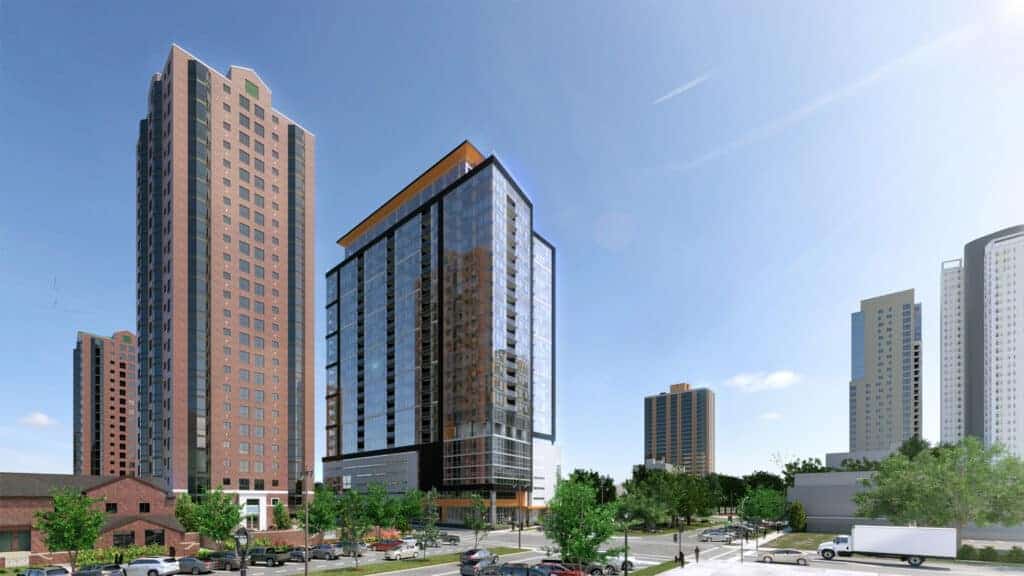 In a new continuing education course on the Wood Institute—the Softwood Lumber Board's continuing education platform—Antony Wood, CEO of the Council on Tall Buildings and Urban Habitat (CTBUH), quotes a United Nations statistic that around the world, more than 1 million people are urbanizing every week. To accommodate them, we will need to build the equivalent of a New York City every month for the next 40 years. Will those people live in horizontal exurban areas, or in ever-denser, ever-taller urban centers? "We at the Council, and I think generally around the world, accept that this massive population growth and urbanization needs to be accommodated in denser and more vertical cities. … The land consumption and the energy needed to create and then operate that horizontal city with people commuting an hour or two in and an hour or two out is just unsustainable in the face of those 1 million new urban dwellers per week," he says.

With only 160 mass timber structures in the world over 8 stories (either completed, under construction, or in design), for wood to be a part of this denser, more vertical future, broader wood-based options such as hybrid construction will necessarily provide a huge market opportunity. (It is worthwhile to note that the tallest mass timber building in the world, Milwaukee's 25-story Ascent, is a timber-concrete hybrid). Combining wood and steel or concrete in a hybrid structural system leverages each material's unique strengths to create taller, lower-carbon, and cost-efficient structures.

And the design community is taking note. Last November, Think Wood debuted a new continuing education webinar called "Complementary Systems: Innovative Design Strategies for Steel-Timber Hybrid Buildings." It was one of the campaign's highest-performing continuing education courses of the quarter and has been taken by more than 1,500 design professionals in just three months. The Wood Institute's new course with Antony Wood, "Steel-Timber Hybrid Highrise Buildings – Trends, Drivers, Challenges" expects to continue that momentum.

WoodWorks, a SLB-funded program, is also seeing traction with resources on hybrid structural systems (which can be downloaded at woodworks.org/learn/hybrid/) and include everything from case studies to technical resources. And with 37 hybrid projects in the WoodWorks Innovations Network project showcase, and 11 of last year's 18 Wood Design Awards competition winners classifying as hybrid structures, the trend is gaining momentum.

Much of this acceleration can be attributed to code changes that are allowing for taller timber construction. With funding support from the SLB, the American Wood Council (AWC) has been championing efforts to get states to adopt the tall mass timber provisions in the 2021 IBC; 19 states have signed on so far, and rulemaking is in process in another five. In addition to this, the AWC delivered an important win for the wood industry in successfully advancing a 2024 I-Code change to allow for 100 percent exposed mass timber ceilings in Type IV-B construction, up from 20 percent. This change, which has been adopted into the 2024 code that will be published by the end of the year, eliminates the need to cover ceiling areas with gypsum board, translating to cost and carbon savings, and enhances wood's value proposition in the seven- to 12-story segment.

The SLB also continues to foster more opportunity for materials industry collaboration in hybrid construction with its ongoing, two-year research project, "The Future Potential of Steel-Timber Hybrid Buildings," led by CTBUH and co-sponsored by the SLB and the World Steel Association's constructsteel program. This research explores ways that the two materials can be used together to make a bigger collective sustainable impact, and as part of this partnership, CTBUH is working to conduct full life cycle and cost-assessment analyses and elaborate the full potential for high-rise timber-steel hybrid structures in advance of producing a peer-reviewed technical guide by June 2023. The guide is expected to serve as a precedent-setting reference to support the development of future timber-steel hybrid buildings.

A new New York City every month is a daunting goal. But by leveraging wood's ability to offset the impact of less sustainable building materials in hybrid systems, there is great opportunity to build to newer—and renewable—heights.