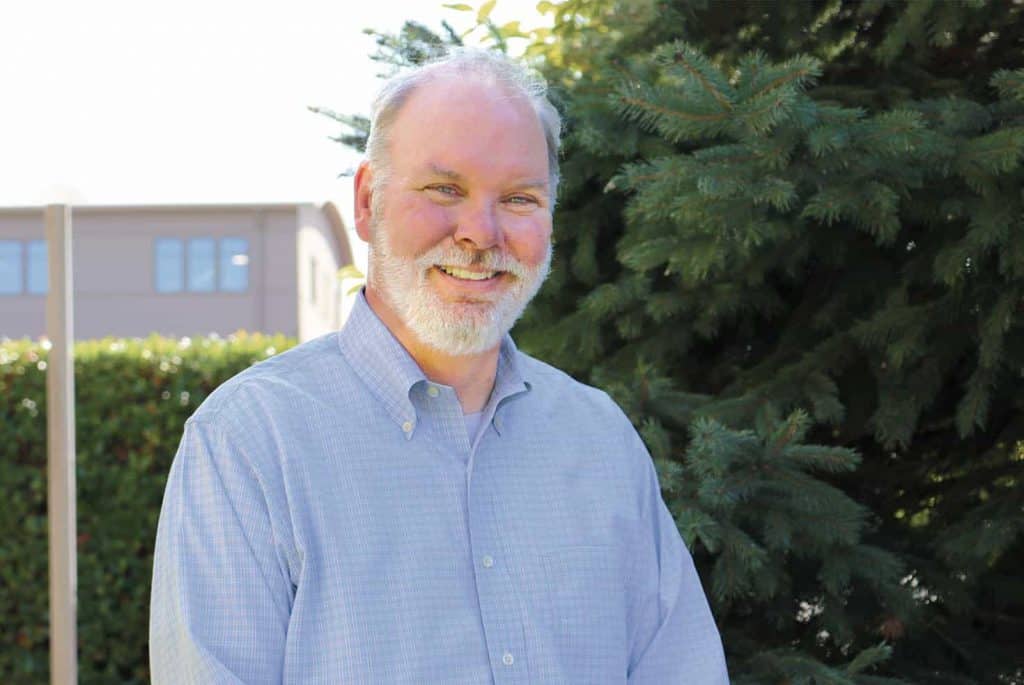 Mark Tibbetts Sees Bright Industry Future, Rooted In Science And Passion
By Tara Mattina, APA Market Communications Director
In full circle fashion, the boy who wielded a hammer and watched home improvement television is now the person who will lead APA – The Engineered Wood Association into the future.
Mark Tibbetts joined APA March 15 and officially took over the president position July 1, when Ed Elias retired. Tibbetts brought with him more than 15 years' experience in association and nonprofit program management, environmental policy and business development, but he came from outside the engineered wood industry.
"I always wanted to work in the construction trades," Tibbetts said. "I watched 'This Old House' when I was in fifth grade. I built backyard forts instead of playing sports. I'm comfortable admitting I was a bit of a geek. I always wanted to build.
"Our careers can bring us new paths in surprising ways," he said.
Tibbetts' association career path has included leadership and management positions in the Air Conditioning Contractors of America, Tag and Label Manufacturers Institute, Thermostat Recycling Corporation, National Electrical Manufacturers Association and American Public Works Association.
"Even though I was from outside of the (wood) industry, I knew the APA brand when I applied for the position," Tibbetts said. "What I've learned is the influence behind the brand. APA has a powerful voice around building codes and standards, and our work is impactful.
"That speaks to our research and education and the people we have here," he said. "It's essential that we maintain that."
The APA Board of Trustees selected Tibbetts through a lengthy search process after former President Ed Elias announced plans in 2020 to retire. The board was clear with him, Tibbetts said, that the organization is well run and continues to serve the industry at a high level. His initial task was to spend the first several months getting to know the industry, organization and people more to steward and build on its almost-90-year foundation of strength.
Tibbetts and his family moved this summer from Alexandria, Virginia, to APA's Pacific Northwest base, which has allowed them to reconnect with their outdoors lifestyle and interests. "From the first interview, I felt APA was a good fit," he said. "It's a pretty good job when you can fish in the morning with colleagues and still make it to work on time. Everybody has been welcoming and helpful as I learn the industry and APA."
Those common interests help reinforce professional relationships. With travel limited by the pandemic, Tibbetts still has managed to visit several member mills with precautions in his initial months on the job.
"I saw first hand the relationship between APA and its member mills," he said. "Seeing our Quality Services team members interact with staff at the mills reinforced for me that it's a tight-knit community based on relationships."
Tibbetts looks forward to visiting more member mills in other areas and getting to know other people within the engineered wood markets. He sees tremendous opportunities for APA's role in supporting the market for member products. Following years of under building, North America sees strong demand for housing, while climate policies likely will reward more sustainable building material options.
"Wood is good," Tibbetts said. "Communities, consumers and the construction industry recognize wood's low carbon footprint and its affordability as a building material."
A recent $4.5 million investment in expanded capabilities at APA's research center in Tacoma, Washington, supports innovative design and construction using wood structural panels, engineered wood products and mass timber assemblies. The expansion raised a portion of the roof to 40 feet high and added a 4-foot-thick reinforced strong floor, 10 strong wall blocks with anchors, twin 5-ton cranes and whole range of new equipment to accommodate full-scale multi-story structural assembly testing.
With planning for full-house testing underway, Tibbetts reflected on the real-world application of APA's work.
"The design of our new home, with its open living areas and natural light from lots of windows, is a direct outgrowth of APA's research," he said. "We love our new home, and every morning is a reminder of our impact."
Tara Mattina is Market Communications Director for APA – The Engineered Wood Association.
About APA – The Engineered Wood Association
Founded in 1933 and based in Tacoma, WA, APA represents about 175 plywood, oriented strand board, glulam and cross-laminated timber, wood I-joist, Rim Board® and structural composite lumber mills throughout North America. Its primary functions are quality auditing and testing, applied research, and market support and development.
Learn more at www.apawood.org.