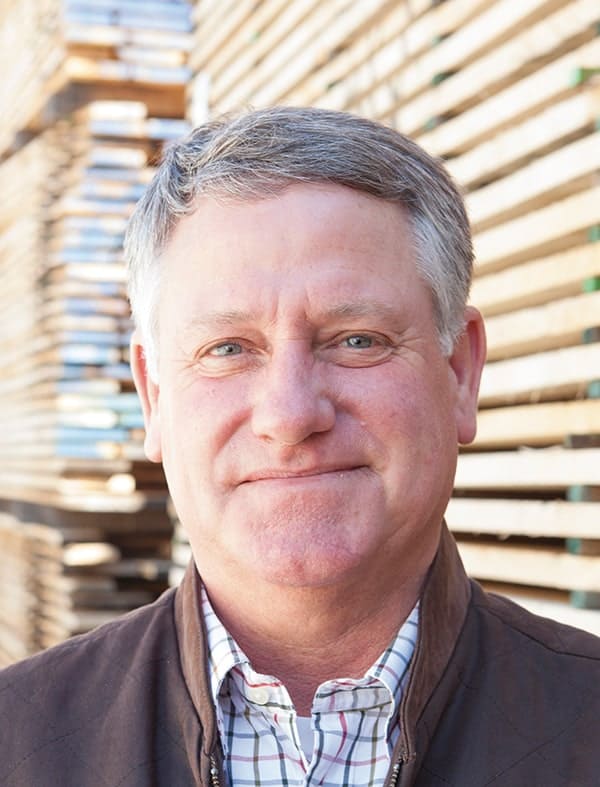 Joe Lewis serves as Vice President of Lewis Lumber and Milling, manufacturer of the Reliance Hardwood Flooring brand, as well as solid Hardwood kitchen cabinet components. They are located in Dickson, TN, with a new location coming on-line in February 2023 in Clarion, PA.
Joe co-owns the company with his brother, Mike, who serves as President of the company. Joe oversees all aspects of green lumber and lumber drying. The company currently purchases 13 million board feet annually but will soon purchase a total of 24 million board feet. The majority of lumber is various grades of 4/4 Hard Maple and White Oak, with a smaller amount of 4/4 Red Oak, Hickory, and Cherry as well.
Lewis Lumber and Milling is a member of several trade associations, including the National Wood Flooring Association, the National Oak Flooring Manufacturers Association, the Kentucky Forest Industries Association, and the Indiana Hardwood Lumbermen's Association. Joe is active in both the KFIA and IHLA.
Joe graduated from Mississippi State after earning both a Forestry degree and a Business degree. After graduating he immediately attended the NHLA grading school where he graduated with the 92nd Class. Joe gets to work with his son, Forrest, who oversees the plant production for all items made in Tennessee.
Outside of work, Joe enjoys spending time with his high school sweetheart, Cindy. Together they have a son, Forrest and two grandchildren. Joe is active with his church and enjoys the outdoors and traveling.
For more information, visit www.reliancehardwoodflooring.com or contact Joe directly by phone at 615-560-0324.
Terry D. Gross is president of Brown Wood, Inc., located in Lincolnwood, IL. He has been with the company for 34 years and has served as president since 1997.
Brown Wood, Inc. manufactures high-quality wood parts, components and assemblies for retailers, distributors, engineers, architects and manufacturers. The company stocks over 5,000 products including mouldings, carvings, large diameter turnings, decorative legs, furniture feet, and Hardwood x-panels.
Brown Wood, Inc. purchases over 300,000 board feet per year of solid domestic Hardwood including Alder, Ash, Birch, Yellow Birch, Beech, Chestnut, Cherry, Hickory, Hard and Soft Maple, Poplar, Red and White Oak, Sycamore and Walnut (No. 1 Common, No. 2 Common, Select, 4/4-16/4, S4S, 6-8 percent moisture.) Imported wood species include Bamboo, Jatoba, Lyptus, Meranti, Mahogany, Purpleheart and Tauari, among others.
Value-added services offered by the company include carvings, CNC routing, mouldings, shapings, flatwork and turnings. They offer diameters up to 24 inches and lengths up to 19 feet.
Brown Wood, Inc. is a member of National Kitchen and Bath Association, Kitchen Cabinet Makers Association, SHOP!, CMA, Wood Products Manufacturers Association (WPMA), Promotional Products Association International, Awards and Personalization Association and Architectural Woodwork Institute.
Gross was introduced to the Hardwood products industry when he started at Brown Wood, Inc. He has been active in the WPMA for more than 25 years and has been the association's treasurer for the past 15 years.
Before joining the Hardwood industry, he earned a Bachelor of Science in Accounting from the University of Illinois at Champagne and a Juris Doctor from Chicago-Kent College of Law.
Terry Gross and Jamee, his wife, celebrated their 37th wedding anniversary in 2022. Together, they have two daughters and three grandchildren.
For more information, visit www.brownwoodinc.com.
Toby Maida is president and lumber buyer for Stanley Wood Products, located in Santa Rosa, CA.
Stanley Wood Products is a manufacturer of custom cabinetry, millwork, butcher block tops and furniture. They have been in business for over 44 years. The company purchases approximately 100,000 board feet of Hardwood lumber each year, including Poplar, Maple, Walnut, Alder, Cherry and Beech. Lumber is purchased in FAS grade, 4/4, 6/4 and 8/4 thicknesses and rough.
The company also purchases softwood species such as pine and vertical grain fir.
Maida attended Cardinal Newman High School and Santa Rosa Junior college, located in Santa Rosa. He has worked at Stanley Wood Products since he was a child, pushing a broom around when he was eight years old. Over the years he has held the positions of shop helper, delivery driver, cabinetmaker, estimator, production manager and anything in between. In his current position as president and lumber buyer, he handles all material purchasing and daily operations.
In his spare time, Maida enjoys spending time with his wife of 17 years, Jen and their two children, Hannah and Hunter. He also enjoys camping, driving Jeeps, golfing, and traveling.
More details can be found at www.stanleywp.com.