Mississauga, Ontario—Tropical Forest Products (TFP), a hardwood distributor based here, demonstrates its commitment to quality in a number of ways. Established in 2017, this company not only handles exotic wood from many parts of the world, but also sources domestic hardwoods and softwoods along with providing two initiatives that strive to make sure the company is taking good care of its customers.
The first initiative is the establishment of their new premium Black Label line of lumber and related products. The second is asking for and listening to customers' feedback on how well TFP is meeting their needs.
TFP recently announced the launch of its new Black Label brand of curated, certified-sustainable tropical hardwoods graded to the highest quality standards in the industry. Black Label's signature species includes a selection of the finest Ipe, Cumaru, Jatoba, Garapa, Bulletwood (also known as Massaranduba), and Tigerwood in the world, according to a company press release. Exceeding industry standards, Black Label lumber is carefully and 100-percent legally sourced from South America.
"The Black Label brand is a handpicked selection of the finest lumber nature has to offer," said Kris Kanagenthran, President and Chief Executive Officer of TFP. "Each piece of lumber must meet our uncompromising quality and sustainability certification standards as we do our part to protect our planet." TFP maintains that for customers, it truly represents their guiding principle of quality hardwoods for the architectural millwork and decking market sectors.
All Black Label products are certified as sustainable by either the Forest Stewardship Council (155777) or Legal Lumber, which is TFP's internal Due Care Chain of Custody environmental compliance program. Created to set stringent criteria for the highest sustainability standards in the lumber industry, Legal Lumber is designed to support global forest initiatives and promote environmental benefits.
According to TFP, "When you buy certified wood, you are doing your part to protect our planet. That's because the trees used to produce legal lumber are carefully selected, taking into account age, size and productive wellbeing of the forest, providing extra space needed for young and healthy trees to grow, collecting and storing more carbon."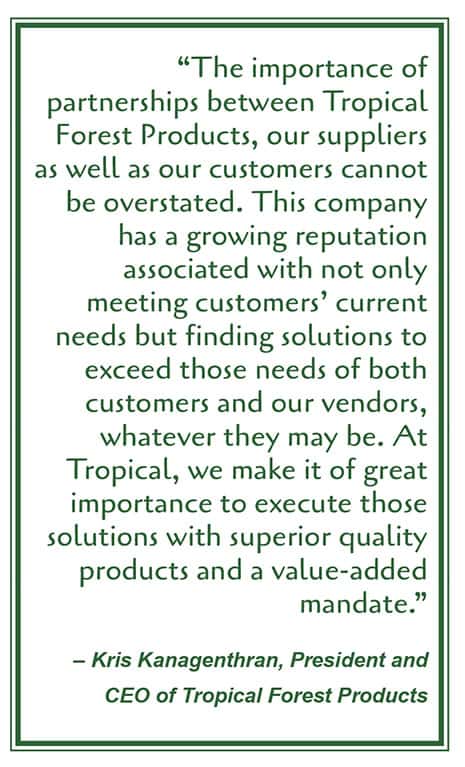 Ideal for a variety of applications – including decking, cladding, deck tiles and soffits as well as architectural millwork – Black Label wood provides dealers, architects and homeowners with a comprehensive selection of tropical hardwood solutions that realizes any vision, TFP stated. Black Label wood species come in a broad range of grains, colors and profiles, along with a variety of professional-grade accessories for building, maintaining and preserving the natural beauty of decks, cladding and other wood projects.
"Delivering strength and performance in every product, the Black Label brand continues to push the industry forward, raising the bar in quality and sustainability," Kanagenthran noted. "Each board must be of Premium Architectural Grade or higher to be sold under the Black Label brand, and every accessory from screws to clips offers the same standard of quality, providing architects and homeowners the best in premium lumber available."
In another initiative – to gather information that can help TFP improve – the company is using a variety of means to get feedback from customers. "Our goal is to provide world-class customer service," Kanagenthran emphasized. "It became very evident early on that we need constant feedback from our customers to ensure we are not only meeting, but exceeding, their expectations."
Recently, TFP launched an aggressive multi-faceted, customer feedback campaign, one that is believed to be the first in the forest products industry, the company stated. TFP is using all its sales, marketing, CRM and digital online efforts for this information-gathering project.
TFP was founded on the belief that acquiring lumber of superior quality should be easy and ethical. Its team is made up of dedicated professionals who are passionate about forests and their survival, the company states. Guided by four main principles, TFP strives to meet every client's need with quality lumber, to deliver products on time, to maintain a commitment to client service and to maintain the best prices in the market.
According to Jordan Dery, Vice President of Sales, "Tropical Forest Products imports and distributes a comprehensive pallet of both tropical and domestic forest species. A significant portion of the company's efforts focus on the markets for naturally durable wood products for exterior applications."
In addition to its Black Label line, TFP sells other exotic woods including African Mahogany, Afromosia, Aniegre, Bloodwood, Bubinga, Caribbean Walnut, Iroko, Santos Mahogany, Sapele, Teak, Zebrawood and others. TFP's line of domestic hardwoods include rift-and-quartered White Oak, Alder, Basswood, Beech, Birch, Cherry, Hickory, Hard and Soft Maple to name a few, as well as softwood offerings of Aromatic Cedar, Douglas Fir, Western Red Cedar and White Pine. The company purchases its lumber from a multitude of sawmills around the world.
TFP offers other products, including truck and trailer decking, cross ties, heavy timbers, post beams, fenders and sheet piling.
At TFP, being flexible to react to the most unusual customer request is their specialty. Currently, TFP is supplying a contract for a 4-inch by 12-inch trapezoidal handrail in Ipe for the Port of Los Angeles, pre-fabricating custom removable dock panels in Ipe for the Charleston City Marina and delivering 165,000 lineal feet of custom Black Label Kebony decking for a project in Austin, Texas.
"The importance of partnerships between Tropical Forest Products, our suppliers as well as our customers cannot be overstated. This company has a growing reputation associated with not only meeting customers' current needs but finding solutions to exceed those needs of both customers and our vendors, whatever they may be. At Tropical, we make it of great importance to execute those solutions with superior quality products and a value-added mandate," said Kris Kanagenthran, President and CEO of Tropical Forest Products.
TFP operates throughout the United States as well as Canada, and due to TFP experiencing a rapid sales expansion, trending triple digit growth annually, the company has expanded into new facilities in both Canada and the U.S over the last year with over 250,000 square feet of warehouse space. The company has its head office in Mississauga, Ontario as well as other locations in Summerville, South Carolina; Miami, Florida; Stockton, California; and Edison, New Jersey.
In addition to Kanagenthran and Dery, key personnel include Paulo Renelli, Chief Financial Officer, Kevin Kilpatrick, Chief Marketing Officer, Brian Lotz, General Manager, U.S. Operations, and Derek Johns, Vice President of Operations. In all, TFP employs more than 60 people.
TFP is a member of the Forest Stewardship Council, the International Wood Products Association, the North American Wholesale Lumber Association, the National Hardwood Lumber Association, the American Institute of Architects, and the American Society of Landscape Architects, not to mention Legal Lumber, TFP's environmental compliance program.
Learn more about Tropical Forest Products and their new premium Black Label line of lumber and accessories at www.WeAreTropical.com, www.BlackLabelWood.com or call 905-672-8000.