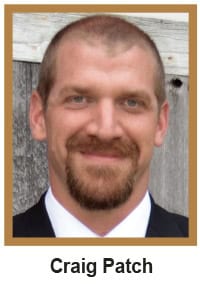 Craig Patch is a purchasing agent for Carlisle Wide Plank Floors, headquartered in Stoddard, NH. Patch is based in Swanzey, NH, where Carlisle's manufacturing facilities are located.
Carlisle Wide Plank Floors is a manufacturer of wide plank Hardwood and softwood floors, both engineered and solid construction. The company also manufactures reclaimed Hardwood flooring. Carlisle purchases a total of 5 million board feet of new Hardwood lumber per year including Ash, Brown and White Maple, Hickory, Red and White Oak, Rift and Quartersawn White Oak, Birch, Walnut and Cherry (FAS, Rustic, some proprietary grades, with the majority purchased in 4/4 thickness and KD).
Carlisle Wide Plank Floors also purchases eastern white pine, longleaf heart pine and some reclaimed Hardwoods. Value-added services include pre-finishing, patterned floors, handmade surfaces, and panel production.
Carlisle Wide Plank Floors is a member of the Wood Floor Covering Association, National Wood Flooring Association, Society for the Protection of New Hampshire Forests, Better Business Bureau and Interior Designers of Canada. The company is a three-time recipient of the Better Business Bureau Torch Award of Ethics and was a finalist in the large company category in 2013 and 2014.
Patch graduated from Monadnock Regional High School, Swanzey, NH, in 2001. His career in the forest products industry started when he worked for Tommila Bros. Lumber from 2001 to 2006. In 2006 he began working at Carlisle Wide Plank Floors and has worked as a moulder operator in their pre-finishing department, as well as many other positions with the most recent being their custom panel maker. His current position of purchasing agent started in February 2022.
In his spare time Patch enjoys golf, traveling with his wife and attending sporting events with his wife and two daughters.
For more information visit www.wideplankflooring.com.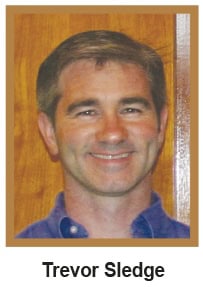 Trevor Sledge is president and owner of Sledge Craft Architectural Millwork Inc., of Murfreesboro, TN.
Sledge Craft is a manufacturer of custom architectural millwork, mouldings, S4S, cabinet parts, drawer parts, and primed and top coated mouldings.
Sledge purchases over 1 million combined board feet of White and Brown Hard Maple, White Oak, Poplar, Soft Maple, and Hickory annually in FAS.
The company offers priming and prefinished stain grade mouldings, lumber surfacing services, cut-to-length parts, and custom painted mouldings.
Sledge Craft is located within 600 miles of 80 percent of the nation's population. It ships to all 50 states and Canada.
The company is equipped with high-speed moulders and an optimizing gang rip saw, all from Weinig.
Sledge Craft is a member of Architectural Woodworking Institute, Quality Certification Program, and the Forest Stewardship Council.
Born in Murfreesboro, TN, in 1968, Sledge co-founded Sledge Craft in 1986 as an architectural millwork shop. He attended David Lipscomb University in Nashville, TN, studying business administration. He has been married to Libby for 22 years and they have two sons, Jacob, 16, and Benjamin, 10.
Sledge enjoys spending his free time, fishing, hiking, backpacking, water skiing and serving as a Boy Scouts leader.
Find out more about Sledge Craft at www.sledgecraft.com.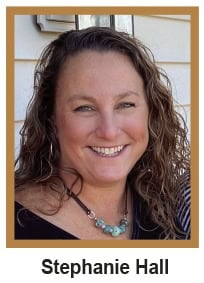 Stephanie Hall is owner/designer at Mark Hall Cabinetry, located in Columbia, MO. She is involved and knowledgeable in various aspects of the business, including lumber purchasing. She closely works with customers to design their spaces and select their materials.
Mark Hall Cabinetry is a manufacturer of custom cabinetry for every room of a home, including the kitchen and bath. Additional product offerings include commercial casework, custom furniture pieces and custom Hardwood counter tops.
The company purchases approximately 140,000 board feet per year of Birch, Poplar, Knotty Alder and Clear Alder, Quartersawn White Oak, Red and White Oak, Maple, Cherry, Walnut and some Teak, all in Select grade.
Value-added offerings include full design services and installation for local clients, as well as full customization for every project.
Mark Hall Cabinetry is an industry member of NAHB and HBA of Columbia and NHBA.
Stephanie founded Mark Hall Cabinetry 26 years ago alongside her husband, Mark. It is her first position in the forest products industry. Mark learned cabinet making from his father as a teenager and was working as a cabinet salesman shortly before the couple was married and founded the company. The company has 26 full-time employees.
Stephanie is a graduate of Parkway North High School, located in St. Louis, MO, and attended college first at Williams Woods University, located in Fulton, MO, then the University of Missouri in Columbia. She serves on the board at the Home Builders Association of Columbia.
In her spare time, Stephanie enjoys watching/attending sporting events at her local university and painting. Her favorite sports team is the St. Louis Cardinals. Stephanie and Mark have been married 26 years and have five children and six grandchildren. One of their favorite family activities is hosting large family dinners.
To learn more, visit www.markhallcabinetry.com.