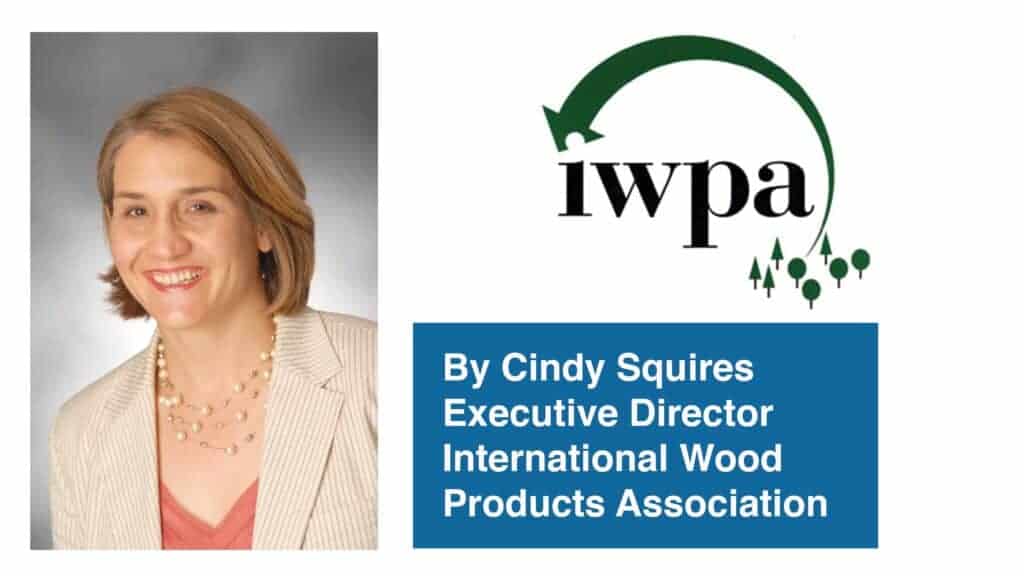 After eight years at the helm of the International Wood Products Association (IWPA), I am leaving the wood products space and returning to manufacturing to be President and CEO of the American Composites Manufacturers Association. It has been my absolute privilege to serve as IWPA's Executive Director. I am extremely proud of the time I spent at IWPA and cherish the many relationships that I have built over this time. I leave knowing we have worked together to build our industry's capacity to tackle all the challenges that impact the wood products trade.
In my first year, IWPA adopted its mission, to build acceptance and demand in North America for globally sourced wood products from sustainably managed forests, which made it possible to chart a daring new course for IWPA. One of the initiatives that came out of that mission is the Wood Trade Compliance Training Courses that IWPA's staff, Board, and a dedicated team of industry volunteers built from scratch with support from the World Resources Institute and USAID. Several key laws and regulations like the Lacey Act and formaldehyde emissions regulations at the federal and state levels have placed important requirements and responsibilities on stakeholders in our industry. Our WTCT courses equip industry compliance professionals with the knowledge, tools, and relationships they need to build robust compliance mechanisms. From the introductory "101" course, we have built a full suite of courses to develop new Wood Trade Professionals for the industry. I am confident this program will continue to grow in the years ahead. If you or your staff would benefit from this compliance training, these courses will continue this year in July (virtually) and August (in Atlanta).
Our industry also worked quickly to adjust this past year to COVID-19 and IWPA held two World of Wood Convention's and 2020's Washington Fly-In virtually. Now that infections and hospitalizations are down and travel is becoming possible again, we are excited to pivot back to in-person meetings. For the first time ever, we will hold an in-person Fall World of Wood along with an expanded Washington Fly-In for U.S. members at the Gaylord National Resort & Convention Center just outside Washington, DC, September 27-29.
The IWPA Board has initiated a search for my successor. In the meantime, I encourage current and prospective IWPA members to work closely with our capable staff to determine how they can continue to help you achieve your goals.
As I prepare to hand off the reins at IWPA, I want to thank all those I have worked with to build our industry's capacity to respond to and capitalize on the many challenges we have faced. There was never a dull day, but I was constantly impressed by the remarkable leaders who worked to grow in spite of the challenges. I am excited to see all that you accomplish in the years to come.
P.S. I also want to thank the team at Miller Wood Trade Publications. They are a remarkable resource for this industry, and I have enjoyed their generosity as they afforded me the opportunity to connect with their readership.