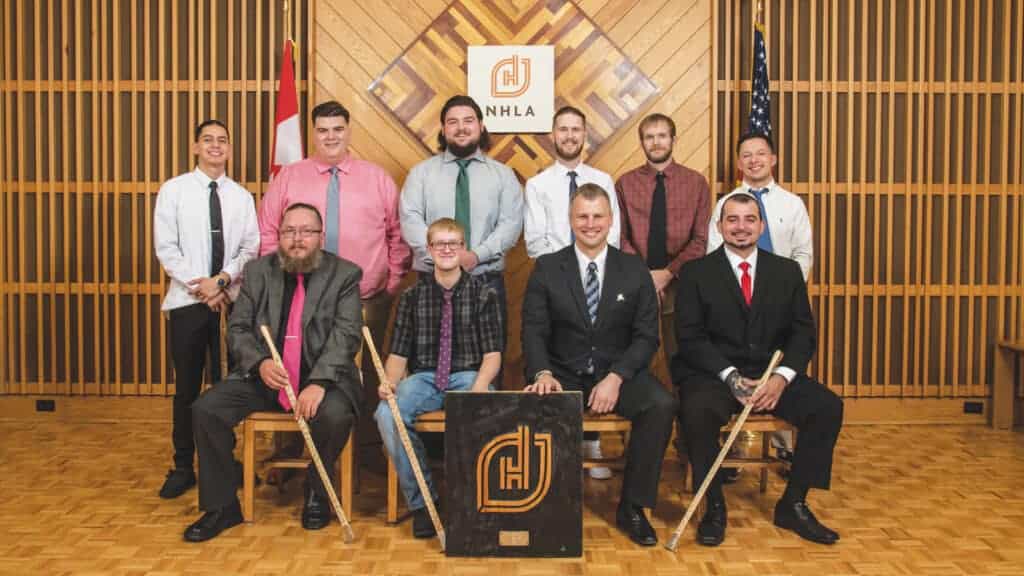 Memphis, TN–The National Hardwood Lumber Association (NHLA), headquartered here, celebrated the graduation of the 195th class of the Inspector Training School (ITS) recently. Five students completed the traditional 8-week program, while four students completed the online training program.
Dana Spessert, NHLA Chief Inspector and ITS Dean of Education, welcomed and thanked the families, friends, and employers who supported the students during their time away from home.
Instructor Roman Matyushchenko addressed the graduates, telling them, "You did a great job. In the future, try to improve your skills every day, every hour, and every minute. Give more than you are expected to give and be more than you are expected to be."
Bruce Horner with Abenaki Timber Corporation, a graduate from ITS Class #108 in August of 1992, gave the keynote address. He congratulated the graduates and told them, "Your company sent you to the Inspector Training School because they know this is where the industry leaders start, and they saw something in you that told them you could be a great leader because you showed a solid work ethic and initiative."
Austin Davidson with York Legacy Mill was elected class president. He spoke to his fellow students during the ceremony saying, "The knowledge we have gained here will lead us into a bright and successful future, not just as lumber graders, but as part of a family in the everlasting industry of Hardwood lumber. Let us leave here today with our heads held high and strive for nothing but the best!"
Graduates of the 195th class were:
Derek Arthur, Graf Brothers Flooring & Lumber
Joseph Coburn, Missouri WalnutAustin Davidson, York Legacy Mill Inc.
Jonathan Flores, Associated Hardwoods
Stephen Graham, Hammes Brothers Sawmill
Allen Hargrove, Winston Hardwood Lumber
Nathan Hayes, Hartzell Hardwoods Inc.
Jason Hutson, Hermitage Hardwood Lumber Sales Inc.
Terry Tussey, Salem Hardwood Lumber Company
Roman Matyushchenko presented the individual achievement awards.
Outstanding individual awards recipients were as follows:
Austin Davidson, ITS Educational Foundation Award for Highest Overall Average
Terry Tussey, Howard Hanlon Award for Second Highest Overall Average
Terry Tussey, Westside Hardwood Club Award for Highest Board Run Average 
Jonathan Flores, Milt Cole and NHLA Award for Best Attitude/Citizenship
The NHLA Inspector Training School has a proud and rich 70-year history, graduating more than 7,500 students since its conception. The program teaches the rules and applications of the NHLA grading system and prepares students for a career in the Hardwood industry. This unique program has earned worldwide respect, consequently attracting students from throughout the United States, Canada, Europe, Africa, South America, and Asia.
The world's largest and oldest Hardwood industry association, NHLA represents companies and individuals that produce, use, and sell North American Hardwood lumber or provide equipment, supplies, or services to the Hardwood industry. It was founded in 1898 to establish a uniform system of grading rules for the measurement and inspection of Hardwood lumber. Since 1979, its headquarters have been in Memphis. n
To learn more about NHLA, please visit www.nhla.com.