Wood-Mode Improves Its Plant, Introduces New Products
As 2022 drew to a close, Wood-Mode Fine Custom Cabinetry, located in Kreamer, PA, was due to complete its Focus Forward Initiative, a more than $4 million program to strengthen the company. "This initiative is strategically designed so that ultimately our customers benefit, and our representatives, dealers and employees succeed," said Rod Hunter, Wood-Mode general manager. This was one of the largest financial investments in the company's history.
Included in the 18-month initiative were factory improvements, production equipment upgrades and new cabinet styles, among other steps.
Wood-Mode manufactures only in the U.S. and uses solid U.S. Hardwoods, including Maple, Cherry, Red and White Oak, Alder, Walnut and Mahogany.
In Focus Forward, Wood-Mode's factory got new boiler equipment, new sawmilling equipment, a coating and finish system upgrade and a new communications system.
Also included: new plural component spraying equipment for improved consistency and waste reduction, a new veneer sanding system, taller cabinet press, and a new edge polishing system.
New cabinet doors have been introduced including the Moditional Collection, a door style range that brings together the benefits of inset cabinetry with modern design sensitivities, and the Arlington and Burlington, two more new door styles.
To learn more, go to www.wood-mode.com.
Cabinet Sales Remain Robust
According to the monthly Trend of Business Survey by the Kitchen Cabinet Manufacturers Association (KCMA), based in Reston, VA, participating cabinet manufacturers reported an increase in overall cabinet sales of 23.8 percent for September 2022, the latest information available at presstime, compared to the same month in 2021.
September 2022 sales increases over September 2021:
•Overall sales up 23.8 percent
•Custom sales up 8.4 percent
•Semi-custom up 32.5 percent
•Stock sales up by 21.9 percent
•Estimated cabinet quantity increased 1.9 percent
YTD 2022 to 2021:
•Overall sales up 17.6 percent
•Custom sales up 16.0 percent
•Semi-custom up 15.9 percent
•Stock sales up by 19.2 percent
•Estimated cabinet quantity decreased 0.6 percent
The full Trend of Business Report is available to participating members.
Survey participants include stock, semi-custom and custom companies whose combined sales represent approximately 75 percent of the U.S. kitchen cabinet and bath vanity market. KCMA is the major trade association for kitchen cabinet and bath vanity manufacturers and key suppliers of goods and services to the industry.
For more information, go to www.kcma.org.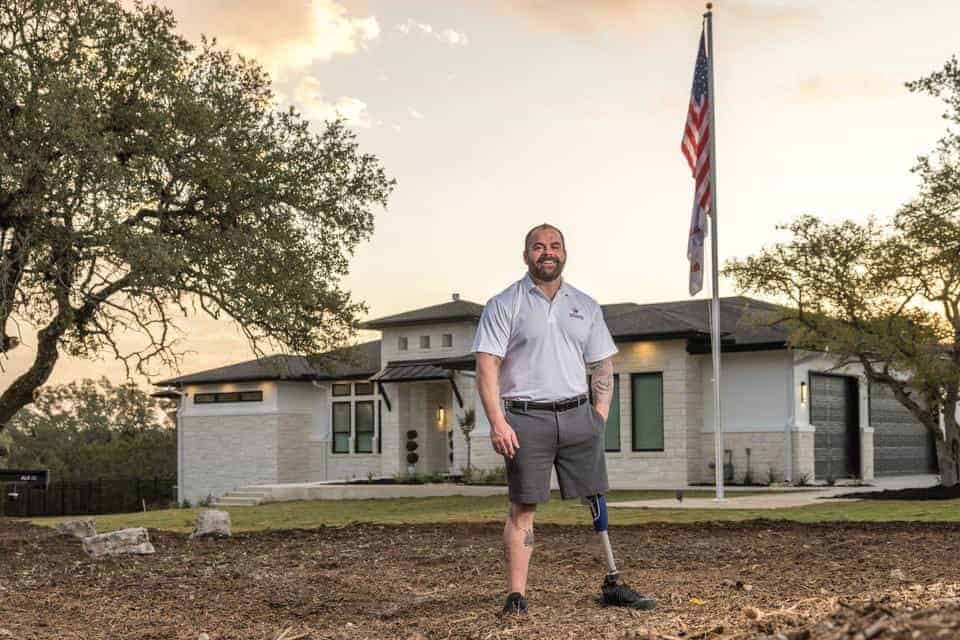 NWFA Completes 65th Home With Gary Sinise Foundation
The National Wood Flooring Association (NWFA), headquartered in St. Louis, MO, has provided flooring for its 65th home in support of the Gary Sinise Foundation R.I.S.E. program (Restoring Independence Supporting Empowerment). The R.I.S.E. program builds mortgage-free, custom, specially adapted smart homes for severely wounded veterans and first responders. The home dedication for United States Army Captain (Ret.) Derick Carver took place recently in New Braunfels, TX. Flooring for the project was donated by NWFA member AHF Products.
In January 2012, while serving in the Arghandab River Valley outside of Kandahar, Afghanistan, Capt. Carver and his unit met with local teachers and elders to discuss reopening a school that had been rigged to blow with IEDs. On their way to the school, the group was ambushed by the Taliban. Capt. Carver's injuries included the loss of most of his right thigh, multiple fingers, and his left leg.
"After multiple life-saving surgeries, Captain Carver was transported to Walter Reed Medical Center, where he spent 13 months in recovery," said NWFA President and CEO Michael Martin. "While at Walter Reed, he endured nearly 50 surgeries, more than 50 blood transfusions, and five plasma transfusions. Following his inpatient recovery, he returned to duty and assumed the role of AS-3 for the 4th Ranger Training Battalion. Today, he's retired from the military, competes in athletic competitions, and plans to continue his education by attending graduate school. We're honored to partner with AHF Products to provide beautiful wood floors for his new home."
In addition to the 65 homes already completed, NWFA currently is working with its members to source wood flooring for 17 additional R.I.S.E. homes in various stages of planning and construction. Currently, 143 NWFA member companies have donated product, logistics, and installation services in locations throughout the United States, with a total value of more than $5.7 million. A list of all NWFA R.I.S.E. participating companies can be found at www.nwfa.org/giving-back.aspx.
To learn more about the program, and how you and/or your company can get involved, contact the NWFA at 800-422-4556, or e-mail them at anita.howard@nwfa.org.
The National Wood Flooring Association is a not-for-profit trade organization, with more than 3,200 member companies worldwide, dedicated to educating consumers, architects, designers, specifiers and builders in the uses and benefits of wood flooring. The NWFA is located at 111 Chesterfield Industrial Boulevard, Chesterfield, MO 63005, and can be contacted at 800-422-4556 (USA and Canada), 636-519-9663 (local and international), or at www.nwfa.org.