Dura Supreme Cabinetry Introduces Curved Wood Hoods
Dura Supreme Cabinetry, headquartered in Howard Lake, MN, recently announced an update to their wood hood offering with the addition of two new Curved Wood Hoods, the Curved Modern Wood Hood and Curved Canopy Independent Wood Hood.
Dura Supreme uses solid U.S. Hardwoods – including Cherry, Red Oak, quarter-sawn White Oak, Maple, Knotty Alder, Hickory and Rustic Hickory – in its manufacturing. Dura Supreme manufactures only in the United States.
Kitchen design trends continue to evolve with Transitional styles taking center stage, according to a company spokesperson. Dura Supreme's Modern Hoods are sleek and simple, with a streamlined design, well suited for Transitional and soft Contemporary looks. Their Independent Hoods are beautiful stand-alone pieces with a streamlined design, well suited for any style, the spokesperson stated. With the addition of Dura Supreme's new Curved Hoods, homeowners can create a sleek and classic focal point for their kitchen design with a variety of canopy styles.
Dura Supreme's wood hoods come standard with an integrated Vent-A-Hood liner and blower to make design and installation simple and easy.
Located in Howard Lake, MN, Dura Supreme manufactures semi-custom and custom, framed and frameless cabinetry for a nationwide network of dealers. For 60-plus years homeowners and designers have looked to Dura Supreme for kitchen and bath cabinetry that fulfills their desire for personalized design choices and outstanding quality of construction, the spokesperson continued. To learn more about Dura Supreme or to contact an authorized Dura Supreme cabinetry dealer visit www.durasupreme.com.
Ten Oaks LLC To Invest In Its Production Capability
Governor Ralph Northam, of Richmond, VA, recently announced that Ten Oaks, LLC, a manufacturer of high-quality residential Hardwood floors, will invest nearly $9.3 million in Patrick County to construct a state-of-the-art Hardwood sorting and stacking facility. The new mill will enable the company to strengthen its supply chain, optimize yield on raw materials, and improve production quality and efficiencies, while creating a major new market for Virginia's Hardwood sawmills. The project will create 11 high-paying jobs and lead to the purchase of more than $18 million of Virginia grown forest products over the next three years.
Ten Oaks uses solid U.S. Hardwoods in its manufacturing, including Red and White Oak. All of Ten Oaks' manufacturing is carried out in the United States.
Established in 2004 in the Town of Stuart, VA, Ten Oaks has built its reputation on its steadfast commitment to quality, according to a press release. In 2019, the company was acquired by Canadian-based Boa-Franc, a leading manufacturer of residential prefinished Hardwood flooring, which is committed to growing its U.S.-based manufacturing operations. This new Ten Oaks facility is located less than five miles away from its manufacturing center and headquarters. Lumber will be used in the production of residential Hardwood flooring at Ten Oaks, as well as commercial truck Hardwood flooring for Prolam, a Canadian-based truck and trailer flooring manufacturer located next to the new Ten Oaks facility.
For more information, go to www.tenoaksflooring.com.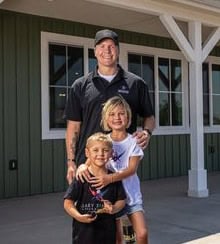 NWFA Completes 59th Home With Gary Sinise Foundation
St. Louis, MO—The National Wood Flooring Association (NWFA), headquartered here, has provided flooring for its 59th home in support of the Gary Sinise Foundation R.I.S.E. program (Restoring Independence Supporting Empowerment). The R.I.S.E. program builds custom, specially adapted smart homes for severely wounded veterans and first responders. The home dedication for United States Navy Petty Officer 2nd Class (Ret.) Daniel "Doc" Jacobs took place recently in Vista, CA. Flooring for the project was donated by NWFA member WD Flooring.
Petty Officer Jacobs enlisted in the Navy in 2004 and was deployed to Iraq after completing Corpsman training. In 2006, six months into his seven-month deployment, he was severely injured in an IED explosion that took two lives, left two soldiers as amputees, and resulted in other serious injuries.
"Following his injuries, Petty Officer Jacobs became the Navy's first amputee Corpsman," said NWFA President and CEO, Michael Martin. "This put him in the position of being the first amputee of all Navy personnel to return to a deployable infantry unit, which speaks to his determination to serve. We're honored to partner with WD Flooring to provide beautiful wood floors for his new home."
In addition to the 59 homes already completed, NWFA currently is working with its members to source wood flooring for 13 additional R.I.S.E. homes in various stages of planning and construction. Currently, 143 NWFA member companies have donated product, logistics, and installation services in locations throughout the United States, with a total value of more than $5.7 million. A list of all NWFA R.I.S.E. participating companies can be found at www.nwfa.org/giving-back.aspx.
To learn more about the program, and how you and/or your company can get involved, contact the NWFA at 800.422.4556, or e-mail them at anita.howard@nwfa.org.