Mississauga, ON – Tropical Forest Products, with its head office here, recently announced that its premium Black Label™ brand of Ipe and other tropical Hardwoods has partnered with Dakota Premium Hardwoods, a trusted distributor of high-quality lumber, engineered products and full job packages such as supports and fasteners. With branch locations in Texas, Louisiana and Oklahoma, Dakota is headquartered in Waco, TX. Dakota Premium Hardwoods will distribute the full line of Black Label's sustainable tropical Hardwoods throughout their warehouse locations.
"The Black Label team is excited to continue the expansion of our distribution network in Texas, Louisiana and Oklahoma with Dakota Premium Hardwoods," said Brian Lotz, Technical Director for Tropical Forest Products. "Dakota's impressive green initiatives, unsurpassed customer service, Hardwood expertise and supply chain mastery are essential to the Black Label brand as we grow our distribution footprint."
Black Label is dedicated to offering 100 percent legally harvested sustainable tropical Hardwoods from South America. Every tree chosen to produce Black Label products is carefully selected based on the forest's age, size and productive wellbeing. Black Label features Ipe, Cumaru, Jatoba, Garapa, BulletWood and Tigerwood, with commercial and residential applications ranging from decking, cladding and ceilings to architectural millwork.
"The Dakota partnership with the Black Label brand perfectly aligns with our commitment to offering beauty, sustainability and value across our growing platform," said Ron Mazzarella, CEO of Dakota Premium Hardwoods.
Raising the bar for premium, sustainable tropical Hardwoods, Black Label's kiln-dried process enhances every product for strength and stability, a company spokesperson said. Every board and hardware accessory must be Premium Architectural Grade or above to earn the name Black Label.
Black Label provides a complete marketing and promotional support program along with a very strong online presence, with the dealer, contractor, architect, designer and homeowner in mind. Learn more at www.blacklabelwood.com, and www.wearetropical.com or call 905-672-8000. Also, visit www.dakotahardwoods.com.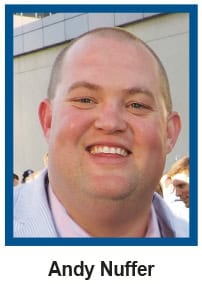 Shinglehouse, PA—Andy Nuffer recently joined the sales team of RAM Forest Products, a manufacturer of high quality Northern Appalachian Hardwoods located here.
RAM Forest Products produces over 25 million board feet annually in all grades in Hard and Soft Maple, Ash, Red and White Oak, Cherry and Poplar from their sawmill and has a drying capacity of 1.5 million board feet.
The company is a member of the National Hardwood Lumber Association, Hardwood Manufacturers Association, Appalachian Hardwood Manufacturers Inc., and The Appalachian Lumbermen's Club.
Nuffer brings over 17 years of Hardwood lumber experience in operations and sales. After starting his career in operations with Baillie Lumber Company, Nuffer went on to serve in leadership roles at Thompson Mahogany Company/East Teak Fine Hardwoods, Robinson Lumber Company and Bill Hanks Lumber Company. After the catastrophic fire at Bill Hanks Lumber Company, Nuffer led business development for TallyExpress by DMSi.
Nuffer is no stranger to RAM Forest Products, having grown up near the mill in Portville, NY. Nuffer is a graduate of Clemson University and Temple University. He has previously served on the board of the International Wood Products Association and on the Board of Directors for Wartburg Theological Seminary. He and his wife, Brianna, will continue to reside in Kernersville, NC with their three daughters.
To contact Nuffer directly, please e-mail anuffer@ramforestproducts.com or call 336-813-1512.
Frisco, TX—NWH, headquartered here, recently announced the company has launched a corporate rebrand that affects its name and identity, as well as reframing the company's positioning. The timing of the refreshed corporate brand aligns with the significant transformation taking place across the NWH organization. The new name, shortened from Northwest Hardwoods to NWH, and modified identity embody the company's commitment to the simplification of the customer experience. The change coincides with the headquarters' move to Frisco, TX and communicates NWH's renewed sense of purpose, energy, and enthusiasm of all its employees.
The NWH rebrand marks another major milestone in the evolution of the nation's largest Hardwoods provider, as it continues to evolve and take a fresh and forward-looking approach to the market. The new positioning, "Simple. Natural. Hardwoods." communicates NWH's unwavering commitment to offering Hardwoods solutions that limit complexities to unlock success for our customers.
"We are committed to maintaining our place as the industry's premier provider of high-quality natural Hardwoods and world-class service," said Dave Brower, Vice President of Marketing. "We'll succeed by making every NWH experience a rewarding experience, one that gives our customers a distinct competitive edge."
The new brand identity comes at an important time as NWH focuses on execution of its strategy to simplify the customer experience through innovation and professional excellence at every customer touchpoint. The new branding will be rolled out across the globe in the coming months.
NWH, founded in 1967, has become the leading manufacturer and supplier of Hardwood lumber to North America, Europe and Asia. With an unwavering focus on simplifying the customer experience, NWH serves the furniture, flooring, cabinet, moulding, and millwork industries with 14+ Hardwoods species from the major U.S. growing regions as well as imported plywood and exotic lumber. The company operates over 40 manufacturing and warehousing facilities across the country including sawmills, concentration yards and distribution facilities using innovative technologies to streamline the procurement process for customers. NWH supplies only sustainable, high-quality Hardwoods to protect our resources today and for future generations. For more information, please visit www.nwh.com.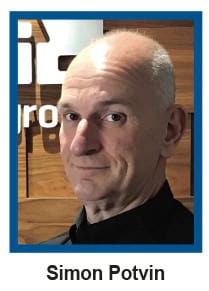 Saint-Georges, QC – BID Group, a global leader in transformational wood processing technologies and integrated solutions, with its head office here, recently announced the launch of its Global Learning Center. With its expertly crafted and specially designed courses, BID aims to reduce the knowledge gap in the sawmills by growing employees' technical excellence, allowing high-value customers to achieve and sustain top-quartile performance.
Over the last year, BID has created a dedicated team of experts working on the management of its Global Learning Center and the creation of content. The team members have years of expertise in learning management and the wood processing industry. BID has also invested in the expansion of its campus in St. George, SC, where there are four classrooms with scaled-down and full-size equipment for a hands-on learning experience.
In addition to on-campus, webinars and private learning offers, BID has developed a new online learning offering using a Learning Management System (LMS). BID's experts in the different fields of wood processing have developed the Equipment Fundamental Series, containing more than 250 courses created precisely for each of the main operational machine centers. With its in-house technical content, the online learning offer also has material provided by Rockwell Automation, a strategic partner for BID, as well as multiple courses to grow leadership and professional expertise.
"At BID, we believe that first-class wood processing starts with first-class learning opportunities. The launch of the Global Learning Center marks a commitment to our highly valued customers that we will support them in different ways, through our broad offer of services, to aid in their daily challenges. Profits rely on people's knowledge and their ability to anticipate, identify, and fix problems. This new service offering will allow mills to get the most out of their equipment and run at peak performance by building and growing their team's expertise," said Simon Potvin, president of wood processing.
The Global Learning Center is now fully operational and has already started welcoming new students.
Learn more about BID at www.bidgroup.ca.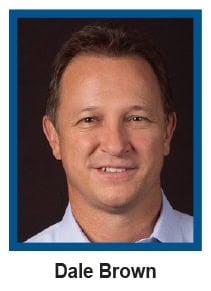 Woodland, WA—USNR, headquartered here, a division of Wood Technologies International, recently announced that it has acquired Timber Automation, an industry leader in wood processing equipment and technology. According to a company press release, the combination solidifies USNR's leadership position in providing equipment and technology to the global wood processing industry, adding more than 250 employees and over 200,000 square feet of manufacturing space.
The transaction will help Timber Automation gain wider market distribution for its state-of-the-art sawmill and woodyard equipment, while USNR will benefit from the addition of Timber Automation's highly skilled team members and production capacity.
"The addition of Timber Automation's LogPro line of log yard equipment represents a major market expansion for USNR, and their Baxley products—including optimization, edgers, and lumber processing equipment—complement our product offering, providing our customers with more options of high-quality machinery," said Dale Brown, president of USNR. "We are also excited to build upon our highly innovative optimization and grading solutions and the opportunity to bring those products to new markets."
"We knew that USNR was the right owner for Timber Automation from the outset," said John Steck, president of Timber Automation. "USNR's reputation for doing right by the customer aligns perfectly with our company culture and values. This partnership will help give us wider visibility and provide better solutions for customers."
Headquartered in Hot Springs, AR, Timber Automation also operates a manufacturing plant in Baxley, GA, and a technology center in Lévis, QC. Learn more about Timber Automation and its products by visiting www.timberna.com.
USNR, a division of Wood Technologies International, operates facilities across the United States, Canada, and Europe, including six large manufacturing plants. USNR is best known around the world for providing end-to-end solutions for sawmills and planer mills. Learn more at www.usnr.com.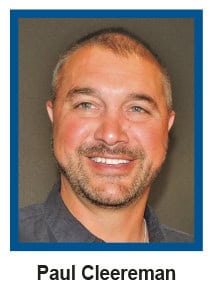 Newald, WI — Cleereman Industries/Cleereman Controls, headquartered here, recently performed a number of equipment installations at companies that manufacture Hardwood lumber, according to Vice President Paul Cleereman.
Clark Hardwoods in Erin, TN installed a Model LP-42 Linear Carriage Tilt Carriage, a 42-inch Log Turner and power unit.
Advanced Hardwoods of Fredericksburg, OH received a Model HS-380 Carriage, heavy-duty track frame and 75 Hydrostatic Carriage Drive.
Oak Ridge Lumber of Loganton, PA installed a Model AS-380 Carriage and 100 Hydrostatic Carriage Drive.
At Select & Better Hardwoods LLC in Wabeno, WI, a HS-360 Carriage and sawyers cab with new Cleereman Carriage Controls were installed.
Rich in logging and sawmill history, Cleereman Industries has developed and manufactured sawmill machinery for over 60 years using three guiding principles:
•Manufacture high quality products built for high production, increased yield and years of trouble-free operations.
•Use simple yet highly functional designs to minimize the number of moving parts while maximizing the performance and functionality.
•Provide unequaled service and support to its customers.
To learn more, go to www.cleereman.com.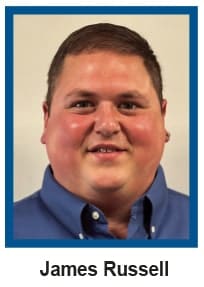 Buffalo, NY—U-C Coatings, LLC, based here, and a leading manufacturer of premium wood protection products, recently announced the hiring of James Russell as West Coast Territory Sales Representative.
Russell, based in Oregon, is a native Oregonian and spent the last seven years as an Outside Sales Rep and a Territory Solutions Specialist for Fastenal Inc. in the west-central part of Oregon. He gained valuable experience providing top-level service and supplies to sawmills and industrial customers alike, while growing the territory by adding many new large-scale customers. Russell brings a strong desire to provide excellent customer service and ambition to grow personally to U-C Coatings that will mesh well with the company's solid reputation.
He spends much of his free time outdoors, whether it is riding, camping or hunting. James and his wife welcomed the birth of their first child, a son, earlier in 2022.
U-C Coatings is a leading manufacturer and supplier of premium wood protection products. For more than 50 years their products have been used in a variety of industries, including Hardwood and softwood logging and lumber production, wood products manufacturing, woodworking and wood decking markets.
U-C Coatings' products are used worldwide to protect, conserve and enhance forest resources. Their goal is to help their customers achieve more with less waste and provide the highest level of protection for their products.
To learn more, visit www.uccoatings.com.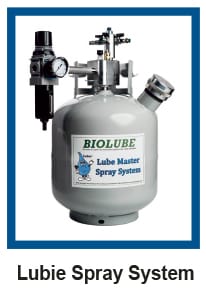 Fort Wayne, IN – Engineers for Biolube, headquartered here, went over and above the industry's safety standards while finding a sensible production solution in today's tough economy and supply chain, the company stated. Operators will immediately notice the improved safety features on the Lubie® 1000 Spray System, which incorporates a pressure relief valve on a robust re-designed venturi block.
Key Features include:
•New safety relief valve
•Increased durability
•Venturi block quick disconnect
•New manifold design with less components-backwards compatible with the 900 series tanks
•Serialization for easy asset and warranty tracking
•Shorter delivery times, less than two weeks
•100 percent satisfaction guarantee

For a limited time, receive a free drum of Lubie® Lube and up to $250 in shipping allowance when you order a New Lubie 1000 Spray System.
The rugged Lubie Spray System is specifically designed for Lubie products and backed with a 100 percent satisfaction guarantee. Lubie Systems are reliable and a cost-effective way to accurately atomize the correct formula of Lubie Lube onto the saw blade, wheel or other tooling, the company states. Customers report longer blade life and quicker turn-around in the file room. Filer's will spend less time cleaning and sharpening blades. Simply install the nozzles, connect your air supply and the spray system is operational. Lube flow is quickly and easily adjusted.
This system easily installs on:
• Band sawmills of all sizes, both vertical and horizontal
• Thin Kerf Gang Rips and edgers
• Finger jointers, moulders, Scragg mills, package saws and more
Visit Biolube's full list of authorized Lubie partners at www.biolube1.com along with a complete list of Lubie products or request a brochure at sales@biolube1.com.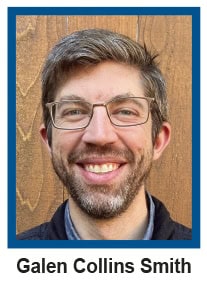 Chester, CA – Collins is excited to announce a major acquisition of forestland in northeastern California. On August 4th, a year after the Dixie Fire raced through the foothills of the Sierra's, Collins Timber Company LLC completed an acquisition of 58,000 acres of forestland from Shasta Forests Timberlands LLC and its affiliates. The primary tracts of land are near the towns of Westwood, Susanville, and Adin, and overall, the acquisition spreads across Lassen, Plumas, Modoc, Shasta, and Sierra counties.
"This acquisition is the largest timberland purchase in company history and is a significant post-Dixie Fire commitment to log supply for the Chester Sawmill, our employees, and the community," said Eric Schooler, President and CEO of Collins. The acquired land will also support the Collins operation in Lakeview, OR.
Collins is a 167-year-old, family-owned, FSC-certified forest management and forest products company, with operations in California, Oregon, and Pennsylvania; it has operated in Chester and Lakeview since the 1940s. With this acquisition, Collins will now manage 188,000 acres in California and over 370,000 acres nationwide.
"Shasta Forests Timberlands has managed these lands to the highest standard for most of the last century. We are excited and proud of the opportunity to continue stewarding these forests with a balanced focus on forest health, resiliency, and productivity. Collins suffered losses in the major 2021 fires, along with other landowners and community members, but this acquisition is an important achievement and commitment to the future of our employees, operations, and local communities," said Galen Collins Smith, Vice President of Resources for Collins.
Based in Oregon and family-owned since 1855, Collins produces these wood products: softwoods, Hardwoods, NAF pine particleboard, TruWood Siding & Trim. Collins upholds their long-standing commitment to land and resource stewardship with more than 370,000 acres of FSC-certified forestlands, five manufacturing facilities in the U.S. and one retail yard in California. Divisions are located in: Chester, CA, Kane, PA, and Lakeview and Klamath Falls, OR. You can learn more about Collins here: www.collinsco.com.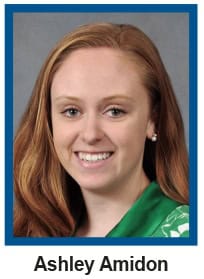 Alexandria, VA – The International Wood Products Association (IWPA), headquartered here, recently announced that Ashley Amidon has been selected to serve as its new executive director, returning after serving in a previous role as the organization's lobbyist and PAC director. Amidon brings a broad range of industry association experience to IWPA, with a strong background in government affairs and public policy.
"We enthusiastically welcome Ashley Amidon back to IWPA," said IWPA President JoAnn Gillebaard. "Ashley brings a deep knowledge of our industry along with broad government affairs experience. This will ensure a smooth transition for IWPA as we tackle the many challenges and opportunities before us."
Amidon worked most recently as Vice President of Public Policy for the National Pest Management Association, where she led its public policy team and served as treasurer of its Political Action Committee. Prior to that, she worked as lobbyist for the National Stone, Sand & Gravel Association, where she worked on environmental and trade policy issues. Amidon holds a Bachelor of Arts in History and International Affairs from George Mason University in Virginia and a Master of Arts in International Affairs from University of Hull in the UK. She also holds a Certified Association Executive credential (CAE).
"IWPA plays a critical role in advocating for acceptance and demand for the legally-sourced and sustainable wood products," Amidon said. "I look forward to returning and leading IWPA as we work with our members and partners to navigate the ongoing challenges of the coronavirus pandemic, supply chain strains, and compliance with an ever-changing regulatory and legislative landscape."
Established in 1956, the International Wood Products Association is the leading international trade association for the North American imported wood products industry, representing 167 companies and trade associations engaged in the import of Hardwoods and softwoods from sustainably managed forests. Association members consist of three key groups involved in the import process: U.S. importers and consuming industries, offshore manufacturers and the service providers that facilitate trade.
Learn more at www.IWPAwood.org.