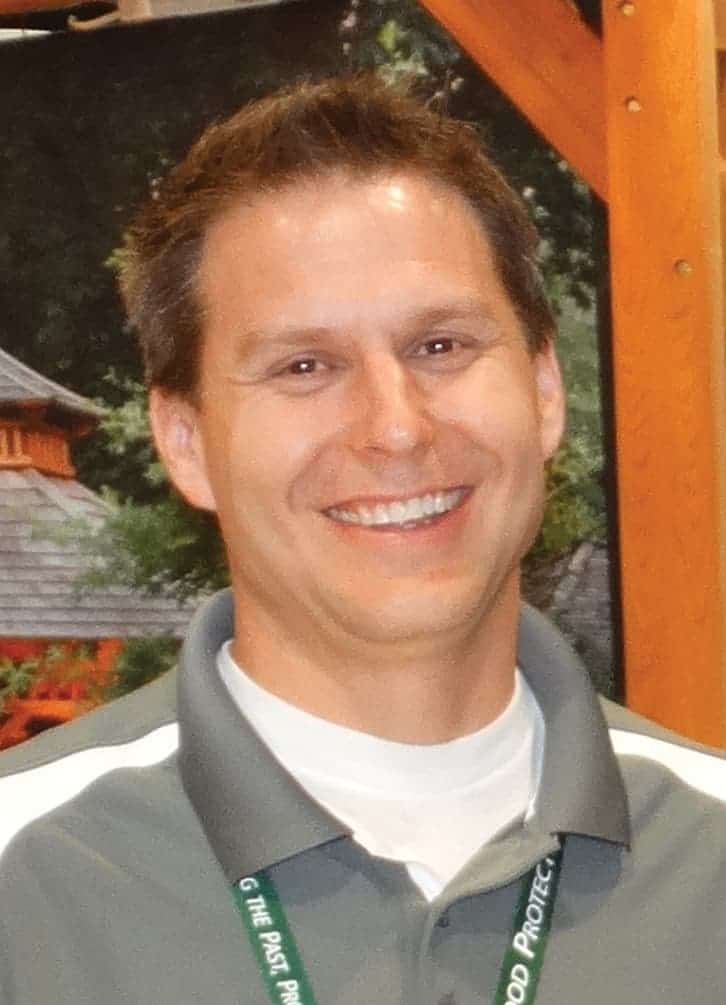 Memphis, TN—The Board of Managers of the National Hardwood Lumber Association (NHLA), headquartered here, recently announced the appointment of Dallin Brooks as the organization's executive director.
Since June of last year, the search committee has been on a quest to find the right executive director to help NHLA reach its full potential. "With the help of the recruiting firm Vetted Solutions, we have found an individual with a great deal of energy, ability and an intense desire to be part of helping to create a vibrant industry," said Jeff Wirkkala, president of NHLA.
For the last 10 years, Brooks has been the executive director of the Western Wood Preservers Institute, working to promote and protect the preserved wood market for lumber, utility poles, and railway ties.
WWPI has steadily grown under his leadership and transitioned from a defensive reactionary industry to a positive offensive story, focusing on content creation and dissemination. Together with his staff, he developed smartphone apps for Treated Wood Guide, Wood Pole Guide, and Tie Grading Guide in collaboration with other industry associations. Brooks maintained the preserved lumber "Checkmark" inspection program and worked with universities to research and improve quality control metrics and standards, reducing variability, and improving treating production. He also successfully lobbied legislation for the continued use and disposal of treated wood waste in California.
Brooks graduated with a Bachelor of Science degree in Wood Products Processing as well as a Master of Science degree in Forest and Society from the University of British Columbia. He has dual citizenship in Canada and the United States. Brooks has innovative experience in the Hardwood industry; while working for Jartek Oy, he strived to bring thermal modification from Finland to North America for wide plank flooring, cabinets, gun stocks, and other niche Hardwood markets.
Brooks grew up in the forests on his family hunting and fishing resort in BC, Canada. Brooks has seven kids and is relocating his family to the Memphis, TN area. His official start date will be June 13, 2022.
To learn more, go to www.nhla.com.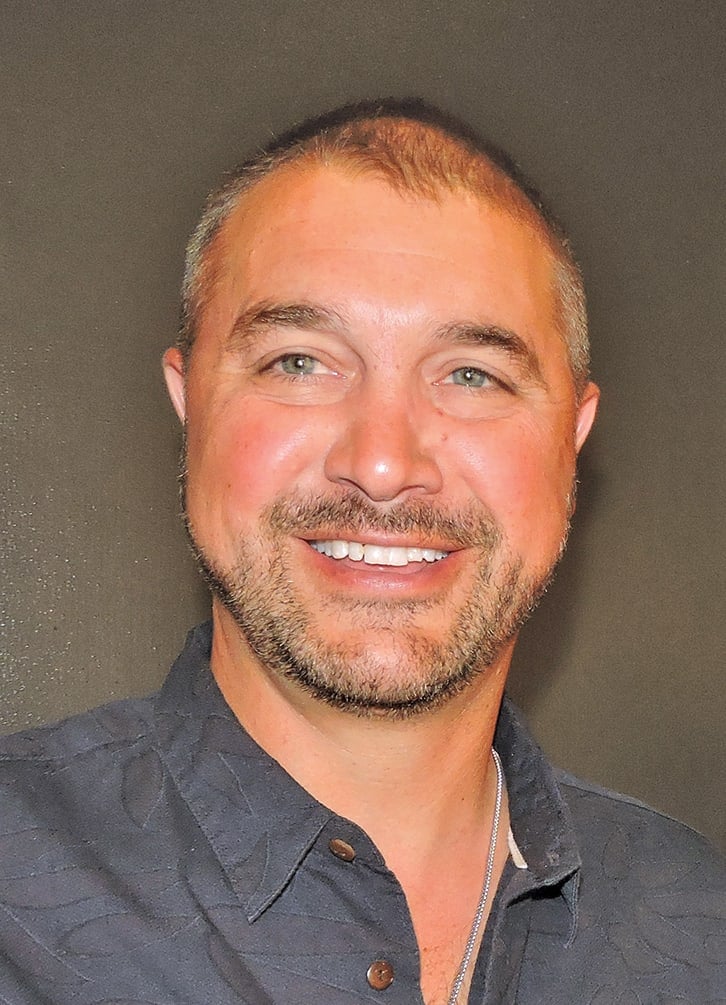 Newald, WI–Cleereman Industries/Cleereman Controls, headquartered here, recently performed a number of equipment installations, according to Vice President Paul Cleereman.
At Shamco Lumber Inc. sawmill in Iron River, MI, Cleereman Industries' engineering department handled everything from the foundation/steel embedment prints and electrical prints to all the engineered drawings needed for the entire project. The primary breakdown of this mill is a double cut band mill. Cleereman supplied a new Mellott Model 642-6-foot slanted band mill for this project along with an optimized Cleereman LP-42 linear carriage and Cleereman 654-2G optimized edger line that feeds a Cleereman trimmer. The mill is supplied with logs coming from the new Cleereman 848 debarker. Cleereman supplied a Precision chipper and waste system for Shamco. Cleereman Controls did all of the optimization on carriage and edger lines in this mill along with debarker and trimmer controls.
Also, Beiler's Sawmill in Quarryville, PA recently installed a Cleereman LP-42-inch linear carriage with Cleereman Controls. Beiler's Sawmill also has a Cleereman edger on order for spring delivery 2022.
Rich in logging and sawmill history, Cleereman Industries has developed and manufactured sawmill machinery for over 60 years using three guiding principles:
•Manufacture high quality products built for high production, increased yield and years of trouble-free operations.
•Use simple yet highly functional designs to minimize the number of moving parts while maximizing the performance and functionality.
•Provide unequaled service and support to its customers.
To learn more, go to www.cleereman.com.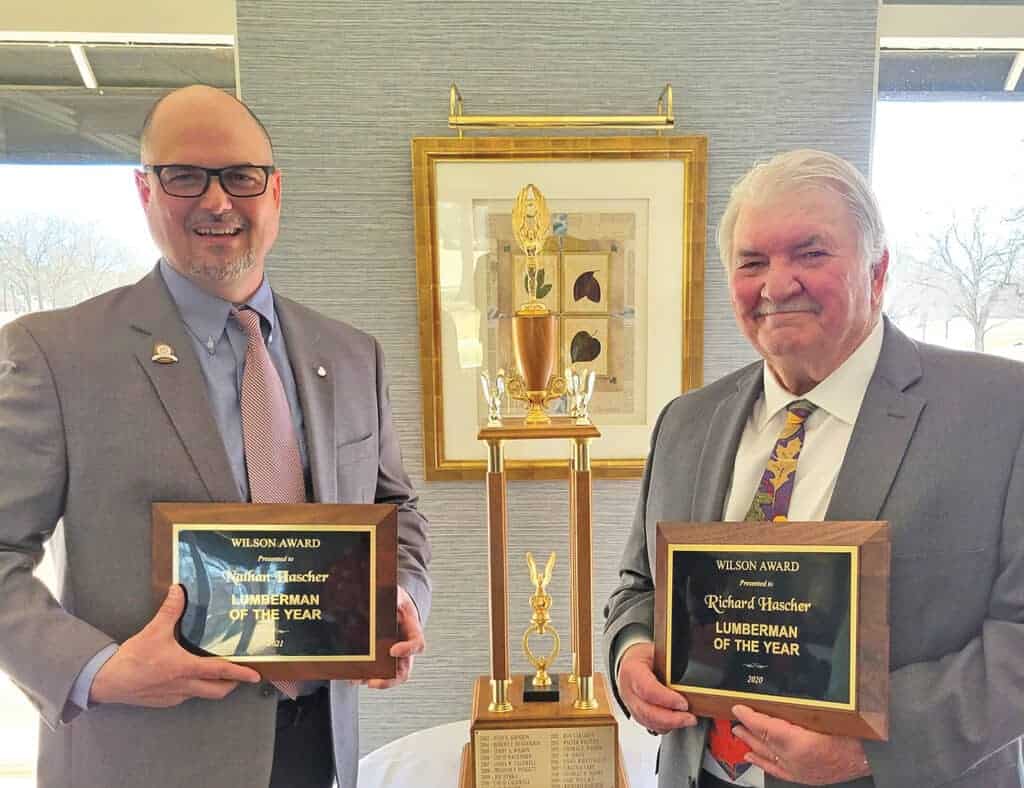 Memphis, TN—Nathan Hascher of ETT Fine Woods in Donalds, SC, a longtime resident of Memphis, TN, and his father, Rich Hascher, retired, longtime director of the National Hardwood Lumber Association's Inspector Training School, based here, both were recently honored at the same meeting of the Lumbermen's Club of Memphis as the Lumberman of the Year, separately for 2020 and 2021.
Due to COVID, the presentations during those years of Lumberman of the Year were postponed. At a recent meeting, both father and son were recognized. Rich Hascher was honored as Lumberman of the Year for 2020 and Nathan Hascher for 2021. The club invited Rich Hascher to be at the meeting to see his son honored as Lumberman of the Year. The club also told Nathan Hascher to be there to see his father honored. But the club did not let each man know that he, himself, would receive the award.
Nathan Hascher said, "The Lumbermen's Club of Memphis Lumberman of the Year award is an esteemed honor. The list of former recipients includes known, successful and respected lumbermen not just in Memphis but throughout the industry. I was shocked to be thought of in the same light. I am forever grateful for the Lumbermen's Club of Memphis and the many relationships I have made."
Rich Hascher said, "The Hascher's really had a pretty good day there. I thought it was really special for both of us to win the Lumberman of the Year award. It's a pretty prestigious award."
Andy Johnson, the club president, said that in Rich Hascher's 27 years as director of the NHLA Inspector Training School, he was "an exceptional teacher who took a deep interest in the success of his students." Johnson said that in Nathan Hascher's career in Memphis, Collierville, TN and South Carolina, he has demonstrated "work ethic, integrity, leadership skills, and enthusiasm for learning." Nathan Hascher was president of the Memphis Lumbermen's Club in 2017-18.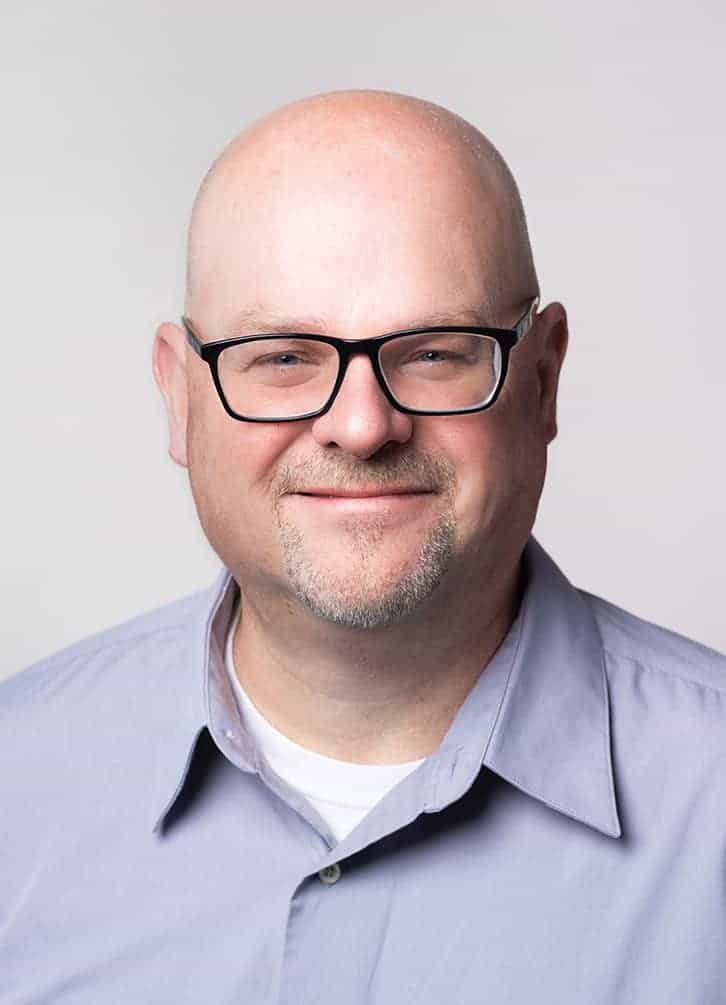 Buffalo, NY—U-C Coatings recently announced the hiring of Chris Funk as an inside sales representative at their headquarters here. Funk comes to U-C Coatings with over 25 years' experience in the transportation industry, including running a small auto hauling company for 10 years. His vast business experience will be a valuable asset to the U-C Coatings team and their customers, according to a company spokesperson. Funk has an Associate's degree in advertising. In his spare time, he enjoys sports, music and spending time with his family and friends.
U-C Coatings is a leading manufacturer and supplier of premium wood protection products. For more than 50 years their products have been used in a variety of industries, including Hardwood and softwood logging and lumber production, wood products manufacturing, woodworking and wood decking markets.
U-C Coatings' products are used worldwide to protect, conserve and enhance forest resources. Their goal is to help their customers achieve more with less waste and provide the highest level of protection for their products.
To learn more, go to www.uccoatings.com.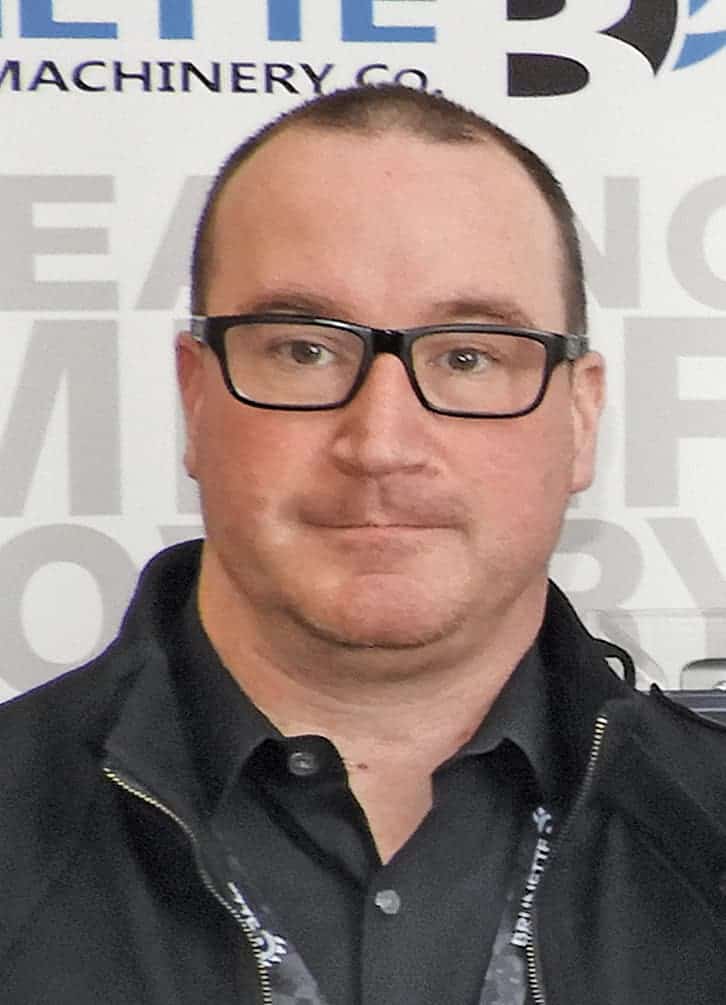 Surrey, BC—Brunette Machinery Company Inc, with its head office here, a premium supplier to the North American forest industry for more than 75 years, recently announced the acquisition of D & L Timber Technologies Ltd.
"We are thrilled to welcome this global leader in the portable sawmill industry into our family," said Kirk Forbes, President and CEO of Brunette Machinery. "The acquisition of D & L Timber Technologies is well-aligned with Brunette's strategy to grow and diversify our international operations. D & L's established history and dedication to serving strategic markets will allow us to broaden our customer base and advance our existing North American platform.
"Through this transaction, D & L will maintain its own identity and retain its manufacturing operations in Lac La Hache, BC," Forbes continued. "The team at D & L Timber Technologies has built a solid reputation, in their local community and globally, for innovation, manufacturing expertise and excellence in customer service. We believe by combining our two organizations' shared values, first-class products, brands and global capabilities, Brunette and D & L will elevate their existing operations and will better meet the growing demand for state-of-the-art equipment in the forestry industry.
"We are pleased to officially welcome D & L Timber Technologies' dedicated and skilled employees to the Brunette family," said Forbes. "This transaction will allow our team to write its next chapter as one of North America's foremost suppliers of quality wood processing equipment. Our companies' combined talents, strengths and operational excellence will deliver significant opportunities for growth to our employees and our customers. We look forward to the exciting journey ahead as we continue to provide high-quality products and excellent service to our customers worldwide."
To learn more, go to www.brunettemc.com.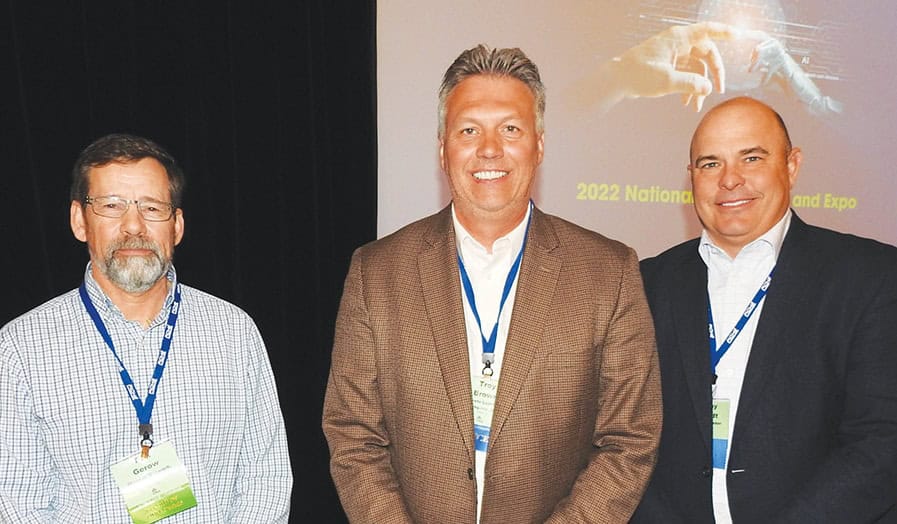 Pittsburgh, PA—The Board of Directors of the Hardwood Manufacturers Association (HMA) elected Tommy Petzoldt, East Perry Lumber Company of Frohna, MO president of the HMA at their National Conference and Expo in Miramar Beach, FL, recently.
Other HMA officers for 2022 are Vice President: Tom Gerow, Wagner Millwork LLC of Owego, NY, and executive vice president: Linda Jovanovich, HMA of Pittsburgh, PA.
The HMA board of directors also elected members to the executive committee. In addition to the officers, they are: Geoff Henderson, Anderson-Tully Company of Vicksburg, MS; Hal Mitchell, Atlanta Hardwood Corporation of Mableton, GA; Craig Miller, Battle Lumber Company, Inc. of Wadley, GA; Richard Buchanan, Granite Hardwoods, Inc. of Granite Falls, NC; Wayne Law, New River Hardwoods of Mountain City, TN; and Tom Gerow, Wagner Millwork, LLC, of Owego, NY. Troy Brown, Kretz Lumber Company, Inc. of Antigo, WI, will serve on the executive committee as the immediate past president.
During the conference's Thursday business meeting, HMA members elected Directors: Scott Cummings, Cummings Lumber Company, Inc. of Troy, PA; Matthew Netterville, Fred Netterville Lumber Company of Woodville, MS; Tripp Josey, Josey Lumber Company, Inc. of Scotland Neck, NC; David Lewis, Lewis Brothers Lumber Company, Inc. of Aliceville, AL; and Wayne Law, New River Hardwoods of Mountain City, TN.
The Hardwood Manufacturers Association is a national trade organization with membership limited to U.S. Hardwood lumber producers and processors. HMA is a member-driven association providing member companies peer-networking opportunities, valuable information exchange and strategic management tools. The association also conducts a focused, far-reaching promotion campaign, directed to both consumers and build professionals, extolling the beauty, environmental preference and lasting value of American Hardwood flooring, furniture, cabinetry and millwork.
To learn more, go to www.hmamembers.org.