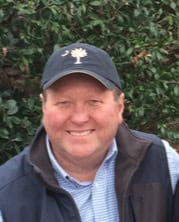 BRUCE COLLINS is general manager and purchasing agent for Marsh Lumber Co., located in Pamplico, SC.
Marsh Lumber Company is a division of Marsh Furniture Company based in High Point, NC and manufactures Hardwood components for kitchen and bath cabinetry. The company was founded in 1906 and currently purchases approximately 2.6 million board feet of Ash, Red Oak, Hard Maple, Cherry, and Yellow Birch (No. 1 Common and Better, 4/4, kiln-dried, S2S).
Collins is a graduate of South Florence High School and attended Florence-Darlington Technical College, in Florence, SC. He has worked at Marsh Lumber for 40 years, with current responsibilities including lumber purchasing and facility management.
Collins and his wife Elaine reside in Florence, SC and have been married for 31 years. The couple has two children.
For more information, visit www.marshfurniture.com.
Randy Osiason is vice president of Stanley Chair Company Inc., founded in 1949, and located in Tampa, FL. In his position, Osiason has oversight of various aspects of the business, such as lumber purchases.
Stanley Chair is a manufacturer of upholstered and leather furniture, as well as dining room furniture, with annual lumber purchases of approximately 640,000 board feet of Poplar, Ash, Soft Maple and Magnolia, all in No. 2 Common, 4/4, S2S, 7/8, air and kiln-dried, and some frame stock.
Osiason has worked as vice president of Stanley Chair his entire 32-year career in the forest products industry.
For more information visit www.stanleychair.com.
Dylan Farr is vice president at Iola Lumber Co., a distribution/concentration yard located in Millville, PA. Farr has oversight of various aspects of the business, among them sales and lumber purchasing.
Iola Lumber purchases 500,000 board feet of lumber annually of Red and White Oak, Hard and Soft Maple, Hickory, Walnut, Cherry, Poplar and pine in softwoods. All species are purchased in No. 2 Common and Better, 4/4, 5/4 and 8/4.
Iola offers retail and wholesale of kiln-dried rough lumber.
Farr has been in his present position for 10 years and began his career in the forest products industry at the young age of nine years. He has experience throughout the whole processing chain of the lumber – from purchasing, grading, drying, re-grading and selling. He earned a BSBA degree in marketing and a BSBA degree in Information Technology Management from Bloomsburg University. He has also completed a Penn-State extension course on kiln drying and has received on-the-job training for daily kiln operations over the past eight years.
He has been married five years to Mackenzie Farr.
In his spare time, he enjoys hiking and hobbies/crafting items with his hands.
Learn more about this company at www.iolalumber.com.