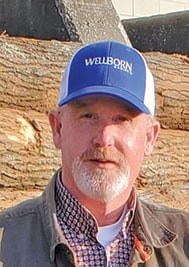 Doug Hallman is the purchasing manager for Wellborn Cabinet, Inc., a manufacturer of kitchen and bath cabinets located in Ashland, AL.
Wellborn Cabinet, Inc. purchases approximately eight million board feet annually of all grades in Maple, Cherry, Hickory, Poplar and Gum, in 4/4 and 5/4 thicknesses. Value-added services include delivery by a company-owned fleet as well as a sawmill producing Oak, Gum, Poplar and Hickory lumber and crossties.
The company is a member of the National Hardwood Lumber Association, Hardwood Manufacturers Association, Indiana Hardwood Lumbermen's Association, Appalachian Hardwood Manufacturers Inc. and Kitchen Cabinet Manufacturers Association.
Hallman has worked for Wellborn Cabinet, Inc. for 16 years, 15 of which were in his current position. His first job in the industry was as a cabinet assembly line supervisor.
As a graduate of Clay County High School in Ashland, AL, he earned his EMT certification from Southern Union Community College in Wadley, AL and his Bachelor of Business Administration from Faulkner University in Montgomery, AL.
Outside of work, Hallman enjoys cattle farming, hunting, church and spending time with his family. He has been married to his wife, Dawn, for 29 years. Together, they have one daughter, two sons and two grandchildren (one boy and one girl).
For more information, visit www.wellborn.com or contact Hallman by phone at 256-354-7151.
William Sandrock Jr. is the owner and manager of Stratton Creek Wood Works LLC and is located in Kinsman, OH.
Stratton Creek manufactures high-end residential cabinetry, architectural millwork, furniture and dovetail drawers. The company purchases over 113,000 board feet per year of Plain Sawn, Rift, Quartered White Oak, Hard Maple, Poplar, Soft Maple, Cherry and Walnut, as well as African Mahogany in FAS grade, all thicknesses, kiln-dried and rough. Most of our lumber is purchased job specific. Our needs vary per project.
Sandrock attended Ohio State University, located in Columbus, OH, for two years after graduating from Joseph Badger High School in Kinsman. He then completed an apprenticeship program in fine furniture making lead by David Powell who trained at Edward Barnsley in England at Leeds Design Workshops in Easthampton, MA.
Sandrock received the Craftsmanship Award from The Builders Exchange in Cleveland, OH, for millwork he created for Oberlin College in Oberlin, OH.
Stratton Creek Wood Works is a member of the Architectural Woodwork Institute.
In his spare time, Sandrock enjoys skeet shooting, riding four wheelers and traveling. He and his wife, Barbara, have three grown children.
For more information, visit www.strattoncreek.com.
Lynn Doherty is president and CEO of Cape Cod Air Grilles Corporation, located in South Yarmouth, MA. In her position with the company, Doherty has oversight of all aspects of the business, including lumber purchasing.
Cape Cod Air Grilles is a manufacturer of wooden vents, grilles and air registers, wall registers, heat registers, register covers, ceiling registers and high velocity registers. The company manufactures its products from Red and White Oak, Maple, Poplar, Birch, Hickory, Cherry, Ash, Alder and Mahogany. Over 100,000 board feet is purchased per year and all lumber is FAS grade, 1x's, kiln dried and S4S.
The company can work with any wood species chosen by the customer, including softwoods such as southern yellow pine and white pine. They also service customers using engineered flooring or prefinished Hardwood flooring. Cape Cod Air Grilles can produce all standard duct sizes for flush mount and surface mounts. Custom sizes are also available.
Doherty has a bachelor's degree from the University of Richmond, located in Richmond, VA, and a master's degree in business from Southern New Hampshire University, based in Manchester/Hooksett, NH.
Doherty has worked at Cape Cod Air Grilles for eight years. The company was founded 25 years ago by her father, Richard Massarelli, who retired in the fall of 2018. Before joining Cape Cod Air Grilles, Doherty had worked in the business industry since 1996.
Doherty has four children (MJ-23, Ally-20, Kylie-16 and Jake-14) and in her spare time she enjoys playing tennis, fishing, and watching Cape Cod baseball and other New England sports.
More information can be found at www.ccairgrilles.com.