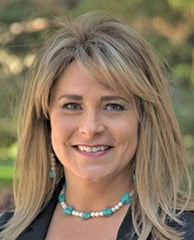 Collins Appoints New Chief Financial Officer
Collins, located in Wilsonville, OR, recently announced that Lara Moore, will become Chief Financial Officer for the company.
Moore has 20 years of experience in business affairs in higher education including 10 years as the CFO/Vice President for Finance & Administration at Eastern Oregon University. Moore's strong leadership was critical to creating dynamic financial systems used to build and monitor the fiscal health of the university. Additionally, Moore was responsible for the oversight of facilities and planning, information technology, human resources and safety and security. This past year, Moore held a dual role serving as CFO and Interim Co-President for Internal Affairs. Her leadership was instrumental in maintaining the momentum of numerous initiatives aligned with the university's strategic plan.
Moore received her MBA from Marylhurst University.
Collins, based in Oregon and family-owned since 1855, produces these wood products: Hardwoods, NAF pine particleboard and softwoods. Collins upholds their long-standing commitment to land and resource stewardship with 370,000+ acres of FSC-certified forest lands, five manufacturing facilities and one retail yard. Divisions are located in: Chester, CA, Kane, PA, and Lakeview and Klamath Falls, OR.
For more information, visit www.collinswood.com.
Allegheny Wood Products Receives Health Plan Hero Award
Allegheny Wood Products, located in Petersburg, WV, recently received the 2023 Health Plan Hero award in a ceremony held in Washington, DC. Allegheny Wood Products' (AWP) leadership was recognized for its outstanding employer-sponsored health program by national healthcare industry professionals.
John Crites II, president of Allegheny Wood Products, was honored alongside 10 other winning businesses and participated in expert roundtable discussions with employees, human resource representatives, patient advocates, CEOs and healthcare benefit design experts in Washington, DC.

The program, developed by the national non-profit organization Patients Rising, recognizes companies with innovative health plans that expand patient access to care, lower out-of-pocket costs, lower employer spending and are competitive due to increased workforce health, productivity and savings. Allegheny Wood Products was recognized for its health plan that combines utilizing an independent third-party administrator, a separate medical network, and a pharmacy benefit management service with a concierge approach and an on-site physician to provide all employees with accessible and affordable care. This plan helped the company save $1 million for the 2022 plan year.
"From the very beginning of our company 50 years ago, we have always considered our employees to be our greatest asset. We strive every day to provide a safe workplace, an environment that challenges and encourages our employees to grow with the company, and provide quality benefits," said John Crites II, president of AWP. "I am humbled by receiving this award, and thankful for the employees at AWP whose efforts help make our benefits programs and our workplace something we can all be proud of and most important is indeed a benefit for our employees."
The award program was launched last year in response to nationwide increases in health coverage premiums and deductibles. Family premiums have increased by an average of 22 percent from 2015 to 2020, and deductibles for single-covered workers rose by 25 percent during that same time period.
For more information, visit www.allegheny.com.
A.W. Stiles Makes A Litany Of Repairs And Upgrades
A.W. Stiles Contractors Inc., located in McMinnville TN, has recently made a litany of repairs and upgrades to customers' lumber dry kilns at various sawmills across the country. Some of their repair work is below.
Beard Hardwoods in Greensboro, NC, had their kilns repaired and coated. Havco Wood Products in Vonore, TN and Scott City, MO had one of their pre-dryers reskinned and coated, as well as one of their kilns.
In Mt. Pleasant, TN, Ferche Millworks had some of their kilns repaired, as well as some of their steam heating coils replaced. Middle Tennessee Lumber, in Burns, TN, had their kilns coated. Merrick Hardwoods, in Burnside, KY, had some of their kilns repaired, as well as kiln doors repaired.
Superior Hardwoods had kiln doors replaced and had kilns coated at their location in Montezuma, IN.
Turn Bull Lumber Co., in Elizabethtown, NC, had one of their kiln doors repaired. Allegheny Wood Products had kiln baffle replacements installed, door repairs, had a kiln fan wall rebuilt and coils replaced at both their Beckley, WV and Princeton, WV locations.
In Canfield, OH, Baird Brothers Fine Hardwoods had their kilns coated and repaired. Powell Valley Millworks, in Jeffersonville, KY, had storm damage repaired and replaced a roof.
HMI Hardwoods, in Clinton, MI replaced a kiln wall, and Cumberland Lumber and Manufacturing, in McMinnville, TN, had their steam pipe replaced and a few of their kilns repaired.
For more information, visit www.awscontractorsinc.com.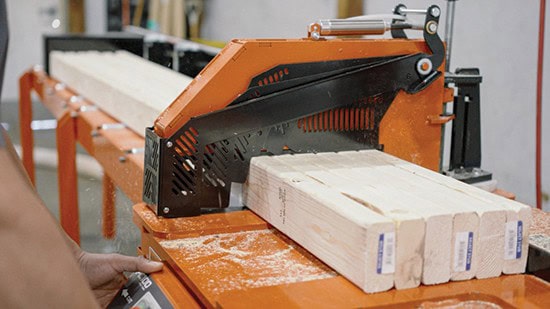 Wood-Mizer Introduces Upcut Saw For Sawmill, Woodworking, AndPallet Industries

Wood-Mizer, located in Indianapolis, IN, recently released the PC100 Upcut Saw for cross cutting boards from 1-inch x 13-inch up to 4-inch x 9-inch with convenience, versatility and precision. The PC100 joins the Wood-Mizer product line that includes an unmatched selection of products for the sawmill, woodworking and pallet manufacturing industries.
The PC100 Upcut Saw is available in left or right-side blade options and features convenient center material loading for longer material with a uniquely designed segmented blade guard. When the two-hand no-tie down cutting cycle is activated, the upper blade guard automatically lowers and covers the front and sides of the blade during the cutting cycle. Comparable machines with a mounted blade guard only allow material loading from the left or right side which makes processing longer material more difficult and time consuming. Additional features include up to 20 cut cycles per minute, one-phase or three-phase electric power, optional infeed/outfeed tables, optional gang stop and more.
"Wood-Mizer is dedicated to providing the best-in-class equipment for a variety of timber and wood processing needs throughout the world," said Russell Fite, Wood-Mizer North America Sales Director. "Sawmill, woodworking and pallet operations will all appreciate the well-designed features of the PC100 including center material loading for ease of operation, left or right-side blade options for versatility and up to 20 cut cycles per minutes for production efficiency."
Built in the USA, the PC100 Upcut Saw is now available to order in North America. For more information, visit www.woodmizer.com or contact your local Wood-Mizer representative.
Since 1982, Wood-Mizer has earned the reputation as a world-leading wood processing equipment manufacturer with a strong legacy from its innovative sawmilling products. From forest to final form, Wood-Mizer offers an extensive line of equipment including narrowband portable and industrial sawmills, wideband sawmilling equipment, band resaws, board edgers, wood kilns, planer/moulders, firewood processing equipment, pallet recycling equipment, material handling equipment, sawmill blades and blade maintenance equipment for woodworking and forestry hobbyists and professionals all over the world.
Visit www.woodmizer.com for more information.
Cleereman Upgrades Sawmill Systems
Cleereman Industries, located in Newald, WI, recently upgraded International Timber and Veneer's, located in Jackson Center, PA, sawmill systems. Cleereman Controls engineers completed the installation alongside RTM Machinery.
International Timber and Veneer installed a Cleereman 848 debarker with the Cleereman controls package, a Cleereman 42-inch log turner with Cleereman electric controls, a Cleereman husk with top saw and a Cleereman LP-48-inch linear carriage with Cleereman controls 3-D scanning and Cleereman controls dispatch counsel. They also installed a Cleereman sawyer cab, a Cleereman 150 H.P. hydrostatic carriage drive and a Cleereman cable tensioner.
For more information, visit www.cleereman.com.
NWFA Completes 67th Home With Gary Sinise Foundation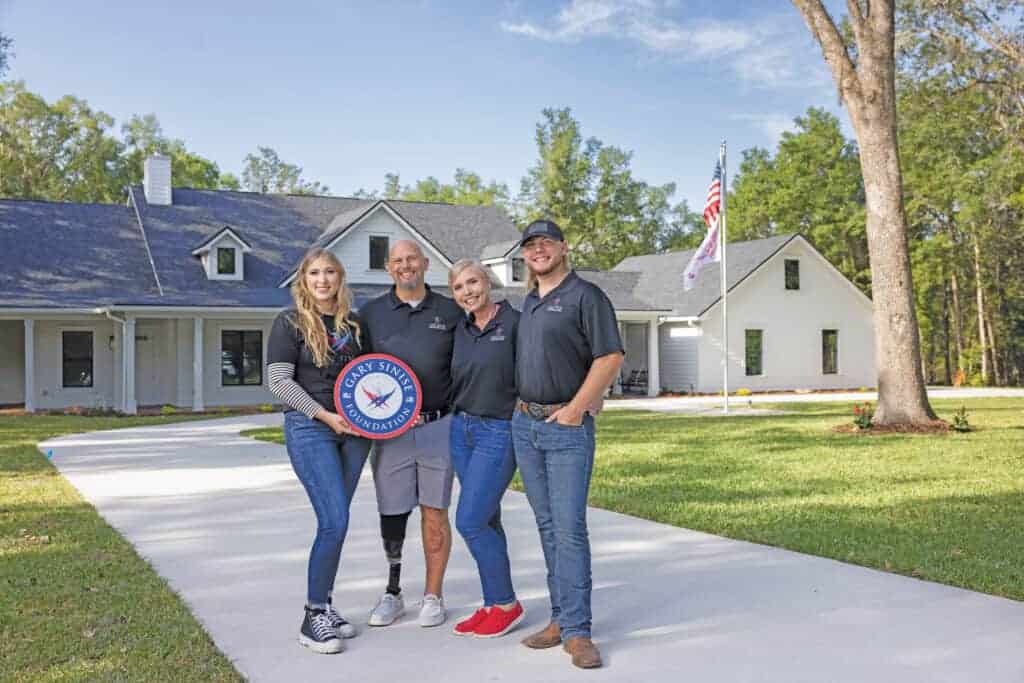 The National Wood Flooring Association (NWFA), located in Chesterfield, MO, has provided flooring for its 67th home in support of the Gary Sinise Foundation R.I.S.E. program (Restoring Independence Supporting Empowerment). The R.I.S.E. program builds mortgage-free, custom, specially adapted smart homes for severely wounded veterans and first responders. The home dedication for United States Army First Sergeant (Ret.) John Borders took place recently, in Brooksville, FL. Flooring for the project was donated by NWFA member AHF Products.
After a year-long tour of duty in Iraq, and just six months before he was scheduled to return home, First Sergeant Borders was participating in a routine convoy when his Humvee was hit by an improvised explosive device (IED). He was critically injured, resulting in the loss of his left leg and the partial loss of his right leg.
"First Sergeant Borders was scheduled for surgeries every other day for several months, enduring more than 55 during his recovery," said NWFA President and CEO, Michael Martin. "After more than three years, he completed his medical evaluation and returned to active duty as a counterintelligence special agent. He was deployed five times, serving his last tour in Afghanistan with his new leg, and served more than 27 years in the Army, 12 of which he served as a handicapable individual. We're honored to partner with AHF to provide beautiful wood floors for his new home."
In addition to the 67 homes already completed, NWFA currently is working with its members to source wood flooring for 18 additional R.I.S.E. homes in various stages of planning and construction. Currently, 148 NWFA member companies have donated product, logistics, and installation services in locations throughout the United States, with a total value of more than $5.7 million. A list of all NWFA R.I.S.E. participating companies can be found at www.nwfa.org/giving-back.aspx.
To learn more about the program, and how you and/or your company can get involved, contact the NWFA at 800.422.4556, or e-mail them at anita.howard@nwfa.org.
The National Wood Flooring Association is a not-for-profit trade organization, with more than 3,200 member companies world-wide, dedicated to educating consumers, architects, designers, specifiers, and builders in the uses and benefits of wood flooring. The NWFA is located at 111 Chesterfield Industrial Boulevard, Chesterfield, MO 63005, and can be contacted at 800.422.4556 (USA & Canada), 636.519.9663 (local and international) or at www.nwfa.org.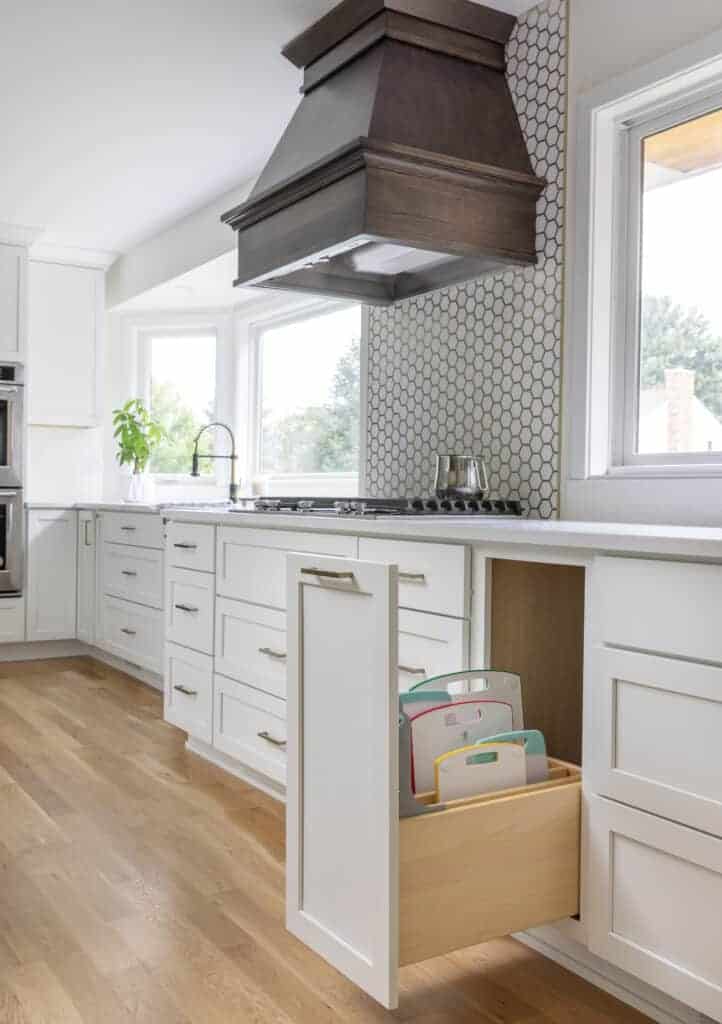 Dura Supreme Cabinetry Offers Expansive Collection Of Storage Solutions
Dura Supreme, Howard Lake, MN, announced they are offering a variety of unique storage solutions for solid Maple cabinetry.
According to Karen Wistrom, ASID, NCIDQ, CMG, VP of Marketing for Dura Supreme Cabinetry, "Once the homeowner has selected the overall look for their new kitchen, they immediately start to think about the practical aspects of storage and how each cabinet will be used within the workflow of the kitchen. Our storage solutions help streamline storage and organization so that the kitchen works harder for them."
They also offer products made from Cherry, Red Oak, Quarter-sawn White Oak, Knotty Alder and Hickory.
For more information, visit www.durasupreme.com.
NAHB: Slowing Building Material Price Growth Another Signal Inflation Is Cooling
According to the latest Producer Price Index (PPI) report, the price level of inputs to residential construction less energy (i.e., building materials) was unchanged in June 2023, according to the most recent data available. March 2023 was the last month prices increased. The index gained 0.5 percent, year-to-date, and has not increased 1.0 percent or greater in any month since March 2022.
The PPI for all final demand goods was unchanged in June following a 1.6 percent decline in May. Year-over-year, the index declined 0.2 percent while the PPI for final demand goods less food and energy increased 2.0 percent. The growth rates of the indices for final demand goods and final demand goods less food and energy have slowed 12 and 15 consecutive months, respectively.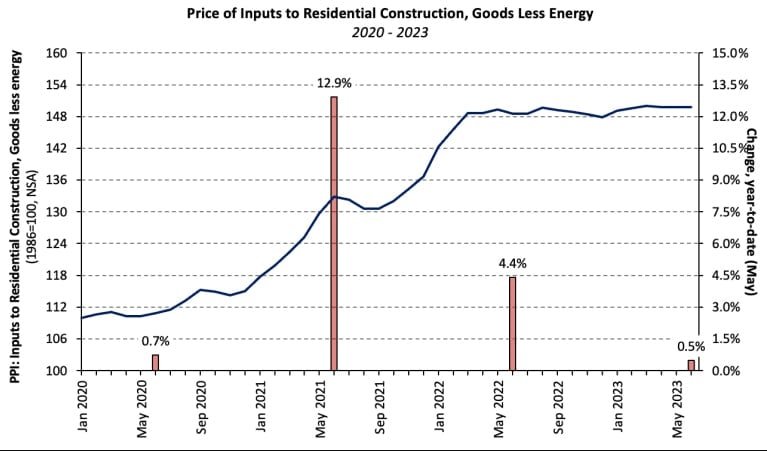 The PPI for goods inputs to residential construction, including energy, has decreased 3.6 percent over the past 12 months—the largest 12-month decline since October 2009. June was the second consecutive month in which prices were unchanged.
The PPI for softwood lumber increased 3.9 percent in June—the second increase over the past three months. Although prices are up 7.2 percent over that period, the index has decreased 20.9 percent over the past year and has fallen by more than half since June 2021.
Prices were unchanged in the Northeast and Midwest, but they increased 0.2 percent and 0.5 percent in the South and West, respectively. Year-to-date, prices increased the most in the Midwest, followed by the Northeast, South, and West regions.
The price index of services inputs (excluding labor) to residential construction increased 0.2 percent in June after a 1.0 percent decline in May. Prices have declined 8.8 percent over the past year but have stabilized in 2023, down 0.1 percent through June.
The price of truck and rail transportation of freight decreased 2.1 percent and 0.4 percent, respectively, in June while the PPI for ocean freight increased 0.4 percent. Trucking freight prices have declined 13.7 percent over the past year with both long-distance (-15.1 percent) and local (-9.2 percent) motor carrying prices falling 9.2 percent and 4.1 percent, respectively.
For more information, visit www.eyeonhousing.org.
Real American Hardwood Coalition Launches Build Your World Campaign With The Magnolia Network
The National Hardwood Lumber Association (NHLA) recently announced that the Real American Hardwood Coalition (RAHC), the domestic Hardwood industry's consumer promotion initiative, launched its new Build Your World™ advertising campaign to promote Real American Hardwood® flooring, cabinetry, furniture, and millwork. This integrated digital campaign was launched on the Magnolia Network.
"We face a risk from the increased use of plastics, metal, vinyl and other wood substitutes," according to Dallin Brooks, Executive Director of the National Hardwood Lumber Association (NHLA). "The less wood we use, the more we negatively impact our rural communities and forest health. To solve our climate problems, we need to reconnect with real wood. It's the only renewable, recyclable, reusable, and sustainable building material. The Real American Hardwood campaign is about buying local, high value, long-lasting and lower carbon footprint materials to build your world in a healthy, long term, enjoyable, and low impact way."
Developed by CANVAS United, the campaign relates the authenticity and attributes of Real American Hardwood products to the uniqueness and lifestyles of consumers. Five different vignettes capture the spirit of individuality in real-life settings, encouraging consumers to envision how they can build their world with Hardwood.
"As long-time partners to the RAHC, we're excited to see the Build Your World campaign launch. We're particularly proud of this campaign's capacity to highlight both the emotional and rational benefits of Hardwood," said Mark Lainas, president of CANVAS United. "Leveraging entertaining yet poignant storytelling in the creative will feel relatable to consumers across the country and allows us to showcase not just the beauty of American Hardwoods, but the lasting value of the products."
The ad campaign will run on the Magnolia Network channel, as well as on Magnolia and Discovery+ digital streaming platforms. Magnolia Network is available through cable and satellite providers; Hulu + Live TV and YouTube TV services; and Magnolia, HGTV, Discovery+, and Max streaming apps. The campaign also includes digital and social media components.
To learn more about the Build Your World campaign and see the campaign's landing page, visit www.realamericanhardwood.com/build-your-world.
This campaign was made possible thanks to the voluntary support of the Hardwood industry—up and down the supply chain. Thank you to the more than 130 companies, nearly 30 trade associations and individual donors who have contributed toward the success of the Real American Hardwood initiative. To achieve the RAHC's ambitious goals, funding is a critical component, visit www.realamericanhardwood.com/industry to see a listing of contributors or to make a contribution today.
The RAHC's work is ongoing, and now that the Build Your World campaign is up and running, efforts will continue to promote Real American Hardwood products to consumers and also will shift focus to begin outreach and education toward the design/build community.
Real American Hardwood is a registered trademark, and Build Your World is a trademark of the Real American Hardwood Coalition.
The Real American Hardwood Coalition (RAHC) inspires a stylish and healthy environment by educating consumers and the design/build community on the many benefits of Real American Hardwood® products—including appearance, durability, lifetime value, healthy home, and sustainability. Visit www.realamericanhardwood.com to learn more.
The Build Your World™ advertising campaign videos can be accessed at www.youtube.com/@realamericanhardwood/featured.