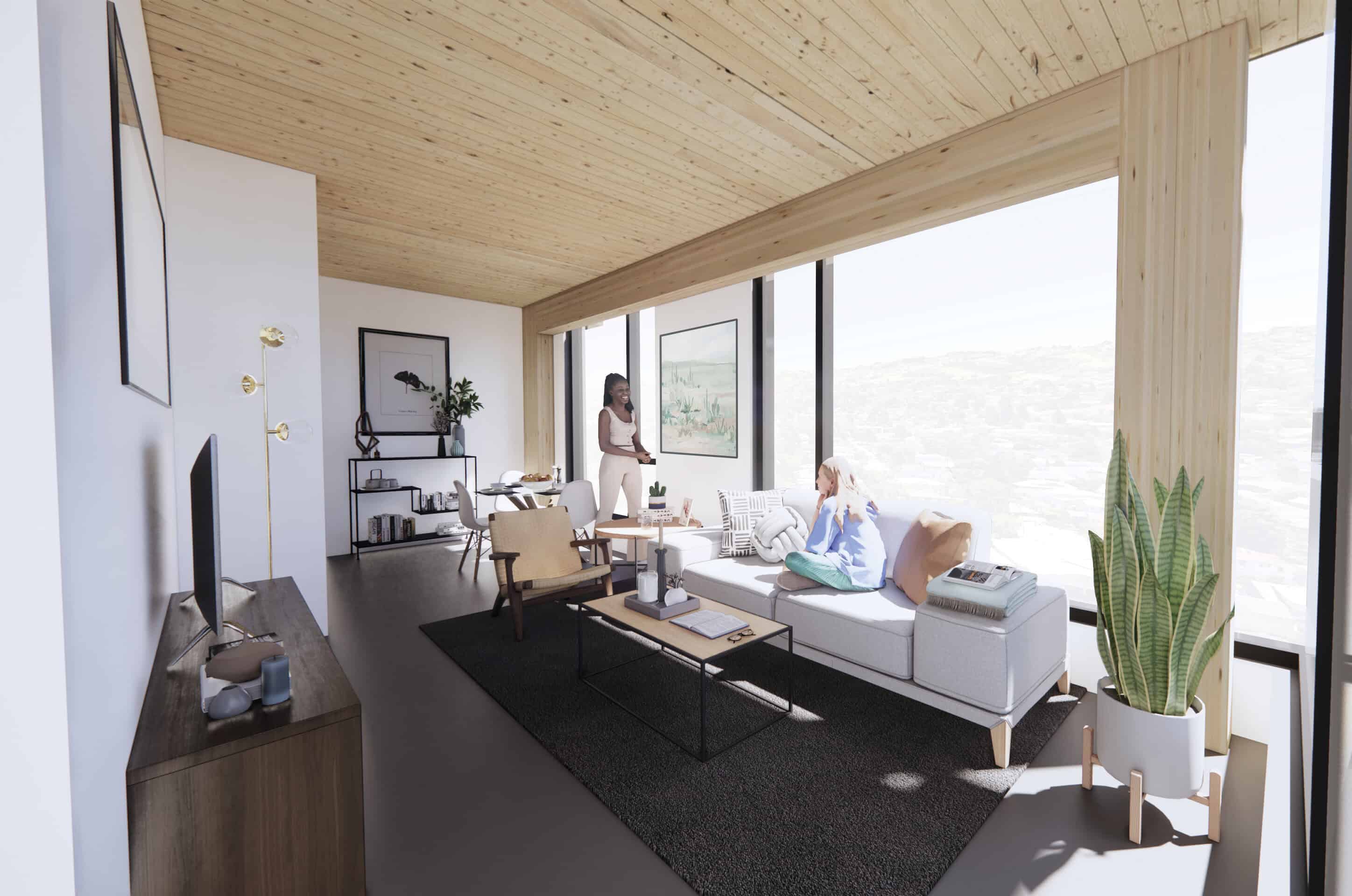 This October, the Softwood Lumber Board (SLB) and the USDA Forest Service announced five winners of the 2023 Mass Timber Competition: Building to Net-Zero Carbon. The winning projects, which include both market-rate and affordable multifamily housing as well as a mixed-use community center, received funds totaling $2.2 million to demonstrate mass timber's applications in architectural design and highlight its significant role in reducing the carbon footprint of the built environment.
"The SLB was encouraged to see the architecture and construction community continue to expand implementation of mass timber systems in effective ways across a range of building types," said SLB Chief Marketing Officer Ryan Flom. "This year's winning projects will not only provide much needed affordable housing and gathering spaces for their communities, but they will also demonstrate viable paths for other teams to build for well-being, commercial adoption, resilience, and a minimal carbon footprint."
The winning proposals were selected by a jury of AEC thought leaders not just for their design excellence, but for their commitment to exploring new ways to design and construct mass timber buildings in the U.S. at a higher scale through replicable, cost-effective construction methods, as well as a commitment to strengthen the mass timber supply chain by using domestically sourced wood from sustainably managed forests. To further the impact of the program, award recipients have pledged to share lessons learned during project phases, including cost analyses, life cycle assessments, and other research results with the broader design and construction community to encourage more widespread adoption of mass timber as a structural material in similar projects across the country.
This year's winning proposals included:
● CODA Detroit. Project Team: OOMBRA Architects, Brush Park Properties / IN Development Partners, JDH Engineering, Britt Peters, and AM Higley. This mixed-use market-rate multifamily development in Detroit incorporates elements of historic preservation and will explore new methods to address acoustical challenges in mass timber multifamily.
● Up@310 Lofts. Project Team: Lignin Group, Tim Olson, Banwell Architects, 310 Marlboro St., and Entuitive. This overbuild in Keene, New Hampshire, will add three stories and 57 apartments on top of a steel building, providing further example of how mass timber can be used to expand existing structures.
● Project: Via/NWA IC Program. Project Team: Architects 226, Blue Crane, Modus Studio, Tatum-Smith-Welcher, Aspect Structural Engineers, and Arco Construction. This affordable workforce housing project in Northwest Arkansas is designed to be construction with a standardized kit of parts of CLT panels and bathroom modules, exploring further possibilities for mass timber offsite construction.
● Project: The Village SF Wellness Center. Project Team: PYATOK architecture + urban design, The Friendship House Association of American Indians, DCI Engineers, and Cahill Contractors. This mixed use Native American cultural center in San Francisco will include a cultural and Elders Hall, a youth center, medical clinics, supportive housing, and a roof top garden and farm in a six-story structure and is exploring how mass timber can both achieve sustainability goals and support all uses.
● Project: Woolsey Gardens. Project Team: Solomon Cordwell Buenz, Northern California Land Trust, Tipping Structural Engineers, Swinerton Builders, and Timberlab. This midrise multifamily structure in Berkeley, California, is looking to mass timber to help realize the first of what they hope will be many net-zero permanent affordable housing development, providing an alternative to the current affordable rental model.
Across the board, one of the major reasons why the winning projects incorporated mass timber in the first place was sustainability and a desire to decarbonize their projects and the communities they serve. And as the forest products community well knows, the sustainability of using forest products like mass timber extends beyond the boundaries of a single building. "One way to improve the health and resilience of forests is by sustainably harvesting trees to manufacture wood products like mass timber," said John Crockett, USDA Forest Service Associate Deputy Chief of State and Private Forestry. "As wildfires become more prevalent across the United States, a stronger supply chain for lumber and mass timber improves forest health and supports the construction of low carbon buildings—both effective ways to mitigate the impacts of climate change."
The 2023 competition was the second consecutive year of the program, which in 2022 awarded $2 million in total funds to six recipients. Those projects are starting to reach milestones, and as such, the learnings are beginning to be shared more broadly. For example, the Evergreen Charter School in Hempstead, New York, a 2022 winner that broke ground this year, was recently profiled in a WoodWorks case study that chronicles the construction process so that others can take their experience on board when considering mass timber for their own upcoming projects. This education of architects, engineers, and developers about the benefits of building with mass timber—and the variety of replicable, real-world construction problems that it can help solve—through programs like the Mass Timber Competition is critical to growing adoption of and demand for the material in commercial projects nationwide.