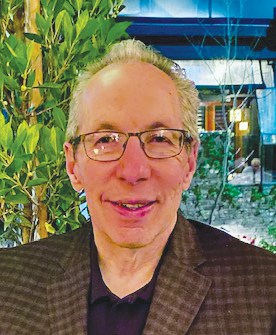 Dan Besen is Senior Vice President of Hardwoods Specialty Products U.S. (Hardwoods). He is the primary liaison for the key lumber suppliers and is responsible for all 25 of the company's Hardwoods U.S. operations, 11 of which are in California.
Hardwoods purchases an estimated 100 million board feet annually of kiln-dried Hardwood species including Alder, Ash, Basswood, Beech, Birch, Cherry, Hickory, Hard and Soft Maple, Red and White Oak, Walnut and Poplar, as well as a variety of imported species with a range of thicknesses from 4/4 to 16/4, as well as specialty width sorts and grades from both rough and surfaced material.
Hardwoods is the recognized premier distributor of decorative architectural building products in North America, with products including architectural-grade plywood and veneers, laminates, acrylics, synthetics, composites, and Hardwood lumber (both domestic and import) for both commercial and residential applications. The company owns 34 distribution centers located across the U.S. and Canada.
Hardwoods is a member of the National Hardwood Lumber Association and Architectural Woodwork Manufacturers Association of Canada (AWMAC).
Besen attributes Hardwoods' success to a focus on continuous improvement and creating value throughout the supply chain by working collaboratively with all stakeholders.
When asked what he's most proud of in his time with Hardwoods, he stated, "the company I started with in 1984 still espouses the same values and culture today as it did then: Integrity; Company Success Driving Individual Success; Hire to Retire; and a Passion to Win."
Besen began working for Hardwoods over 37 years ago starting as a sales trainee. In 2021, he was promoted to Senior Vice President of U.S. operations. Besen graduated from the University at Albany, NY in 1979 with a Bachelors in Education/Mathematics.
During his free time, Besen enjoys spending time with family and friends, entertaining, listening to music, and traveling overseas.
For more information, contact Besen at dbesen@hardwoods-inc.com.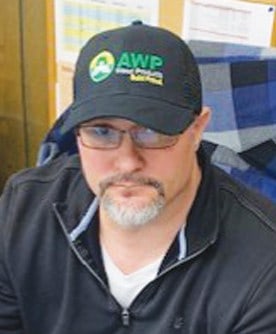 Jason Gilbert is both a sales manager and lumber buyer at AWP Wood Products, based in Little Rock, AR. 
AWP is a Hardwood moulding manufacturer and distributor of lumber and plywood that purchases an annual board footage volume of seven to eight million. The company buys 4/4 Northern and Appalachian KD, FAS Red Oak, Poplar, Hard and Soft Maple. AWP also annually purchases 40-45 truckloads of Red Oak and Poplar gang ripped blanks, 475-500 truckloads of Hardwood plywood, and 50-75 truckloads of MDF. The company also buys 50-55 containers of exotics annually.
The company's moulders and distribution yard cover all or parts of Texas, Alabama, Arkansas, Missouri, Tennessee, Mississippi, Oklahoma, and Louisiana. AWP has 508 of its own moulding profiles, with the ability to match or create any additional profiles.
Gilbert started his career in the forest products industry at Hogan Hardwoods in 1996 pulling lumber and loading trucks.
AWP is a member of the Indiana Hardwood Lumbermen's Association, National Hardwood Lumber Association, Hardwood Distributor's Association and the Cabinet Makers Association.
Gilbert is an avid Arkansas Hogs fan and enjoys hunting in his spare time.
For more information, visit www.awpwoodproducts.com. 
Gerald Lashway Jr. is the owner and President of Ponders Hollow Custom Wood Flooring & Millwork Inc., located in Westfield, MA.
Ponders Hollow is a manufacturer that specializes in custom wood flooring, interior and exterior mouldings, stair treads and custom glue-ups. The company purchases upward of 1.7 million board feet of lumber annually including Poplar, Red and White Oak, Hard and Soft Maple, Eastern White Ash, Walnut and Cherry (from 4/4 up to 16/4, live-sawn, No. 1 Common, FAS and other grades, including Character).
Ponders Hollow offers additional services, including priming moulding, wire-brushing and hand-scraping floors. According to the company, 2021 has brought a lot of exciting growth to the business, including a brand-new showroom that opened in May.
Lashway graduated from Hampshire Regional High School located in Westhampton, MA, in 1995 and studied forestry at Paul Smith's College located in Paul Smiths, NY. He has held his position at Ponders Hollow since September 2005 when the company was founded, with responsibilities including daily operations and most of the lumber purchasing. Lashway's first position in the forest products industry was working at the 4th generation family sawmill, Lashway Lumber, located in Williamsburg, MA.
Ponders Hollow is a member of the National Wood Flooring Association, Architectural Woodwork Institute, Wood Products Manufacturers Association and the Commonwealth Quality Program.
In his spare time, Lashway enjoys spending time with family, snowboarding, mountain biking and hiking. He and his wife Heather have been married 15 years. Together, they have one son and two daughters.
For more information, please visit www.pondershollow.com.