To Meet Production Demands, Vanguard Buys Drexel Plant
Vanguard Furniture of Conover, NC has purchased a former Drexel Furniture manufacturing plant in Morganton, NC.
Vanguard's president stated in published reports that the company outgrew its ability to meed demand with its current manufacturing facilities. He added that the fourth quarter of 2021 proved to be the largest shipping period in Vanguard's 53-year history, and the company still has a very large backlog of orders.
Vanguard buys a variety of solid Hardwoods in upper grades for use in their products.
The purchase of the Drexel plant, which will be used to manufacture case goods as well as upholstery, will create up to 150 new jobs. Operations are set to begin next month.
Family-owned Vanguard currently employs more than 600 people. The company operates six manufacturing plants.
Learn more at www.vanguardfurniture.com.
Phoenix Hardwoods Expands Production
Governor Ralph Northam recently announced that Phoenix Hardwoods Inc. in Floyd, VA, a manufacturer of high-quality furniture and home goods made exclusively from Virginia-grown Hardwoods, will expand its production facility in the county and open a new retail storefront in downtown Floyd.
The new manufacturing and retail space will help the company to grow its product line, improve production efficiencies and better serve its customers. The project will create eight career focused positions, lead to $100,000 in new capital investment and allow the company to purchase additional Virginia-grown Hardwoods over the next three years.
Established in 2002 by Bill and Corinne Graefe, Phoenix Hardwoods built its reputation through high-quality, artisan-crafted Hardwood furniture and home goods. After nearly 20 years in business, the founders were retiring and planning to close the company. In January 2020, Jeff and Annie Armistead acquired the business.
The company's product assortment ranges from custom tables of all kinds, beds, stools, chests, live edge mirrors, desks, kitchen goods, and home accessories.
For more information, visit www.phoenix-hardwoods.com.
Breck Partners Acquires Essential Cabinetry Group
Breck Partners, LLC, located in Dallas, TX, recently announced the acquisition of Essential Cabinetry Group (ECG), a Simpsonville, SC-based manufacturer of custom, semi-custom, and stock-plus cabinetry sold through a growing network of over 650 kitchen and bath dealers across the United States.
Essential Cabinetry Group's divisions buy U.S. solid Hardwoods for its products, including such wood species as Maple, Cherry, Alder, Quarter-sawn White Oak and Walnut.
Through its three market-leading brands (Tedd Wood Fine Cabinetry, Executive Cabinetry, and Designers Choice Cabinetry), ECG offers a complete lineup of full access, framed, and inset cabinetry to provide a solution for every customer.
Learn more at www.essentialcabinetrygroup.com.
NWFA Completes 60th Home with Gary Sinise Foundation
The National Wood Flooring Association (NWFA), located in St. Louis, MO, has provided flooring for its 60th home in support of the Gary Sinise Foundation R.I.S.E. program (Restoring Independence Supporting Empowerment). The R.I.S.E. program builds custom, specially adapted smart homes for severely wounded veterans and first responders. The home dedication for United States Army Staff Sergeant (Ret.) Jason Tabansky took place recently in San Antonio, TX. Flooring for the project was donated by NWFA member Mullican Flooring.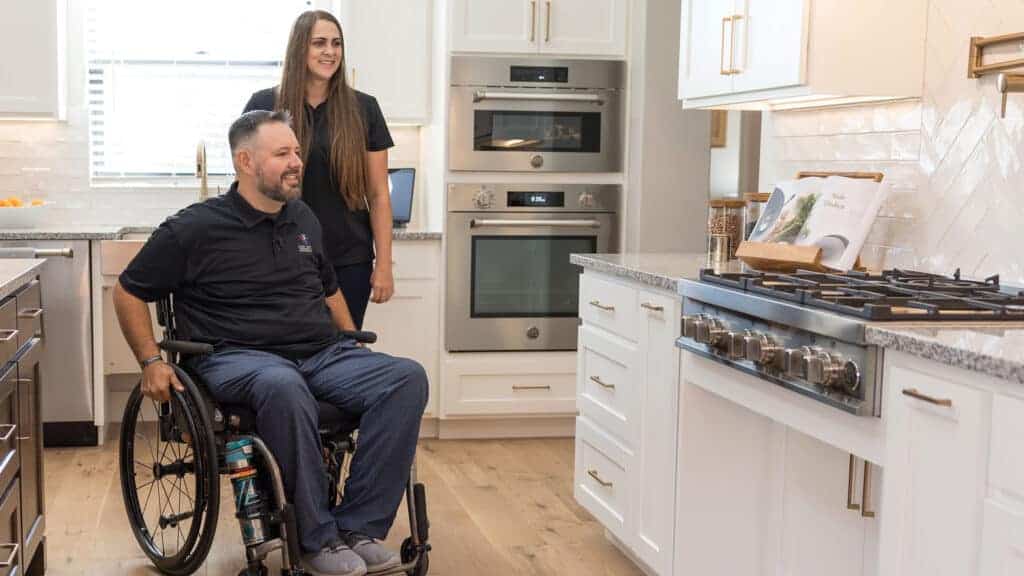 Staff Sergeant Tabansky enlisted in the Army in December 2000 as a Chinook helicopter mechanic, and was deployed to Kandahar, then Taji, Iraq. In September 2015, he became paralyzed from the chest down following a routine demonstration of a new Chinook helicopter in London, England.
"Through extensive physical therapy, Staff Sergeant Tabansky has regained control of his hands, which has helped him to regain some independence," said NWFA President and CEO, Michael Martin. "His specially adapted smart home will help contribute to his continued recovery as well. We're honored to partner with Mullican Flooring to provide beautiful wood floors for his new home."
In addition to the 60 homes already completed, NWFA currently is working with its members to source wood flooring for 12 additional R.I.S.E. homes in various stages of planning and construction. Currently, 143 NWFA member companies have donated product, logistics, and installation services in locations throughout the United States, with a total value of more than $5.7 million. A list of all NWFA R.I.S.E. participating companies can be found at www.nwfa.org/giving-back.aspx.
To learn more about the program, and how you and/or your company can get involved, contact the NWFA at 800-422-4556, or e-mail them at anita.howard@nwfa.org.
The National Wood Flooring Association is a not-for-profit trade organization, with more than 3,200 member companies world-wide, dedicated to educating consumers, architects, designers, specifiers and builders in the uses and benefits of wood flooring. Learn more at www.nwfa.org.