By Michelle Keller
Cross-laminated timber (CLT) is trending among leading builders as a highly sought after construction material. With a strong, lightweight product and an ease of workability in a sustainable product, it's easy to see why. But what is it really constructed from? Are there any disadvantages? CLT expert at WoodWorks – Wood Products Council, president and CEO, Jennifer Cover, explained the ins and outs of CLT construction.
When asked about the key benefits of CLT, Cover said, "Like other mass timber products, CLT's strength and dimensional stability make it a viable alternative to concrete and steel in many applications. When compared to those materials, it offers a significantly lighter carbon footprint, shorter construction schedules, lighter weight (smaller foundations, lower seismic forces, helpful on poor soils), and smaller staging requirements (helpful for urban infill sites). One of the most compelling advantages of mass timber is that the structure can often be left exposed on the interior, which creates value in terms of biophilia and healthy indoor environments, cost effectiveness (no need for additional finishes), faster leasing and the potential for lease premiums, and portfolio distinction."
Cover also mentioned that mass timber has many advantages from a forest health perspective, and has the ability to change the conversation around landscape restoration efforts. "Mass timber use helps keep our private forestlands forested by creating new high value market demand for the lumber coming from those lands," she explained. "It also has the potential to help on public lands by creating an economical driver that could increase the cost recovery on Forest Service restoration projects. Mass timber can be made from underutilized species, creating high value end-use markets for low value material. Products can be manufactured from relatively small-diameter trees and biomass resources that have traditionally provided low value (such as blue-stain material from forests affected by insects). This creates a market incentive for forest thinning and other landscape restoration efforts, which in turn helps to reduce the risk of wildfire. This, combined with the need to reinvigorate rural U.S. economies, is part of the reason states like Washington, Oregon, and California have developed policies or initiatives to accelerate markets for mass timber."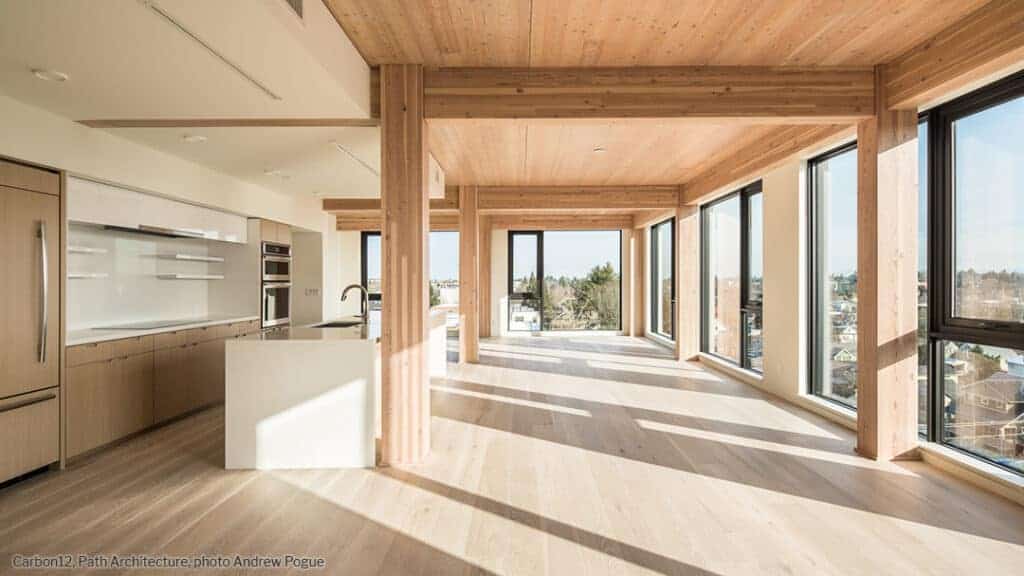 Among few challenges that CLT construction offers, Cover said learning the product is the most prominent. "The process for designing and constructing a mass timber building is different than that of other wood materials, so there is a learning curve. Our role at WoodWorks is to provide education and free project assistance, and we've seen a steady and significant interest in mass timber over the last few years. We help developers and design teams understand the approaches and considerations that are necessary in the context of cost-effectiveness, efficiency, durability, acoustics, etc.—all the things that contribute to successful wood buildings."
What are the major differences between CLT and mass timber? "CLT is a panel product made up of layers of cross-laminated solid sawn lumber," she explained. "It arrives at the job site as large solid panels that can be dropped into place as a floor, wall or ceiling in a building."
Cost effectiveness? "Mass timber buildings are relatively new to the U.S., and as such , not enough data is available to predict costs with the unit cost method. Cost estimating mass timber systems requires a holistic approach to compare costs and yield savings.
Among considerations Cover said mass timber buildings are erected quicker than buildings made from other materials. "One factor to consider would be the financial benefits of a shorter construction schedule and an earlier lease/occupancy," she explained.
According to education materials provided by Woodworks, Lendlease's Candlewood Suites at Redstone in Arsenal, AL was built 37 percent faster overall and with 40 percent fewer construction workers than a similar cold-formed steel military hotel. DLR Group, an integrated design firm, also projects that its Seattle Mass Timber Tower would be constructed 25 percent (five months) faster than a baseline post-tensioned concrete project.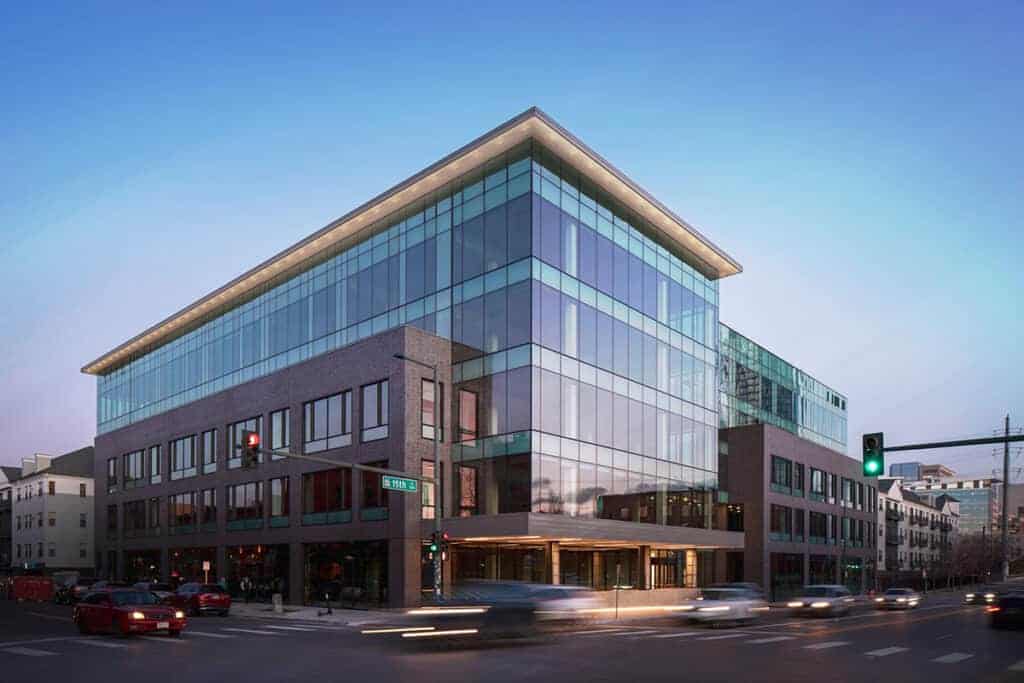 WoodWorks provides education and free technical support related to the design, engineering and construction of commercial and multi-family wood buildings in the U.S. A non-profit funded in part by the Softwood Lumber Board and USDA Forest Service, the organization has the expertise to assist with all aspects of wood building design. For assistance with a project or further information, contact the nearest expert at https://www.woodworks.org/project-assistance/