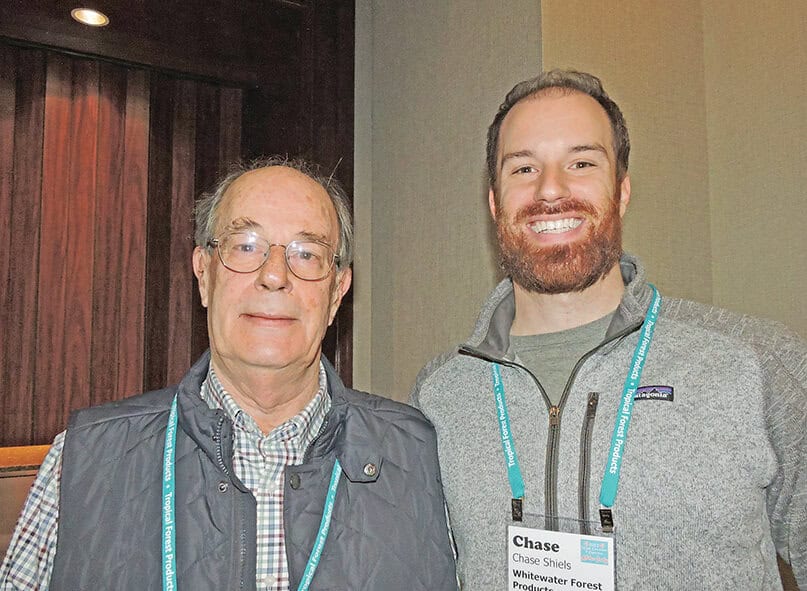 Dan Shiels is president of Whitewater Forest Products, located in Batavia, OH, and Chase Shiels is vice president. Both men are involved with purchasing rough lumber for the company.
Whitewater Forest Products is a wood component manufacturing plant with a 10-acre facility. The company purchases approximately one million board feet annually of Hard and Soft Maple, Red and White Oak, Poplar, Cherry, Hickory and Walnut in FAS & Better and No. 1 Common in 4/4 through 10/4 thicknesses. They also purchase a limited import inventory of Sapele and Red Grandis.
Value-added services include custom millwork and mouldings; OEM components for one off and ongoing projects; stair treads; surfacing; rip and cut to size; and custom components and panels, including cabinet parts, drawer sides, architectural mouldings, and various lengths of wood components.
Whitewater Forest Products is a member of the Indiana Hardwood Lumbermen's Association and Kentucky Forest Industries Association.
Dan Shiels and Chase Shiels represent the fourth and fifth generations (respectively) of family in the industry. Dan attended the NHLA Inspection School in 1970 and has been married for 42 years. His only son, Chase, received a Bachelor's in Economics degree from Xavier University and enjoys following Formula 1 auto racing. Both men also enjoy target shooting and bird hunting.
For more information, visit www.whitewaterforest.com.
Bobby Cleveland is owner and production manager of Tri-C Wood Products Inc., located in Union, MS.
Tri-C Wood Products is a second generation, family-owned manufacturer of specialty Hardwood flooring, furniture components and mouldings. The company purchases approximately 300,000 board feet annually of Red and White Oak and Hickory (No. 1 and No. 2 Common, 4/4, Green and Rough).
Cleveland is a graduate of Union High School, located in Union, MS and attended East Central Community College, located in Decatur, MS, in 1979. He has spent 23 of his 41 years in the industry in his current position. As owner he handles daily operations, while his duties as production manager include lumber purchasing, maintenance, overseeing production and the lumberyard.
In his spare time, Cleveland enjoys spending time with family, hunting and church activities. He has been married to Denise for 40 years and the couple has two daughters, one grandson and one granddaughter.
For more information visit www.tri-cwood.com.
Dave Span is owner of The Refined Craftsman, located in Murrieta, CA.
The Refined Craftsman is a manufacturer of cabinetry and casework, media centers, furniture and more. The company purchases over 100,000 board feet annually of primarily White Oak and Alder (No. 1 Common, 4/4), but also purchases some Walnut and Cherry.
Span holds both a Master of Science degree in Elementary Education and Teaching and a Bachelor of Science degree in Mathematics from the University of Cincinnati, located in Cincinnati, OH. In 2014, he earned a certificate of achievement from Palomar College, located in San Marcos, CA, where he studied casework, furniture and cabinetmaking for four years. His first job in the forest products industry was working as an apprentice at a custom cabinet shop. He has since returned to Palomar College to teach one class a semester in the Cabinet and Furniture Technology Program.
The Refined Craftsman is a member of the Cabinet Makers Association.
In his spare time, Span enjoys running. He has been married to Kellie for nine years and the couple has one daughter, Sydney, who is 11.
More information can be found at www.therefinedcraftsman.com.