Brian Hill is president of Grayson Millworks Co. Inc., located in Independence State, VA.
Grayson Millworks manufactures Hardwood flooring, millwork, moulding and interior/exterior doors. The company purchases approximately 1.5 million board feet annually of Red and White Oak, Poplar, Walnut, Cherry, Alder, Maple, Mahogany, Ash, Hickory, Sapele, and yellow and white pine. Lumber is purchased in No. 1 Common up to FAS grades in thicknesses of 4/4, 5/4 and 8/4, all kiln-dried and rough.
Value-added services offered by Grayson Millworks include design services and CAD drawings. "We have a vision with guiding principles to govern all of our operations," Hill said. "Our first guiding principle is to make our clients the focus of everything we do. We build relationships based on trust and demonstrate integrity and respect for our clients. We practice open honest communication and fair business."
Hill has been in his current position with Grayson Millworks for the past 19 years. A graduate of Forest Hill High School, located in West Palm Beach, FL, he is a member of the Green Business Certified League and the Wood Products Manufacturers Association.
Married to Kimberly for 30 years, the couple has one son. In his spare time Hill enjoys saltwater fishing, boating and racing.
For more information visit www.graysonmillworks.com.
Daniel Antes is co-founder and general manager of Distinctive Hardwood Floors, located in Nashville, IN.
Distinctive Hardwood Floors is a manufacturer of wide plank flooring, parquet flooring and flooring inlays. The company purchases approximately 300,000 board feet per year of Red and White Oak, Maple, Walnut, Hackberry, Ash and Hickory (No. 1 and No. 2 Common, FAS/1F and Better, and Sap and Better).
The company also purchases French Oak, Wenge, Jatoba, Sapelle and Cumaru in the same grades.
Value-added services include custom CAD design capabilities, dimension milling, full CNC service and custom milling.
Antes graduated from Terre Haute North Vigo High School in 1991 and Indiana State University in 1993, both located in Terre Haute, IN. He has been general manager for Distinctive Hardwood Floors for 22 years, handling lumber purchasing and daily operations. Starting in 1988 Antes worked for Chuck Crispin at Legendary Floors, which was his first entry into the forest products industry. Other positions held include timber buyer and custom sawyer of figured woods.
Distinctive Hardwood Floors is a member of the National Wood Flooring Association (NWFA). The company has received the NWFA Wood Floor of the Year award five times as a manufacturer and one time as a manufacturer and installer.
In his spare time Antes enjoys woodworking, downhill skiing, mountain biking, urban aggressive rollerblading, kayaking and hiking. He is married to Deborah and has two sons and two daughters.
For more information visit www.distinctivehardwood.com.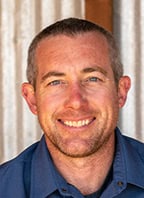 Ryan Siggins is the owner/general manager of SoCo Wood & Windows, located in Durango, CO and Pagosa Springs, CO. SoCo Wood & Windows is a manufacturer and distribution yard. The company purchases in excess of 100,000 board feet annually of domestic Hardwood lumber. SoCo manufactures a variety of products which include: trimwork, siding, stair parts, cabinets, cladding, decking, doors and custom millwork for windows.
SoCo has two millwork shops, one in Durango, CO and one in Pagosa Springs, CO, where they operate two moulders, two door machines, resaws, ripsaws, as well as other equipment, to produce high quality millwork packages. They service Southwest Colorado and the Western Slope.
Siggins has been in the forest products industry for eight years, when he bought the company. Durango Wood LLC was established in 1956 and was on the verge of closing permanently when he bought it. Siggins then rebranded the company in 2015 under the name SoCo Wood & Windows.
Siggins graduated from Onsted High School, located in Onsted, MI and then went on to graduate from Northern Michigan University in Marquette, MI and Palmer School of Chiropractic in Davenport, IA.
Siggins enjoys golfing and skiing. He has been married for 13 years and has a 10 year old son.
SoCo Wood & Windows is a member of Home Builders Association of South Carolina, Mountain States Lumber and Building Material Dealers Association and the National Association of Home Builders.
For more information, call 970-247-2088, email ryan@socoww.com or visit www.socoww.com.