Augusta, GA–Riverside Forest Products Inc., headquartered here, provides a full range of Southern Yellow Pine lumber products. These include dimension and boards for domestic and export use, timbers resawn and cut to length items, banding groove manufactured to customer specs, heat treated, pallet parts, pattern stock, poles, posts, flooring, paneling, and ceiling.
The company purchases over 125 million board feet of lumber annually. President Bram Collins said, "We offer a wide variety of products with the majority being Southern Yellow Pine lumber in one- and two-inch products in varying widths and lengths." Collins said all Softwood lumber is purchased mostly from sawmills across the Southeast US; however, customer needs or location can require purchases outside of the area at times.
He continued, "Our business is customer centric, and if we get a request for a product outside of the norm then we make every effort to find it and meet that need. Our goal is to be a preferred supplier of wood products for our customers by offering high-touch personalized service." This is evidenced by the company's mission statement, "Riverside Forest Products is committed to being your preferred supplier of specialty wood products through a tradition of solid industry relationships built on integrity, dependability, and excellent communication. Additionally, we will continuously provide our customers high quality products at the best possible price along with knowledgeable, courteous customer service."
Riverside Forest was born out of a vision that partners John Beach, John Sheffield and Sam Collins had of building their own company where they would become one of the most trusted suppliers and customers in the lumber industry. Thus, Riverside Forest was established in North Augusta, SC in 1983. According to Bram Collins, the key to their early success came from these relationships and the importance they placed upon them. By 1988, Riverside moved to an office in Augusta, GA, where they remain today. More than 35 years later the headquarters houses a staff of 12 (sales, accounting and inventory) and the company's focus remains much the same. "Riverside is guided by the principle of doing the right thing in all dealings with our customers, our suppliers, and each other," Collins said.
The founding partners turned over management responsibilities of Riverside Forest Products in 2017 to the next generation of owners. Key personnel include President Bram Collins, Vice President Nick Sheffield, Vice President Gary Miller, and Secretary/Treasurer Brent Steed. Together they are committed to outstanding service, building long-lasting customer relationships, and providing the best lumber solutions to meet their customers' needs. In order to have more control over inventory and remanufacturing processes, the new owners of Riverside purchased over 18 acres in Trenton, SC in 2019. Collins offered, "The property allows for inventory storage and lumber remanufacturing services. The goal is to be responsive and flexible to customer needs and this acquisition is key to achieving that goal." This became their subsidiary remanufacturing facility in Trenton, SC – Wood Solutions & Reman, LLC.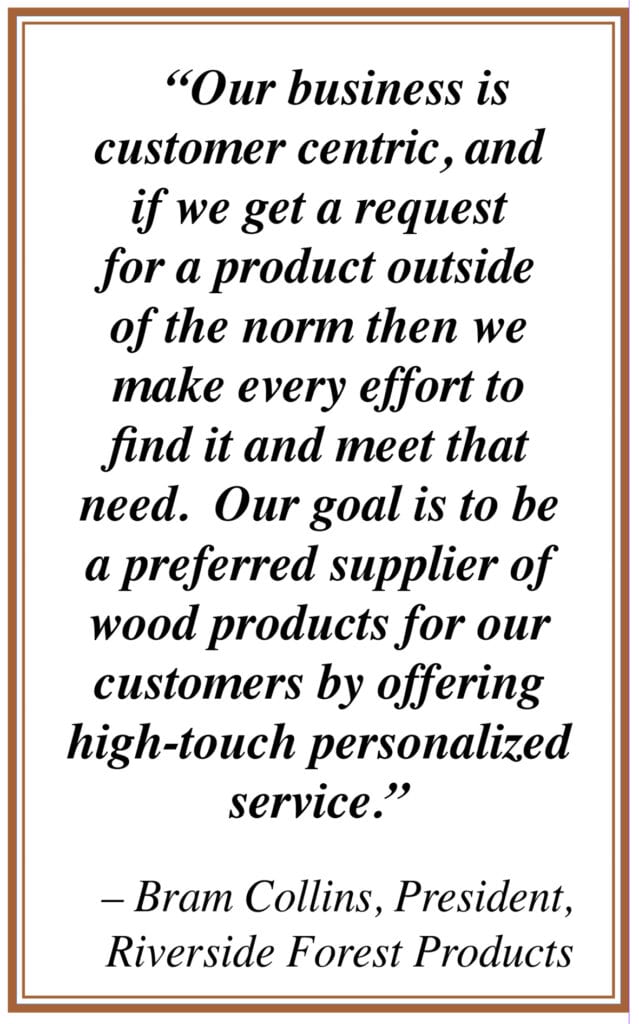 With a large reman shed and four lumber storage sheds providing over 30,000 square feet of covered shed space for inventory, there is an average of 1 million board feet of lumber present on a monthly basis. As for equipment, Riverside utilizes Morgan resaws, a Mereen-Johnson Gang Rip Saw, and two trim saws.
"Having multiple automated production lines improves our performance and allows us to make multiple cuts within one production line," Collins said. "This improves our production speed and reduces the manpower required. For example, a 2x12x4 board can be trimmed to 45" in length and then ripped and grooved into four pieces of 2x3x45" banding groove product in seconds." He continued, "Our business is very customer service driven. We listen to our customers' needs and make adjustments accordingly, so we will introduce new products at their requests. We may also adjust or implement new machinery as needed to produce any new products."
As for what he attributes the continued success of Riverside Forest Products, Collins said, "We are a strong, established company with supplier relationships and volume buying that allows us to have a wide variety of sources in order to provide a competitive price within a reasonable timeframe. We are involved and entrenched in our customer relationships, and that allows us to provide the best price and services including inventory management and transportation coordination. We want their experience with us to be just right for them, and we will do the right thing every time. That was true when we opened our doors in 1983 and it is true today."
Riverside Forest Products Inc., is a member of the Southeastern Lumber Manufacturers Association and the National Federation of Independent Business (NFIB).
For more information visit www.riversideforest.com