Photos By: Alexis Ann Photography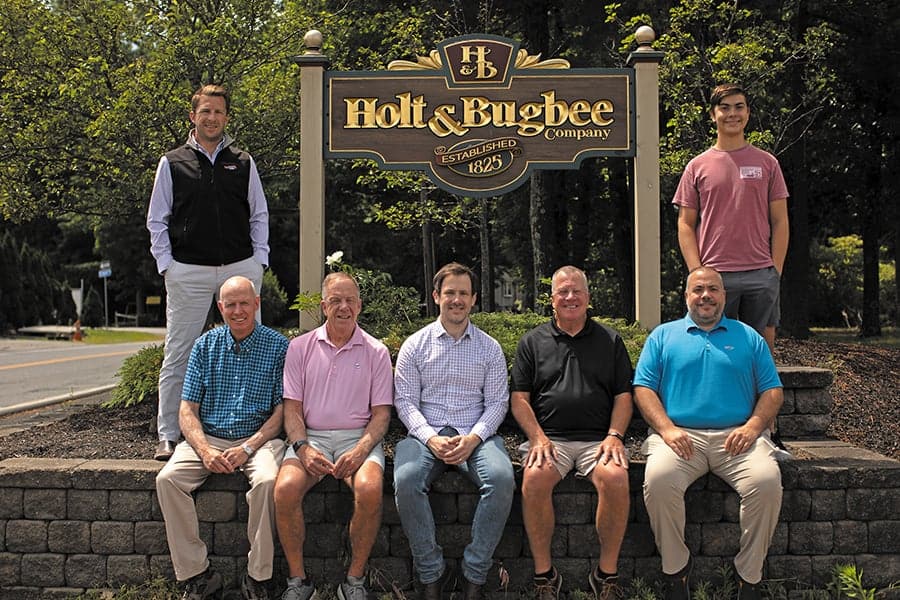 Tewksbury, MA– Holt and Bugbee Company, headquartered here, is a distributor of Softwood and hardwood lumber, flooring, custom mouldings, and millwork. The company purchases approximately 25M board feet annually in Pine, Douglas Fir, Cypress, Western Red Cedar, Alaskan Yellow Cedar, poplar, red and white oak, hard and soft maple, walnut, sapele, red grandis, hickory, alder, ash, basswood, birch, cherry, Euro beech, jatoba, African mahogany, teak and ipe (kiln-dried, S4S, Dressed, 4/4 through 12/4).
With a history of success dating back to 1825, Holt and Bugbee has withstood many storms, including the COVID pandemic. "When the pandemic began, it was a really difficult time for everyone. Obviously because of lockdowns it was extremely difficult to do business," Head of Marketing, Ben Pierce explained. "We didn't sit still while it was happening. We took advantage of the time and used it to audit our operations and make several improvements."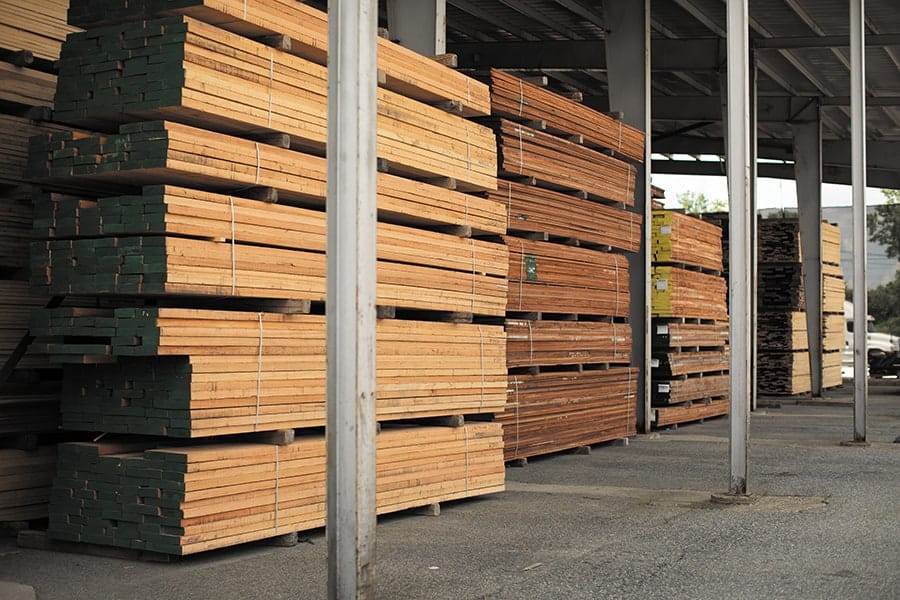 Pierce said Holt and Bugbee maintained their operations at the height of the pandemic and also gave to the communities in which it serves. "We did a great job of staying safe and reducing the spread of COVID-19 at work. Not one employee was laid off and we managed to get to the other side as a stronger and more versatile company. The communities that we serve are just as important to us as our business. We're thankful that we were in a position where we could donate $20,000 to local food banks to give back to the people who were hit hardest."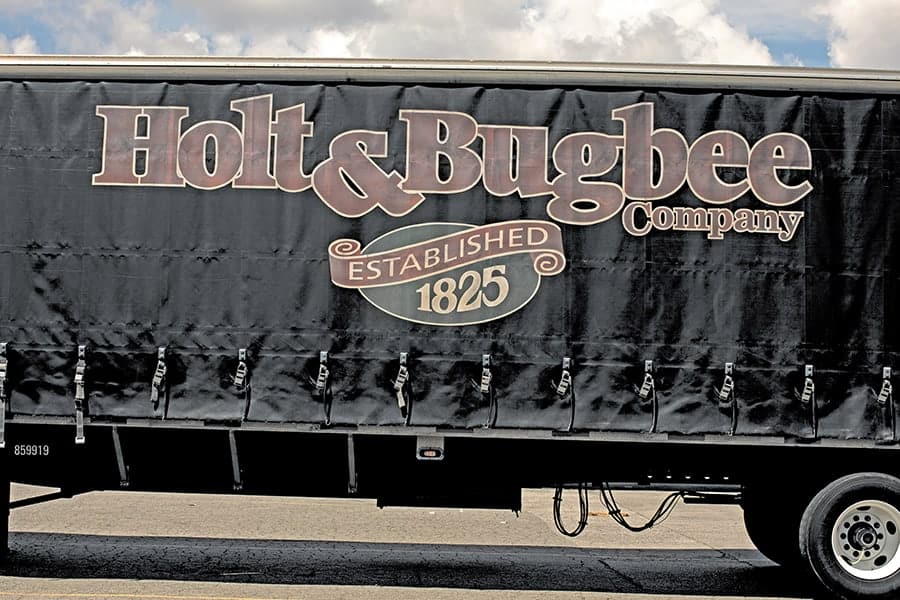 With four locations, Holt and Bugbee Company has a plant in Tewksbury, MA on 25 acres with 550,000 board feet of kiln capacity; nine kilns, two stackers; two inspection lines; two planers; an automated grading line; three rip saws; five moulders; a resaw, primer, end matcher and a wood waste boiler. This operation also has 12 lift trucks and five delivery trucks.
On 10 acres in Mount Braddock, PA, Holt and Bugbee operates 450,000 board feet of kiln capacity, eight kilns, a stacker, grading line, planing line, two rip saws, three moulders, a wood waste system and seven lift trucks and four distribution trucks.
Pierce added, "Our third plant located in Boyertown, PA has a 40,000 square-foot storage capacity, a planer, rip saw, two lift trucks and four delivery trucks. Located in Elmwood Park, NJ, we have a 20,000 square-foot storage facility with two lift trucks and four delivery trucks."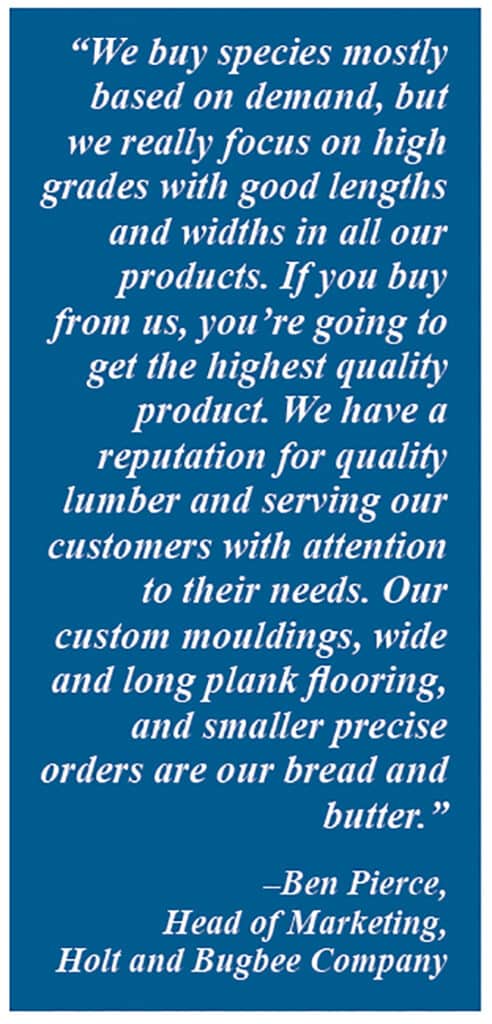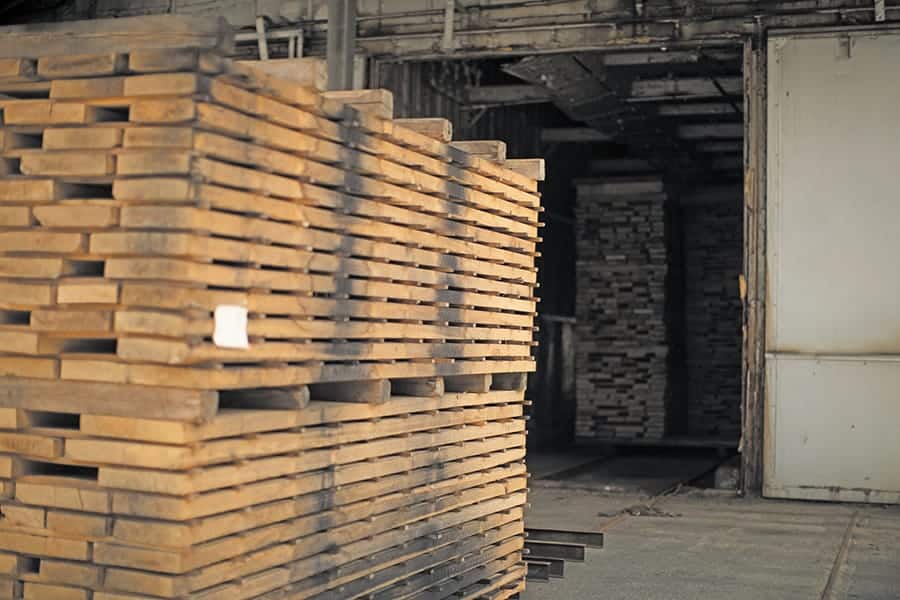 Sourcing all of their lumber from sawmills, Pierce said the product mix is based mostly on current trends. "We buy species mostly based on demand, but we really focus on high grades with good lengths and widths in all our products. If you buy from us, you're going to get the highest quality product. We have a reputation for quality lumber and serving our customers with attention to their needs. Our custom mouldings, wide and long plank flooring, and smaller precise orders are our bread and butter."
Some of the equipment manufacturers utilized by Holt and Bugbee include Weinig moulders, Mereen-Johnson rip saws, Yates American planers, Irvington Moore and American Wood Dryers and SII Dry Kilns. Average inventory is 8,000,000 board feet, companywide.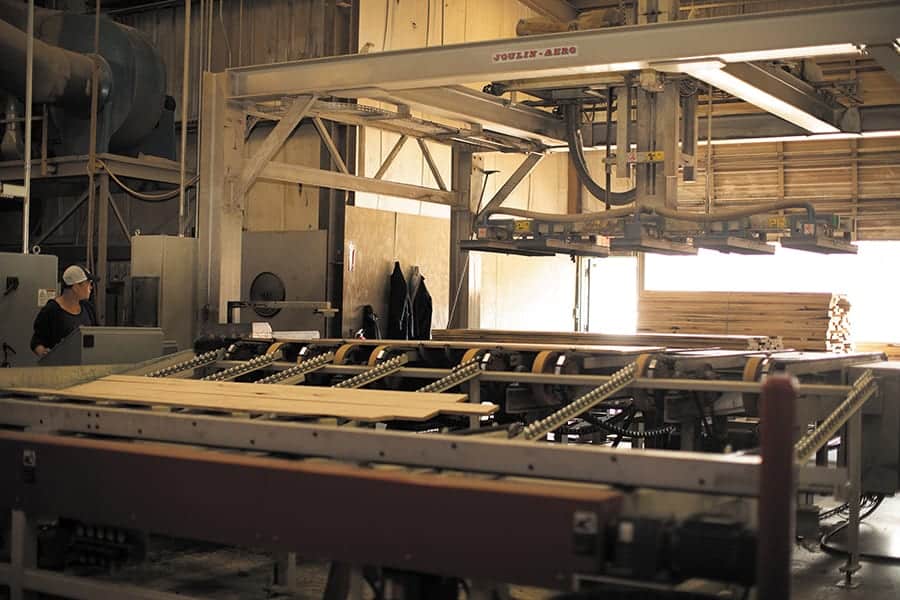 It was the entrepreneurial savvy of businessman John Cutter that established Holt and Bugbee in 1825. Cutter's goal was to establish a sawmill for rough cutting mahogany logs in Charlestown, MA. Armed with nothing more than a strong knowledge of the trade and a single, but powerful, idea, Cutter struck a bargain where he would supply an equally industrious sea captain with much-needed block ice. The captain would deliver the ice to South America and, on Cutter's behalf, exchange it for rough mahogany. With the emptying of the seaweed-encased block ice, the ship's holds then became available for transporting the mahogany logs back to Cutter.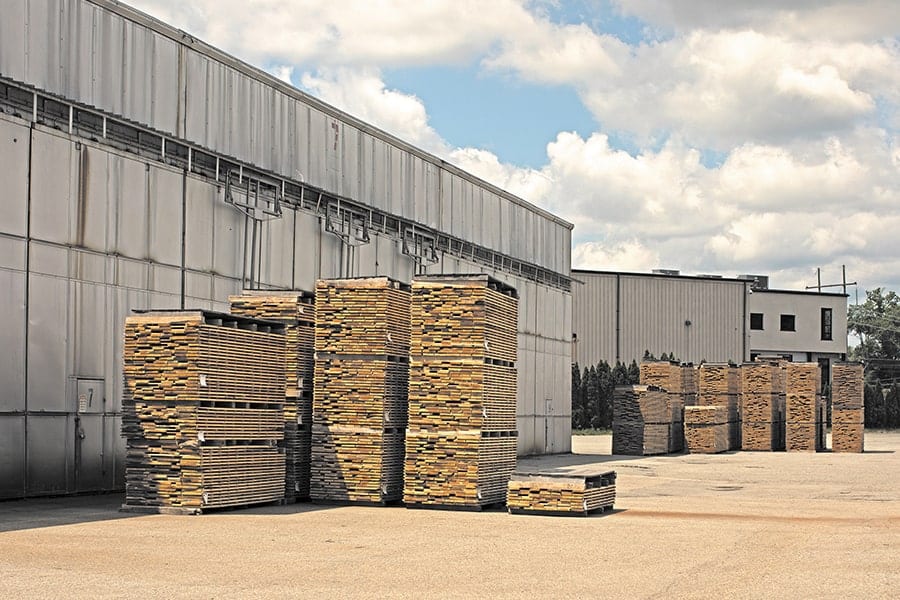 By 1850, Cutter's son-in-law, Stephen Holt, entered the business, carrying on the company's tradition. He was followed by John Bugbee 10 years later and, with his arrival, the name and company were officially established. To better serve its rapidly growing customer base, the Holt and Bugbee Company migrated to Tewksbury from its original Charlestown, MA, location. Mount Braddock, PA, became the chosen site for the second Holt and Bugbee facility in 1994. With this prime location near key sources for North Appalachian hardwoods, Holt and Bugbee began exploiting the value-added benefits of easy access to the finest cherry in the world.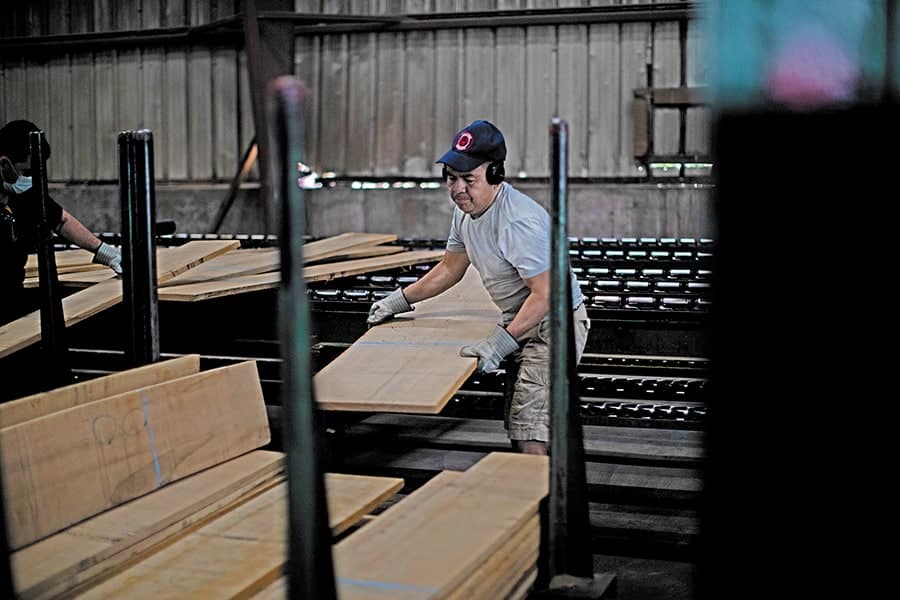 Five years later, Boyertown, PA, became home to the company's third operation, placing Holt and Bugbee in an ideal location (just 40 miles northwest of Philadelphia) for serving customers in the mid-Atlantic region, greatly increasing its market reach.
Five family generations, and many years later, Holt and Bugbee is recognized not only in the Northeast but from coast to coast and in many parts of the world for the quality of their products and dedication to service.
Holt and Bugbee Company embraces its past and its rich set of values that contribute to the strong foundation the company was built on. Because of its respect for its heritage, Holt and Bugbee, like many fine New England firms with solid roots, continues to thrive in both name and entrepreneurial spirit.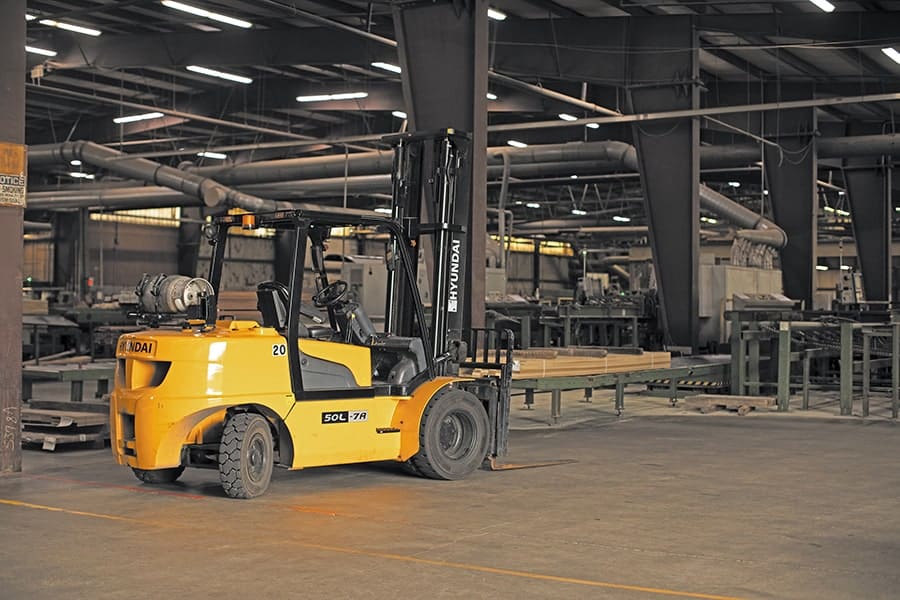 With 200 employees, key personnel include President and Owner, Phil Pierce, Chief Financial Officer and Owner, William Collins, Vice President and Owner, Roger Pierce, Vice President of Sales, Sean Herlihy, Vice President of Operations, Eric D'Annolfo, and General Manager of Boyertown, Peter Burns.
Holt and Bugbee Company is a member of National Hardwood Lumber Association; Indiana Hardwood Lumbermen's Association; and Hardwood Manufacturers Association.
For more information visit www.holtandbugbee.com