"Our inventory is run through a time-tested process – from arriving green, inspected, sorted and graded, kiln-dried then re-packaged. Our production crew works hard to provide the highest quality product to our customers on a consistent basis."– Eddie Deavers, Purchasing Manager, Landmark Lumber Group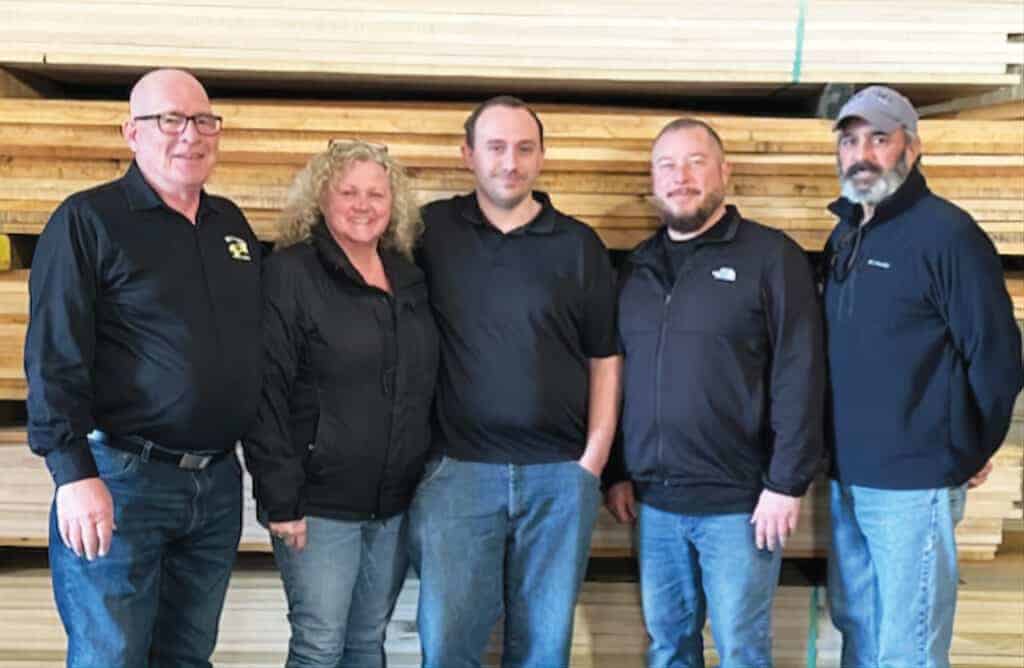 Landmark Lumber Group, is a new company that was formed when Mann and Parker Lumber, a hardwood supplier with a 100-year history, and Specialty Lumber Company, a Softwood supplier with a 25-year history, were merged together. As Landmark Lumber Group they can provide their clients with extensive expertise and the largest product line available from a single supplier in the Mid-Atlantic region.
"This merger increases the value we can deliver to our customers. It is an opportunity for us to offer them more. More products and better service," stated Troy Albright, owner of Landmark Lumber Group. "By merging operations, we now offer hardwood, Softwood, thermally modified lumber and stair parts from a single supplier."
Headquartered in New Freedom, PA, Landmark Lumber Group distributes domestic and imported Softwoods in all grades in widths from 4 to 12 inches, siding and flooring profiles, decking and timbers, purchasing 6 million board feet of Pine, Cedar, Cypress, Fir and Spruce domestically, along with imported Pine and Cedar and thermally modified Southern Yellow Pine. They also distribute Appalachian and imported hardwoods, thermally modified hardwoods, and stair parts purchasing more than 2 million board feet annually in hard and soft maple, red and white oak, walnut, cherry, poplar, and 14 other species in 4/4, 5/4, 6/4 and 8/4 lumber thicknesses in all grades Common and Better.
Landmark Lumber Group's Softwood Division began as Specialty Lumber Company which was founded in 2001 as a Softwood wholesale supplier located in Lancaster County, Pennsylvania. Specialty Lumber Company focused on supplying domestic and imported Softwoods including Pine, Fir, Spruce, Cedar and Cypress to retail lumber yards and Amish-owned businesses throughout Pennsylvania, Maryland and Delaware. Their offices, warehouses and distribution yard operation was located in Manheim, Pennsylvania. In 2020, the business was purchased by Albright, who continued existing operations.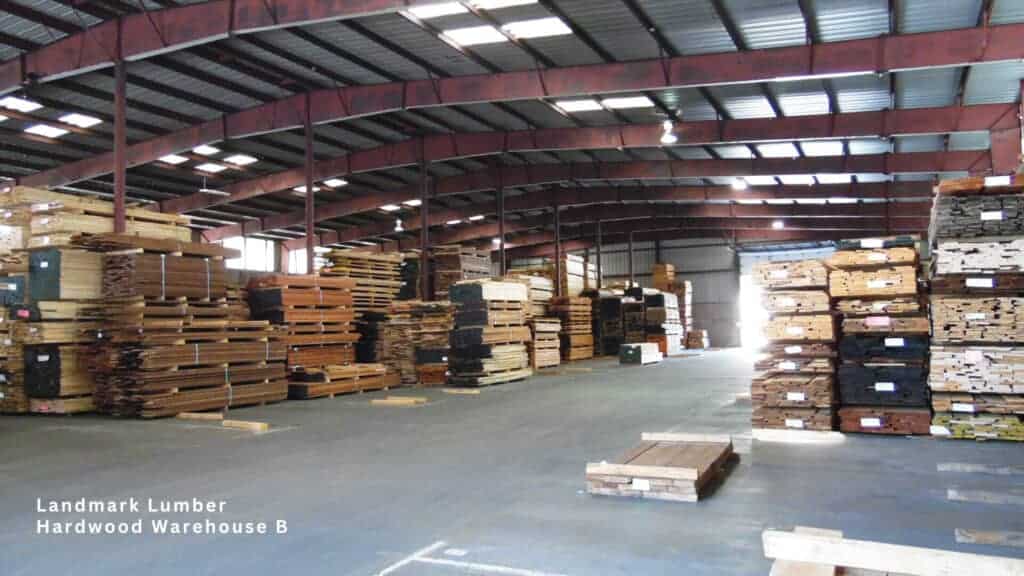 In September of 2021, Mann and Parker Lumber Company, a hardwood wholesale supplier, was also purchased by Albright. The Mann and Parker Lumber Company was founded in 1902 and has served the hardwood industry for over 120 years. The company began in Baltimore, MD, as a lumber wholesaler. Robert R. Bushman Sr. purchased The Mann and Parker Lumber Company from the Mann and Parker family estate in 1956 and became President and General Manager. The company continued to operate as a wholesale hardwood distribution center and became recognized as a leader in the hardwood lumber industry. In 1964, the company started a dry kiln operation in Cockeysville, MD. On New Year's Eve, 1969 the entire Baltimore plant located on the Baltimore waterfront was destroyed by fire. Headquarters were moved to the company's dry kiln center in Cockeysville, MD as of January 1, 1970.
That same year Mann and Parker purchased land in New Freedom, PA, and began construction of a new distribution facility with dry kilns. Since 1972, the company headquarters and distribution center has been located in New Freedom, PA. The Cockeysville Dry Kiln Center was severely damaged by a flood caused by Hurricane Agnes in June 1972. By July 1974 the entire operation had been moved from Cockeysville to the New Freedom location.
In 2022, Specialty Lumber Company operations and offices were moved to New Freedom, PA sharing the Mann and Parker 27-acre campus. In October 2023, Albright merged both companies into a new entity, Landmark Lumber Group to better serve their customers with a broader product line and streamlined service offering. Albright and the entire team remain committed to providing quality products and customer service throughout the Mid-Atlantic region and has strengthened this commitment through the Mann and Parker and Specialty Lumber merger.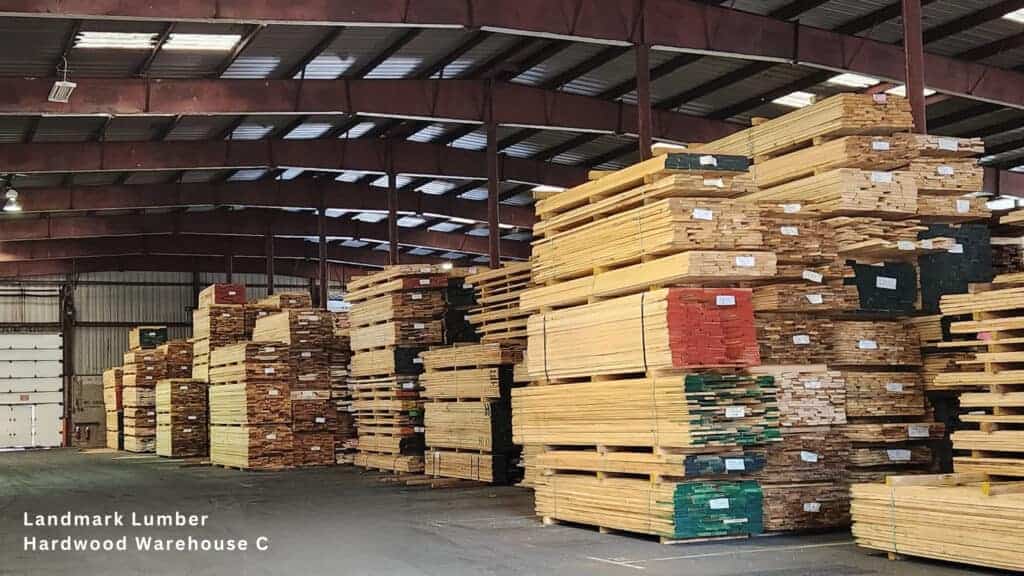 "Our distribution center includes our offices, warehouse buildings, millwork facilities, kilns, lumber inspection with automatic stacking and unstacking equipment and maintenance," Purchasing Manager Eddie Deavers said.
"Softwoods are purchased from small, locally-owned sawmills that focus on quality over quantity. Our Eastern White Pine is sourced from New Hampshire and Vermont, Fir and Cedar come from Oregon and Canada and Southern Yellow Pine and Cypress is sourced from North Carolina. We have full millwork facilities for surfacing, straight-line-ripping, moulding and any profile needs." Deavers also said delivery is handled by truck or container.
He continued, "We maintain approximately 1 million board feet of inventory in our primary Softwood species which are Eastern White Pine, Southern Yellow Pine, Douglas Fir and Western Red Cedar. We also inventory thermally modified Southern Yellow Pine for decking and outdoor siding, European Pine and Japanese Cedar. Along with our network of partner mills we offer our customers any import or domestic Softwoods they have a need for."
In addition to the company headquarters offices, the New Freedom facility encompasses 27 acres and includes five warehouse buildings, complete modern millwork facilities, one pre-dryer building and nine dry kiln buildings, lumber inspection and automatic stacking and unstacking equipment and one maintenance building. The New Freedom facility has the capabilities of processing in excess of 18 million board feet of kiln-dried lumber annually.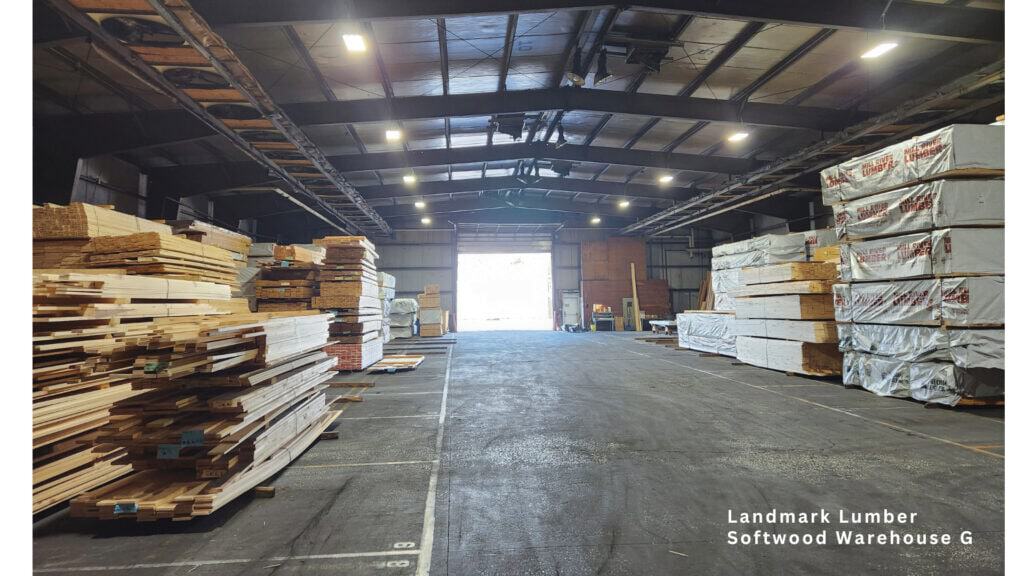 "Maintaining a reputation for excellence and staying in business throughout decades of challenges takes perseverance and forethought," Vice President Craig Constable said, "Even though the name has changed, the mission at Landmark Lumber remains the same – ensuring proper stewardship of the environment to benefit both current and future generations." Speaking on the measures in place to support their goal, Deavers explained, "We purchase lumber from resources that practice responsible woodland operations and support sustainable forestry initiatives." The Softwood mills that Landmark Lumber relies on for its Softwoods have been verified as sustainable resources. Many of Landmark Lumber's employees are forestry graduates from many prestigious institutions.
Deavers offered, "All of our employees have respect for the environment and this valuable renewable resource that we are responsible for."
To further demonstrate their support of sound environmental practices, Landmark Lumber has developed its own Environmental Policy, which includes compliance with all environmental laws and regulations, coupled with an energy conservation program. Constable explained, "We are committed to consciously conserving resources through implementing waste-saving measures and actively participate in recycling programs. We supply a work environment that educates and encourages employee suggestions on improving performance and demands consideration of the environment in the decision making process."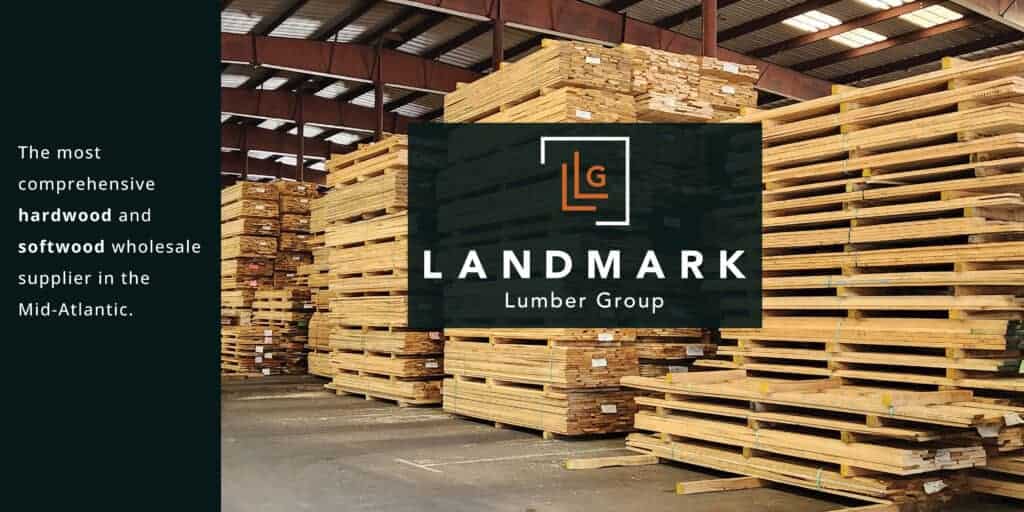 Deavers added, "We invest a lot in people (customers, employees and suppliers). Long-term, mutually beneficial relationships are the key to weathering the downturns in the lumber markets. We also have an adventurous spirit. We are willing to take calculated risks and try new things. We believe in teamwork and commitment to a common goal from ownership, the sales team and the production crew. Our focus is the customer – to provide quality customer service and products at a fair price."
As to what sets them apart from others in the industry and perhaps the core of Landmark Lumber group, Deavers said, "Attention to detail and quality of product. Our inventory is run through a time-tested process – from arriving green, inspected, sorted and graded, kiln-dried then re-packaged. Our production crew works hard to provide the highest quality product to our customers."
Future plans for the operation are in expanding markets and abilities. "We are aggressively expanding our production and distribution capabilities," Deavers said. "We will continue searching for new opportunities to grow either through new products/services, strategic partnerships or acquisitions. If you have a business development idea, give us a call."
For more information call 717-664-7373, or visit www.landmarklumber.us.