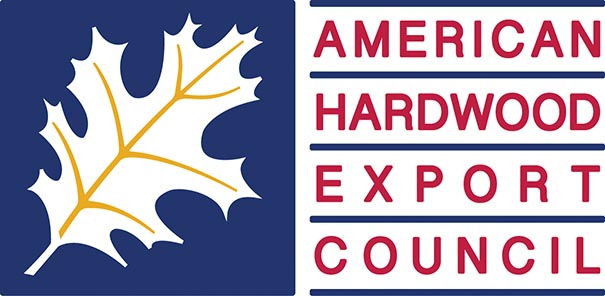 The American Hardwood Export Council recently submitted its 2022 funding application that outlines our international market growth strategy for the upcoming year. Below is our "Executive Summary" of this proposal and includes our plan to advocate for American Hardwoods overseas.
The principal long-term strategy employed by AHEC has always been to create a positive environment for the U.S. Hardwood industry to promote their business and make sales. AHEC works to provide support in ways that may not be easy or possible for individual companies in ways such as influencing wood fashion, highlighting environmental policies and developments and responding to them, creating promotional tools, and anticipating market developments. We are constantly asking ourselves what we can do for the industry that helps to strengthen their own marketing efforts? A perfect example is the focus on architects and designers. While not direct customers of our industry their influence on the decision-making process in terms of how materials are chosen and used, is vital for sustained growth and finding new applications. If these programs can create new demand for American Hardwoods, the world's Hardwood sector will turn to our industry for supply. Year on year we have demonstrated that this tactic works to deliver new demand.
The program strategy is achieved through a wide range of creative activities and by generating significant levels of media publicity, thus keeping the U.S. Hardwood industry and American Hardwood as a material, constantly in the public eye. AHEC is a very recognized brand around the world for Hardwood communication, which enables the program to deliver its messages more effectively. Some of these messages have remained constant, such as the variety of species available and the strong environmental credentials. What changes annually are the specific details of the messages and the methods of delivery.
Programs are based on a combination of activities to pull demand through the "wood chain" with designers and manufacturers, while also working to push information into the "wood chain" by working with, and targeting, timber trade and industry. In order for this strategy to be effective it is important to "bridge the gap" in order to create a stronger link between specifiers and the Hardwood sector in each market. AHEC has spent years creating relationships with and cooperating with many global wood trade federations and manufacturer associations to encourage them and their member companies to play a more active role in AHEC promotional activities. Working with these global user organizations as well as their respective specifier communities is absolutely vital to the effectiveness and reach of AHEC's messaging.
Promoting underutilized species – The program will continue to give a focus to underutilized species such as Red Oak, Maple, Cherry and Tulipwood not only in order to create a balance between market demand and resource availability, but also because these abundant species represent the best opportunities to create export growth. For example, AHEC's recent Tulipwood promotion has helped create greater interest in this species and seen it being used for a wider range of applications and stocked, traded and used by an increasing number of companies.
Special projects and creative marketing – In order to achieve very high levels of publicity for American Hardwoods, AHEC has developed a very creative strategy towards activities through the delivery of "experimental design projects" using American Hardwoods. These "special exhibit" projects, often involving collaborations with well-known architects and designers, have been an increasing feature of recent programs. These designers become ambassadors for the material thus amplifying the impact of the marketing messages. These high-profile activities strengthen the media appeal of AHEC and U.S. Hardwoods as a material and enhance their credibility in terms of design and product performance, but they are also leading directly to new business for American Hardwood exporters.
Create Networking Opportunities for U.S. Exporters – In 2022 AHEC will create a number of opportunities for U.S. exporters to engage with overseas buyers, manufacturers and specifiers. We represent U.S. Hardwood exporters in more than 20 trade shows around the globe in the building, furniture and design industries. This includes several AHEC-sponsored U.S. Hardwood pavilions where individual small U.S. companies exhibit at leading global trade shows such as Interzum Guangzhou, the Dubai Wood Show, IndiaWood in Bangalore, SylvaWood Shanghai, Intermob Turkey, VietnamWood and FMC Shanghai. Additional trade promotion trips will be led by the AHEC team to connect the U.S. industry to potentially untapped markets like the Rajasthan region of Northwest India.
AHEC's new approach to environmental communication – We have identified the need to enhance and strengthen our communication strategy regarding the environmental credentials and sustainability of U.S. Hardwoods. Working with the industry over the past decade we have developed a unique and innovative sustainable marketing strategy focusing on risk assessment and LCA, creating tools such as independent risk assessments, an interactive forest map, grown in seconds, online LCA tool and the consignment based AHEP. AHEC is planning to launch a new look in communication strategy called the Sustainable Hardwood Program. The aim is to deliver key environmental messages into the mainstream media at the same time working more closely with the European Hardwood trade to find ways to address procurement barriers. This approach could then potentially evolve over time into a risk-based standard for sustainable Hardwood supplies, such as U.S. Hardwoods, that extract principally from non-industrial landowners, where certification is less relevant or not practical.
Developing new market applications – Seeking out and promoting new uses for American Hardwoods has become a key element in the AHEC strategy to increase market share for American Hardwoods around the globe. Exterior and structural applications of wood products are two examples of market uses where the use of American Hardwoods share is still relatively small, but the market potential is huge. AHEC will continue to push development and adoption of new technologies like cross-laminated timber (CLT), laminated veneer lumber (LVL), and thermally modified timber (TMT) to provide exciting opportunities for U.S. Hardwoods in exterior markets. n