Tompkinsville, KY– Roy Anderson Lumber Co. Inc., based here, manufactures green and kiln-dried Appalachian Hardwood lumber, crossties, pallet cants, mulch, chips, and sawdust. Species offered include Ash (4/4 through 16/4), Cherry (4/4), Hard and Soft Maple (4/4), Hickory (4/4 and 6/4); and (4/4 through 16/4) in Poplar, Red and White Oak and Walnut.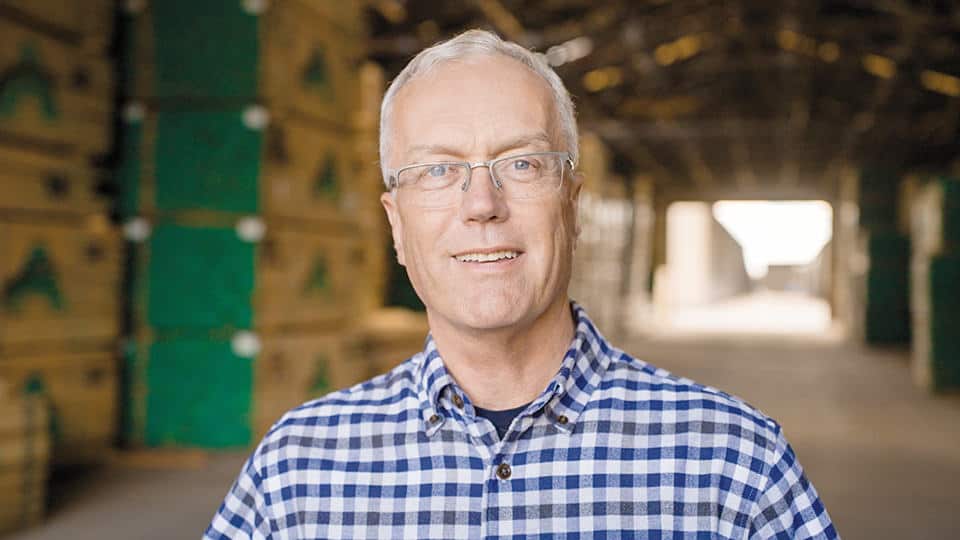 In business for more than 70 years, the operation has the capacity to produce 50 million board feet annually. With a customer base that includes end-use manufacturers, distributors, and wholesalers, Roy Anderson Lumber exported 35 percent of sales between 2021 to 2022. Serving up to 14 different countries pre-pandemic, the company has markets in Europe, Turkey, Mexico, China and Australia. Species exported include Ash, Red and White Oak, Poplar, Hickory and Cherry.
"Our focus throughout the current business climate is the same today as it has always been, maintaining positive relationships with our longtime customers and suppliers," stated Lowery Anderson, owner.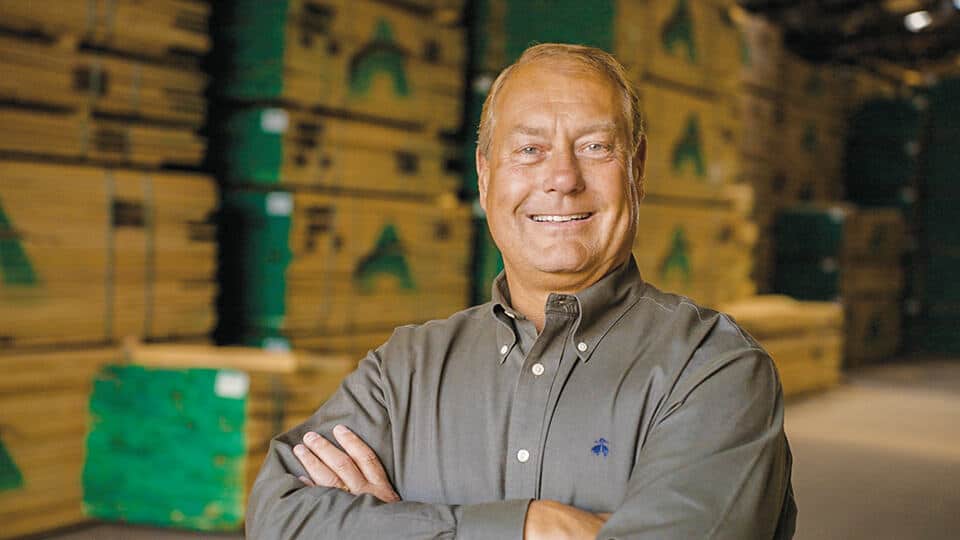 Many suppliers and end users have had to change the way they operate in the last few years due to the impact of the COVID pandemic and more recently, significant cost increases. To remain competitive, David Anderson, owner, said Roy Anderson Lumber Co. has moved into specialty markets and is focused on offering value-added service to their products in order to increase value to their customer base. "We realize that customers can shop anywhere and we want them to continue to shop with us," he explained. "Our salespeople are taking every unique inquiry seriously and continually looking for ways to make it easier for customers to do business with Roy Anderson Lumber."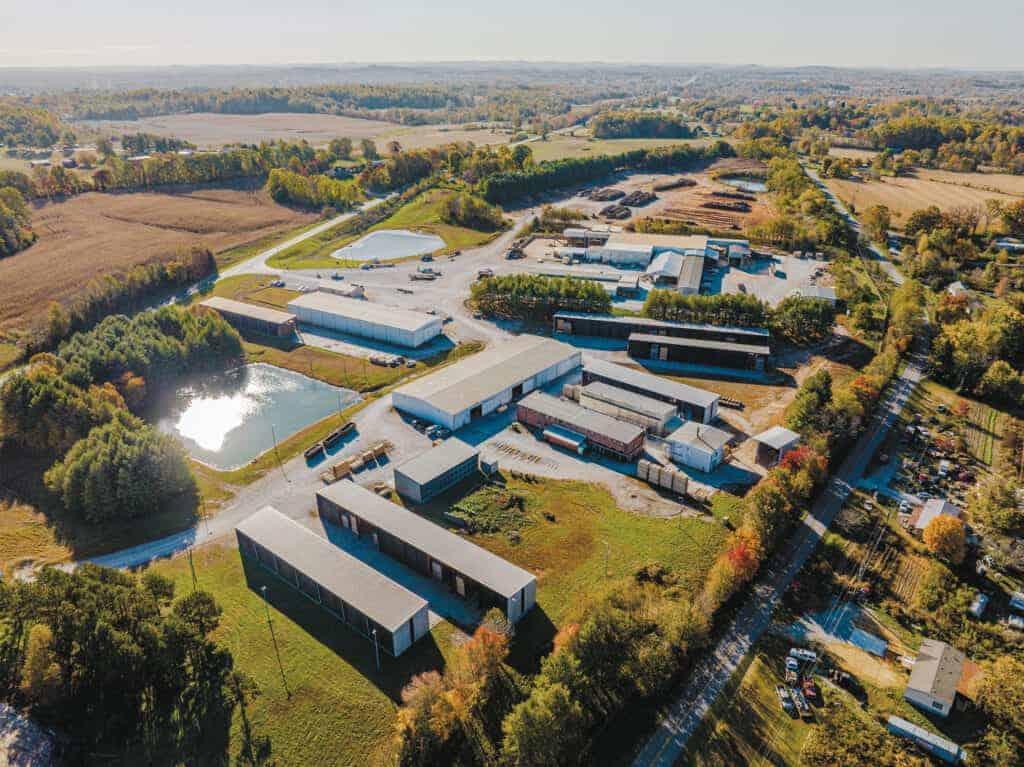 Lowery Anderson and David Anderson continue to share management responsibilities across the entire organization, realizing two heads are better than one. That's especially prescient considering the wild economic fluctuations of the past five years.
The Tompkinsville site utilizes a state-of-the-art sorting and grading system to process green lumber efficiently. Once the lumber has been dried, it is re-graded by National Hardwood Lumber Association (NHLA) certified lumber graders. The PictureTally™ system is used to ensure that customers receive accurate measurements in each bundle.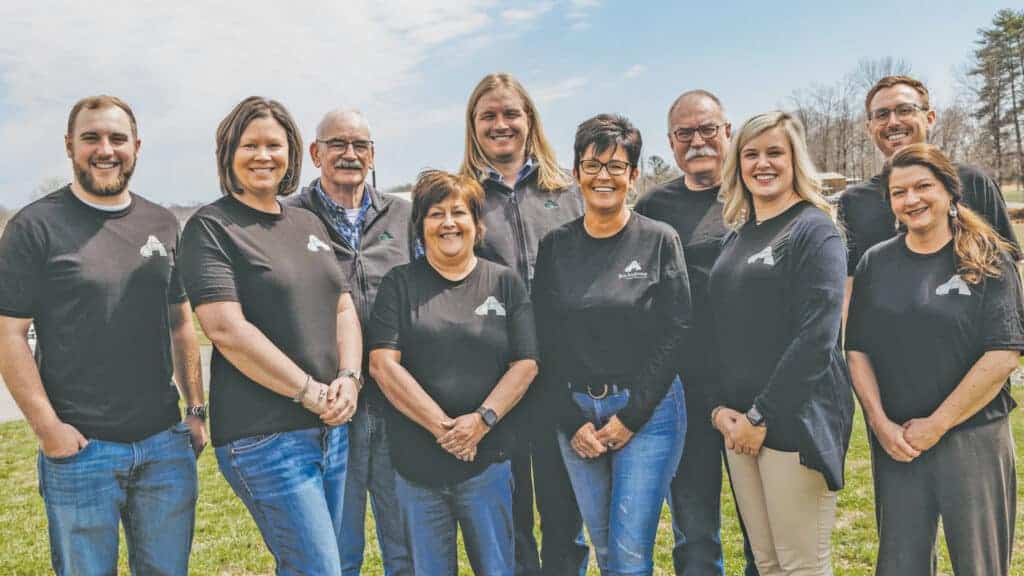 Today, the Tompkinsville facility is managed by David Anderson. This Appalachian location serves as the global headquarters of the lumber companies and Anderson Mulch & Soil.
Today, the Eubank location is managed by Lowery Anderson.
David Anderson explained how the log procurement process works. "We utilize seven static log yards and two rolling log yards along with family-owned timberland holdings throughout the eastern halves of Kentucky and Tennessee in order to provide logs to both sawmill locations," he stated. "Log yard managers and production managers coordinate log shipments from each yard to align with the sawing schedules for each mill location.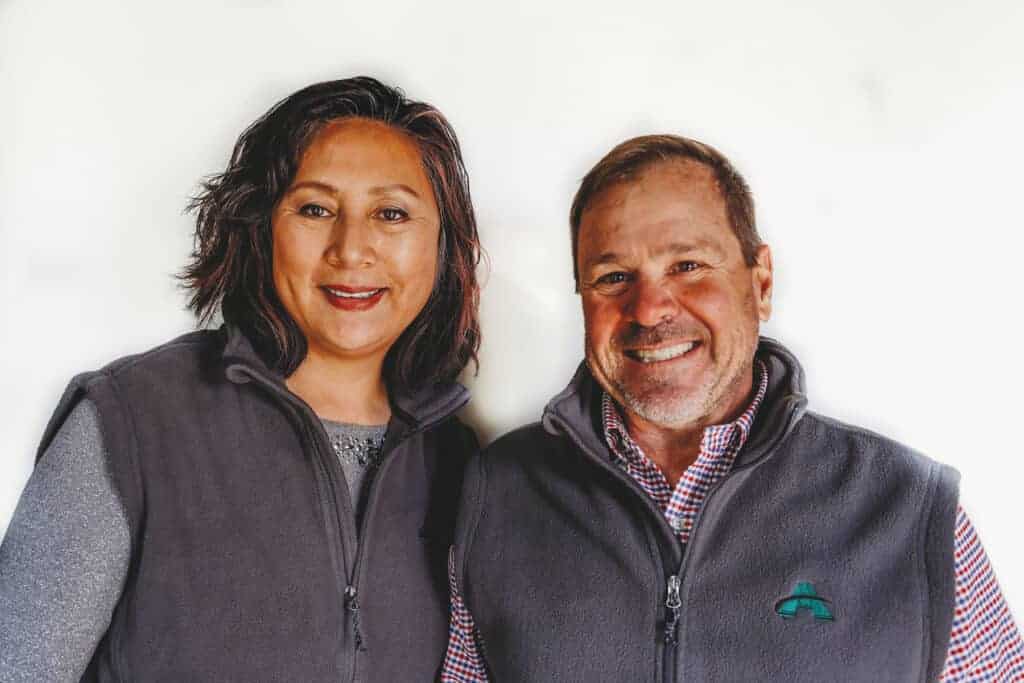 "Each of the three mills operates with a headrig, resaw and edger," he continued. "Green lumber is processed through our 31-bay sorter and given a preliminary grade. From the sorter, lumber is placed on sticks where it goes to an air-drying shed or the dry kilns or in some cases straight on to be packaged and shipped green. All kiln-dried lumber is regraded by our NHLA-certified lumber inspectors before being logoed with the Real American Hardwood Promotion logo and banded and shipped. The Picture Tally System is used to ensure that customers receive accurate measurements in each bundle. Bark and chips from the production of our lumber are repurposed by our subsidiary, Anderson Mulch & Soil, to create mulch and colored landscaping chips."
According to David and Lowery, a partial list of the production equipment in operation at the sawmills includes Nicholson ring debarkers, Corley Manufacturing Co. and Salem Bandsaw head-rigs with Lewis Controls Inc. controls and scanners and vertical line bar resaws. Optimized edgers with linear position optimization, precision chippers, Morris multi-bay lumber sorters with optimized trimmers utilizing Lucidyne technologies and Softac software, Froedge inline anti-stain lumber spray system, lumber sticking/packaging systems for stickering lumber on Breeze Dried Inc. sticks or packaging lumber for green shipment are also included. Both locations use kilns from SII Dry Kilns exclusively, and the boilers are from Hurst and Messersmith Manufacturing Inc.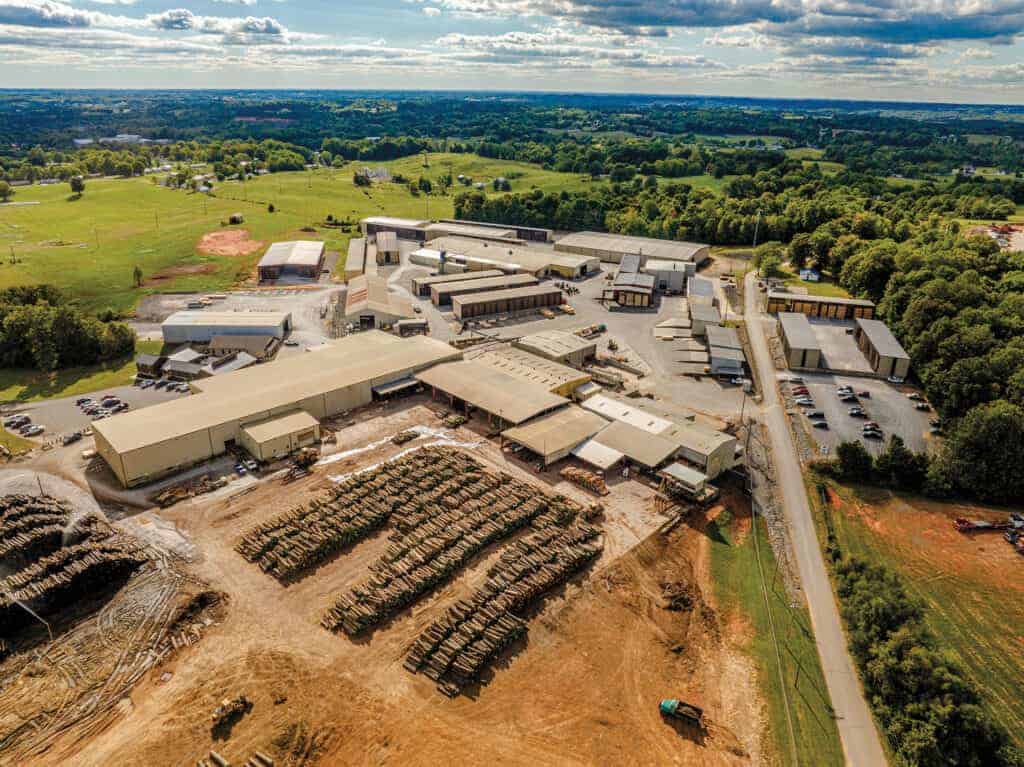 David and Lowery have always been a part of the family business but they each had other interests to fulfill first. David was seeking a pre-med degree and Lowery was attending law school at Vanderbilt. David joined the family business in 1989 and Lowery came on several months later in 1990.
That same year David and Lowery began working to grow the business by increasing kiln capacity and converting the circle mills into a bandmill with a resaw line. In 2000, the family purchased Bastin Lumber, now known as East Anderson Hardwood, and added a bandmill and resaw. This location became the operation's second facility. In 2002, a second bandmill was added in Tompkinsville along with a debarker and bay sorter with a grading station. Anderson Mulch & Soil was started in 2013. This operation converts waste into 100 percent reusable products. Anderson Mulch & Soil was the first mulch company in the United States to earn the Mulch and Soil Counsel's Elite Bulk Member status and remains one of the five companies that hold this distinction.
Roy Anderson Lumber Co. Inc. is a member of the Real American Hardwood Coalition, National Hardwood Lumber Association, Kentucky Forest Industries Association, American Hardwood Export Council and Appalachian Hardwood Manufacturers Inc.
For more information visit www.ralumber.com.