Newburyport, MA– Hardwood distributor and custom millwork manufacturer Keiver-Willard Lumber Corporation offers rough and milled Hardwood lumber, mouldings and flooring. Purchasing over six million board feet annually of Hardwood and softwood lumber – five million board feet of Hardwood and one million board feet of softwood (4/4 through 8/4 with some species in 10/4-16/4) – the operation also imports Genuine Mahogany, African Mahogany, Sapele, Sipo and Spanish cedar (4/4 through 16/4).

Established in 1953 in Beverly, MA as The O.O. Keiver Lumber Corporation, the current organization was developed when Osmund Keiver, Sr. partnered with Emerson "Speed" Willard in 1970 and the name was changed to Keiver-Willard Lumber Corporation. By 1976, the company moved its operations to historic Newburyport, MA to expand its distribution and millwork operations. Osmund's son, Robert D. Keiver ran the company successfully for many decades and recently stepped back and handed over control of Keiver-Willard to his daughter and current President, Patti Heintzelman. Heintzelman continues to build and grow the company relying on a very passionate team of managers who have been with the company for decades. "My dad instilled in me early in my career the importance of hard work, treating people with respect and aligning myself with people who will inspire me," Heintzelman said. "I have never forgotten this and have built our team with smart, hardworking, and solid men and women to help me lead this company."
Hardwood species available include Red and White Oak, Poplar, Cherry, Hard and Soft Maple, Alder, Hickory, Walnut, Butternut, Yellow and Red Birch, Basswood and Cypress. Softwood lumber offerings are white pine, aromatic cedar, western red cedar and fir. "We carry most species in FAS grades with some No. 1 Common," Heintzelman said. "Most of our stock comes from sawmills in the Appalachian region, New York and Canada."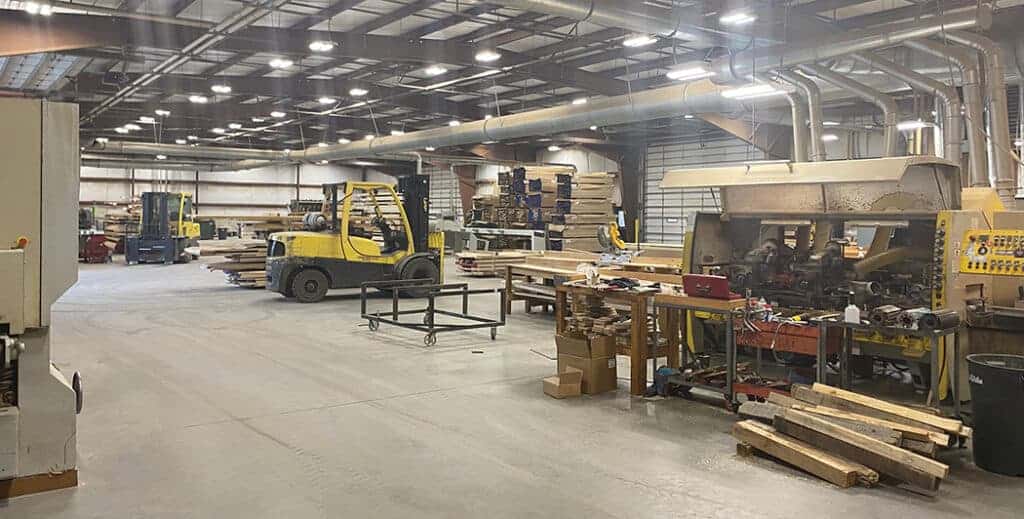 Situated on 11 acres, Keiver-Willard receives regular shipments of domestic and imported Hardwood lumber daily from environmentally conscious sawmills across the United States and throughout the world. "Our sorting shed processes 20,000 board feet of material daily," Heintzelman explained. "All incoming lumber is inspected for grade, moisture content and tally accuracy. Most species are sorted based on width, length, color or grain characteristics. Once orders have been scheduled, our shippers tally orders based on specified customer criteria before preparing the lumber for milling or final delivery."
With a 20,000-square-foot mill facility, the company houses three moulders, a planer and rip lines, a sander, end matcher and a cut-to-length machine and glue rack. Heintzelman added, "We have an optimizing rip saw that allows us to sort for width, length and color. On the moulding and millwork side we offer stock and custom mouldings. We can match any drawing or sample and create a new profile for our customer. Specializing in wide plank flooring with widths up to 11 ¼-inch wide, Keiver-Willard can also provide end matched or non-end-matched flooring in any species at up to 16-foot lengths.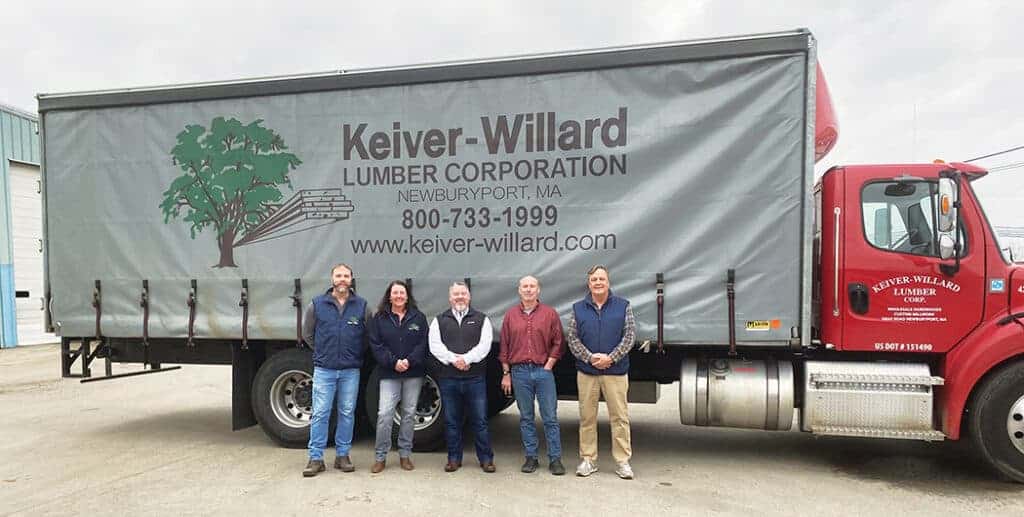 Keiver-Willard Lumber recognizes that forests are a valuable renewable resource which must be properly harvested now and in the future. Heintzelman offered, "We purchase lumber only from sawmills that practice sustainable forestry by adhering to environmental regulations and public policies designed to protect our forests. We also stock reclaimed lumber. Most reclaimed lumber comes from timbers and decking rescued from old barns, factories and warehouses. This lumber is recycled into many things, including our wide plank flooring."
She continued, "At Keiver-Willard, even our sawdust doesn't go to waste. Our sawdust is shipped to a facility where it's recycled into wood pellets for home heating."
When asked about the ingredients to Keiver-Willard's success and what sets them apart from other distributors, Heintzelman commented, "The advantages of working with a company like Keiver-Willard is our attention to detail and exceptional customer service. We pride ourselves on the quality of our lumber and millwork and on-time delivery. All of this is not possible without our valued employees."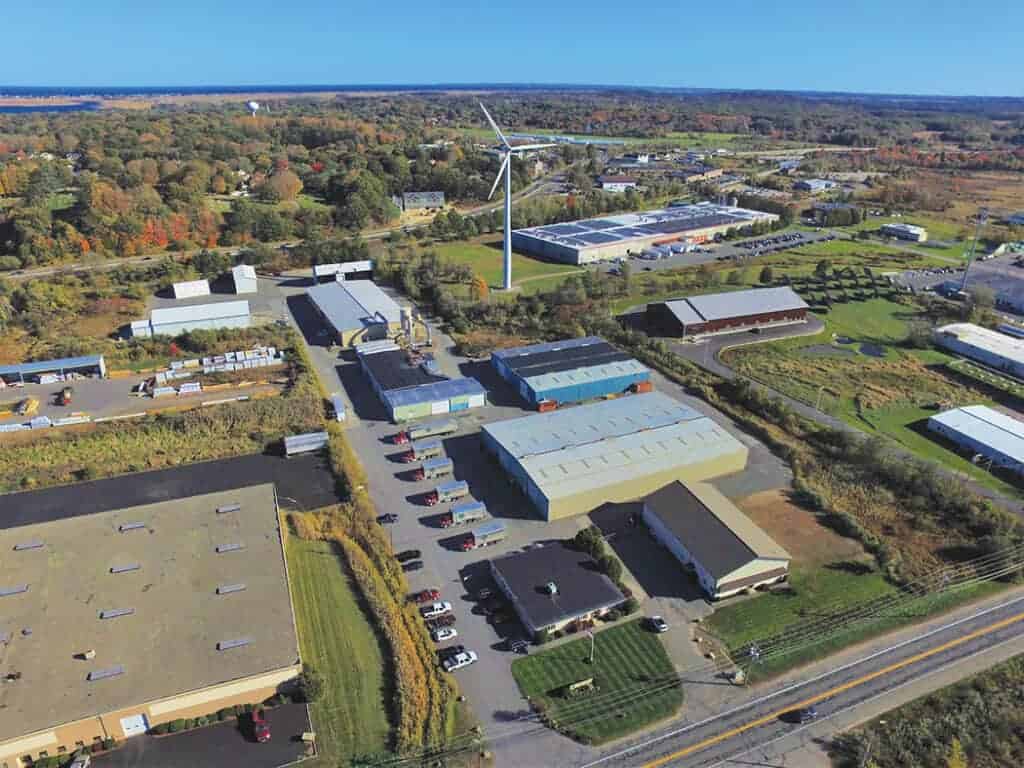 Heintzelman attributes Keiver-Willard's continued success to a combination of quality products and an experienced and dedicated staff. "We employ a group of dynamic individuals who have worked together for many years," she explained. "Our employees are passionate about what they do. Many of them have years of experience in their positions and are committed to making sure the job is done right. All of our people are knowledgeable about the products we market. We implement a team approach to all aspects of KW. Our reputation is exceptional in the field, and we are constantly working on ways to improve our customer service."
With little to no turnover rate, Heintzelman said, "We have very little turnover with many employees that have been with us longer than 15 years. Our goal is to always promote from within and match the job to the employee's strengths."
Keiver-Willard has 60 employees, and key personnel at KW including Heintzelman are: Chief Operating Officer Tom Slater, Vice President Kevin Barlow, Operations and Production Manager Justin Cole, Sales Manager Craig Cole and Purchasing Managers Dave Doucette and Doug Settele. Bob Keiver is still active with the company working primarily from home sharing his wisdom of over 60 years in the lumber industry.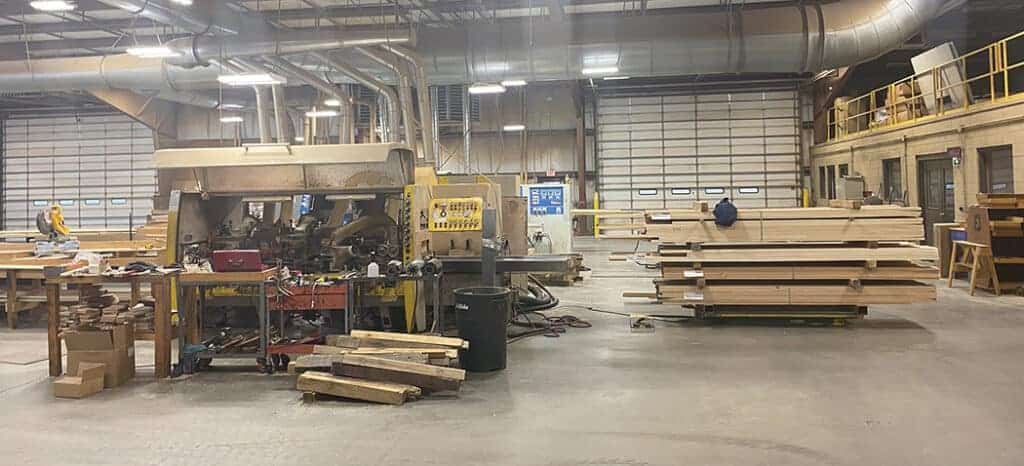 As for the future Heintzelman said Keiver-Willard Lumber Corporation looks forward to continuing to serve the forest products industry for many years to come.
Forest Stewardship Council certified Keiver-Willard Lumber Corporation is a member of National Hardwood Lumber Association (NHLA), Appalachian Hardwood Manufacturers Inc. (AHMI), New England Lumbermen's Association (NELA), Wood Products Manufacturers Association (WPMA), National Women's Business Enterprise and Hoo Hoo International.
For more information visit www.keiver-willard.com.