St. Louis, MO—Schmidt Billiards, based here, manufactures pool tables and shuffleboards. The company purchases an estimated 100,000 board feet annually in Oak, Cherry, Walnut, Maple and Quartersawn Oak (Select and Better, 4/4 through 8/4).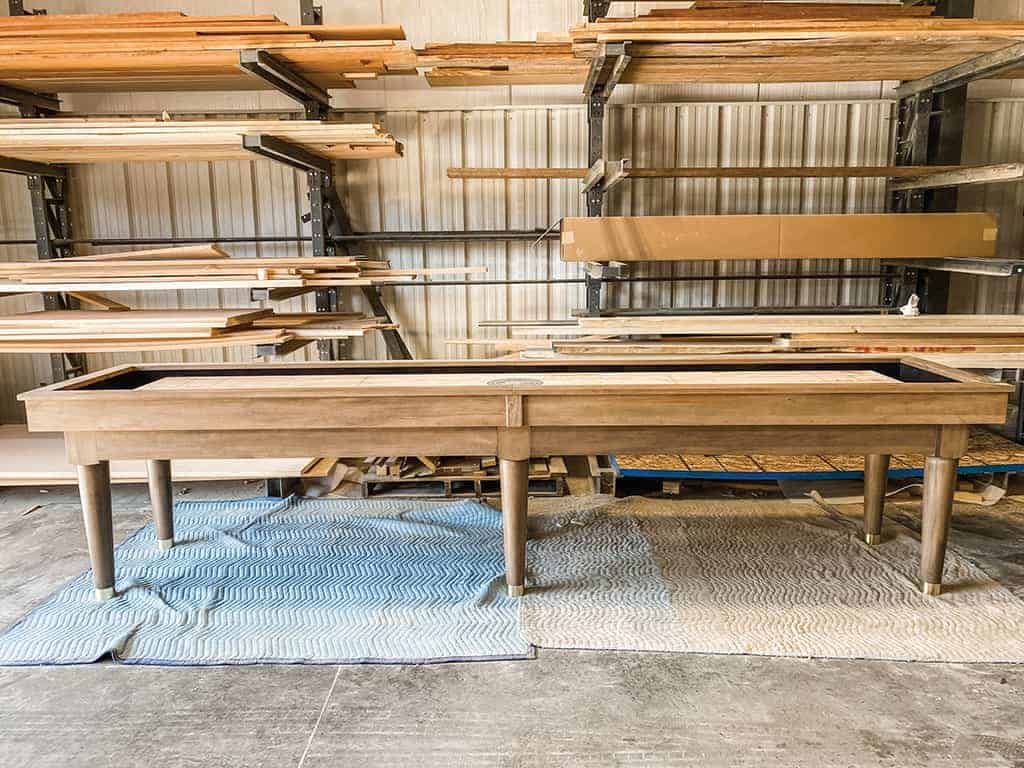 In an industry that is filled with imports, A.E. Schmidt proudly builds its tables in the USA. The factory uses the highest grades of wood (flat, clear and split free), machinery and materials to make tables that last.
Founded by Ernst Schmidt, who immigrated to St. Louis in 1849, A.E. Schmidt Billiards opened in 1850. Schmidt was a master craftsman and more importantly an ivory turner of high skill. Seeing the demand, he quickly set up shop.
A successful businessman, he was a craftsman and thought like one. While he could speak English, most of his instructions were written on a chalkboard in German. Specializing in turning ivory, the company later began advertising for billiard balls, ten pin balls, and smoking pipes. Schmidt also began servicing billiard tables.
He brought his son Oscar into the business at age five to learn the trade (a tradition that still continues today). It was very much a working man's type of existence, much like a plumber, electrician or other trade. The second generation, Oscar, moved to Kansas City for a few years to learn woodworking and brought his skills back to A.E. Schmidt Billiards, manufacturing the first pool table for the company.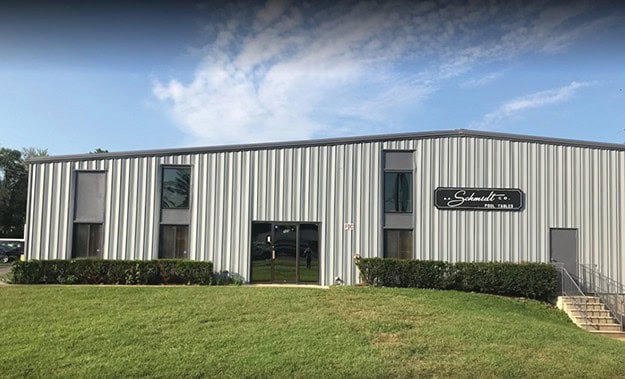 He apprenticed and learned how to build pool tables. Thanks to his talent, the company began to expand into the manufacturing and repairing of pool tables. Oscar realized that bars were the perfect place for his type of sturdy pool tables, and he realized that those tables would need frequent repairs. The company began to grow under his direction, and he began training his sons, Edwin and Ernest, to put their own stamp on the business.
"Throughout the years and generations our line of pool tables has become more evolved in regard to style and design," current President Kurt Schmidt said. "We now have 25 pool tables standard in our line with countless custom models built every year."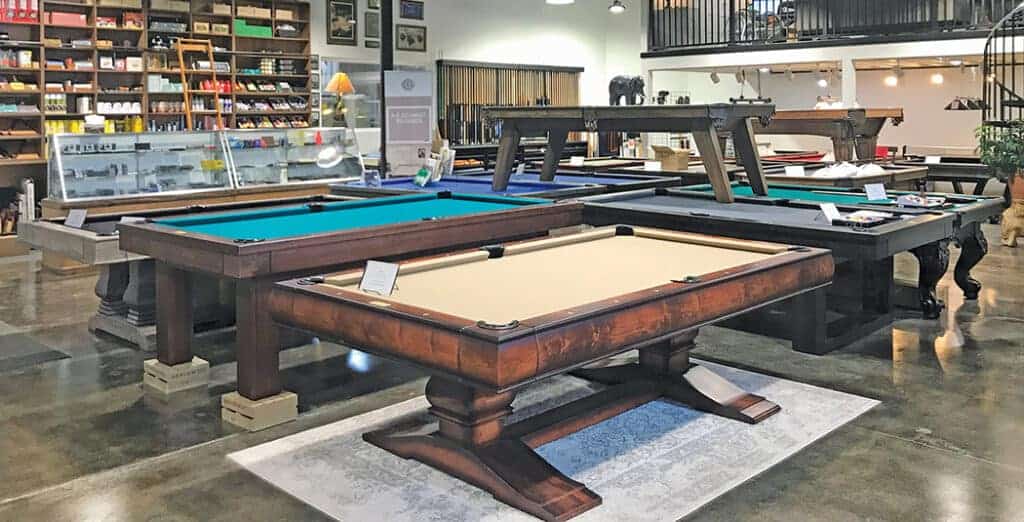 Now in the 6th generation, just like the preceding generations, current management has been working at the company doing small jobs here and there since they were young. Currently the 6th generation is helping increase the wholesale production of the 5th generation and bringing the company into the digital age. Each of Kurt and Karen's kids have their own passions and strengths within the company. Michael oversees the factory and makes sure production goes smoothly. Stephanie excels at selling and handles most of the wholesale operations. Rachel is passionate about designing tables and the behind-the-scenes analytical work.
When asked about new lines and features, Kurt noted, "Typically, we will add about four new pool table designs every year to our standard lineup. We bring them to our annual BCA Expo, where our industry gathers to display and view the newest products in game-room design."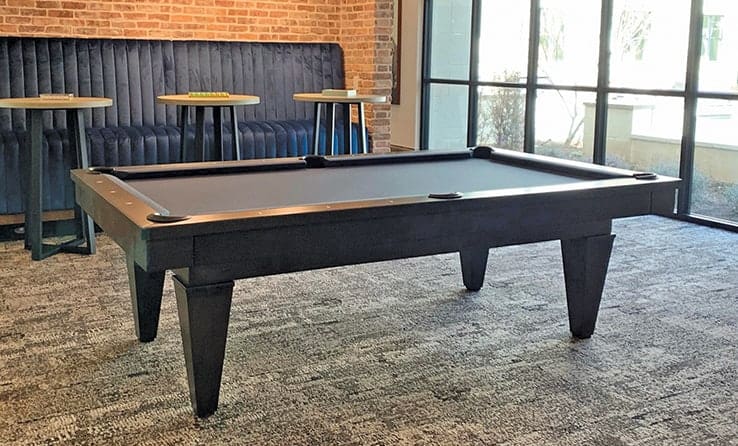 He explained how the manufacturing process works: "We use mostly Oak, Maple, Walnut and Poplar. We typically like to use what the customer wants, and those four cover the majority of requests. We used to use exotics but price and availability have reached a point where it doesn't make sense to even offer it much anymore."
He continued, "We use either a unibody or dowel pin type construction. Dowel pin allows for a perfect frame alignment every time, not to mention we have been using this technique since the early 1900's, so you can be guaranteed old-world quality. All frames have little to no shake and are milled flat within 1/64" corner to corner. We don't use plastic. All sight material is the natural mother of pearl or wood inlay. Sights are sanded before finishing so that you get a silky uniform feel. We brush and then hand wipe our stain to allow the natural grain pattern to shine through. Next, we apply four coats of sealer/finish and hand-rub with 400 grit between all coats. Tough, sturdier rails are the name of the game. We use 3/8" threaded inserts which gives better resistance to over-tightening. All rails are lined with Hardwood on the bottom to add maximum strength and resist warping. All our tables use a 3-piece 1" slate from Brazil. Each piece of the configuration is diamond honed on both sides for maximum flatness."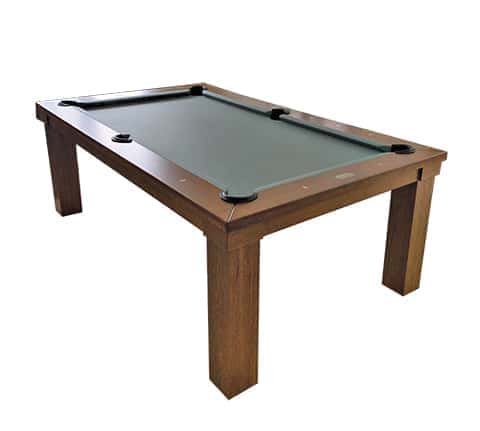 Mass production is common in a "right now" society. Kurt said A.E. doesn't sign on for that type of business. "We typically build three tables a day. Each table moves through our factory as a unit, so we can assure perfect fit every time. Our customers can be assured the table is getting the TLC it deserves."
In a competitive market, Kurt said quality and consistency are the keys to success. "We have maintained a remarkable allegiance to the original ideas of the founder," he explained. "It has remained family owned and operated since 1850. We have always maintained that 'quality pool tables' should be the focus of our business, that we should be the 'go-to company' when no one else can help. A pool table hasn't changed that much in 100 years; in fact we still build one model that came out in 1924. You don't need a service contract with a Schmidt table; they last forever. It's true: you get what you pay for. Import brands skimp on the construction, finish, lumber and are mass produced. Our tables will stand the test of time from generation to generation."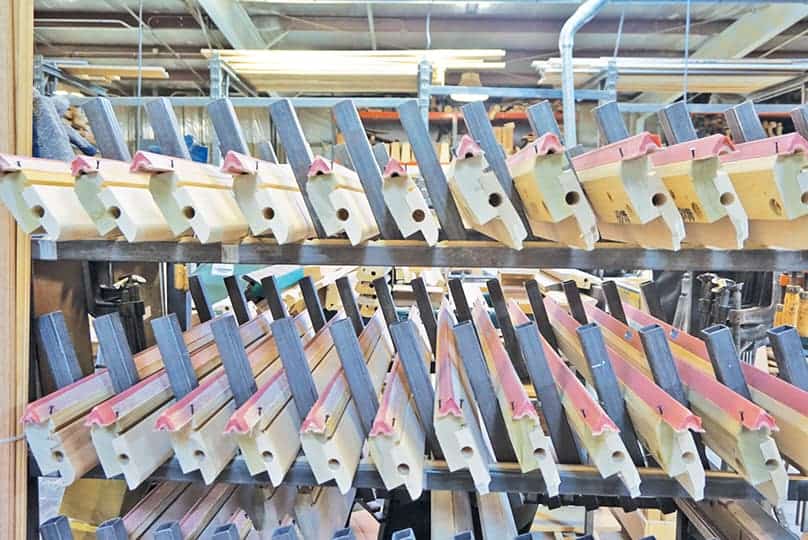 As for key people, Kurt said every employee is key to making the operation successful. "Currently, we have five family members working at the company: Karen, Michael, Stephanie, Rachel and myself. Together we make up the 5th and 6th generations of the company. We also have 20 employees, many who have been with us 20-plus years. Our foreman Dan Julaton is a key member of operations who ensures everything runs smoothly. His two kids also work for us part-time while in college."
Looking ahead he indicated expanding markets will be key for the operation. "Future plans involve expanding our ever-growing dealer base and continuing to design pool tables for every type of customer and game-room space."
A.E. Schmidt Billiards is a member of Billiard Congress of America (BCA): Stephanie Schmidt holds a position on the board of directors.