Roanoke, WV – Recent development and testing of Poplar for cross-laminated timber shows excellent results, according to a report at the 2021 Appalachian Hardwood Manufacturers, Inc. Fall Conference, held here recently.
Virginia Tech Professor Dr. Henry Quesada and Researcher Sailesh Adhikari said the construction and testing Poplar CLT has been completed at SmartLam in Dothan, AL. The preliminary results are very good and the project is completing its report for submission to the APA for inclusion in U.S. building codes.
Six AHMI member companies donated Poplar that was ripped and surfaced to nominal dimensions for SmartLam to process and test. Adhikari presented results of testing that shows the glued timbers have great strength.
CLT is currently produced from a variety of softwood species and typically uses softwood dimension for boards. The project will show the strength of Poplar equals or exceeds softwood materials and can be cost-effective in the lower visual grades.
Structural Grading of Hardwoods
The program included a presentation on structural grades for lumber and a workshop on the basics on grading. Renewable Resource Associates President Lon Sibert explained how structural grading rules are applied to softwood lumber by viewing the size and placement of knots or defects, the grain and other factors.
The presentation included dozens of slides and actual examples that were passed around. The following day, Sibert held a workshop at AFP Lumber in Buckhannon, WV, where he explained the rules, showed examples and allowed participants to grade Poplar boards for structural applications.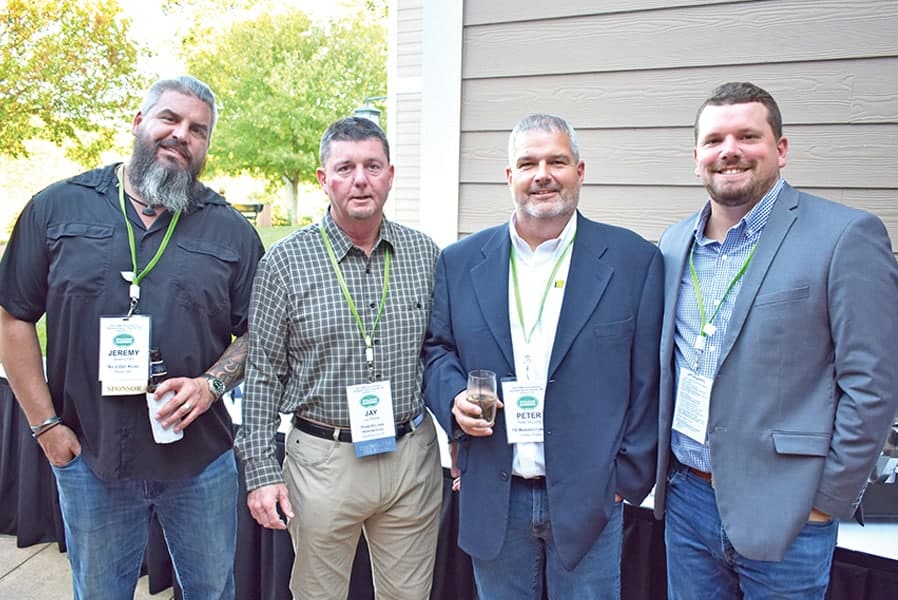 Many participants were surprised to learn the Poplar boards that were NHLA grades 2 Common and 3 Common would make structural grades Select or 1. A second workshop will be scheduled soon.
Hardwood Training Institute
A final presentation was given by Dr. John Rainone of Dabney S. Lancaster Community College (DSLCC) in Clifton Forge, VA, who is partnering with two other colleges and AHMI to develop the Appalachian Hardwood Training Institute. The group has applied for a grant from the Appalachian Regional Commission to train current workers and prospective employees on Hardwood sawmill and distribution yard jobs.
The lack of workers limits production at most sawmills and secondary manufacturers. More companies are cross-training employees to fill multiple positions so plants can operate.
Potential workers are not aware of the industry or have little training. Rainone said the grant will fund curriculum development, course promotion and tuition assistance at DSLCC, Glenville State College in West Virginia and Big Sandy Community College in Kentucky.
The attendees were asked to complete a survey to assist with the implementation of the training curriculum. The survey found needs for:
Log/Lumber Grading and Scaling
Hardwood Sawing
Lumber Drying and Resaw Operation
Lumber Drying Techniques
Lumber Stresses, Figures, and Grading
Log Yard Equipment Operation
OSHA Safety and Environmental Monitoring
Machinist, Welding, Electronics
CDL – Class A and B
Chainsaw Operation and Maintenance
It is expected that at least 75 companies will participate in the training and 80 percent of businesses will see an increase in productivity from workers, Rainone said. It is forecast that 90 percent of trainees will retain their jobs and an estimated 80 percent of trainees will improve skills.
The plan is to expand the offerings to community colleges in all 12 Appalachian states. It is supported by Community Colleges of Appalachia and the American Association of Community Colleges.
For more information on the Conference or AHMI, please visit www.appalachianhardwood.org.