Annapolis, Maryland–With an official artist roster of hundreds of acclaimed musicians, the soulful guitar riffs from Carlos Santana, melodic notes by John Mayer and electrifying sounds from Mark Tremonti all pour out of guitars made by one guitar manufacturer–Paul Reed Smith Guitars Limited Partnership (PRS).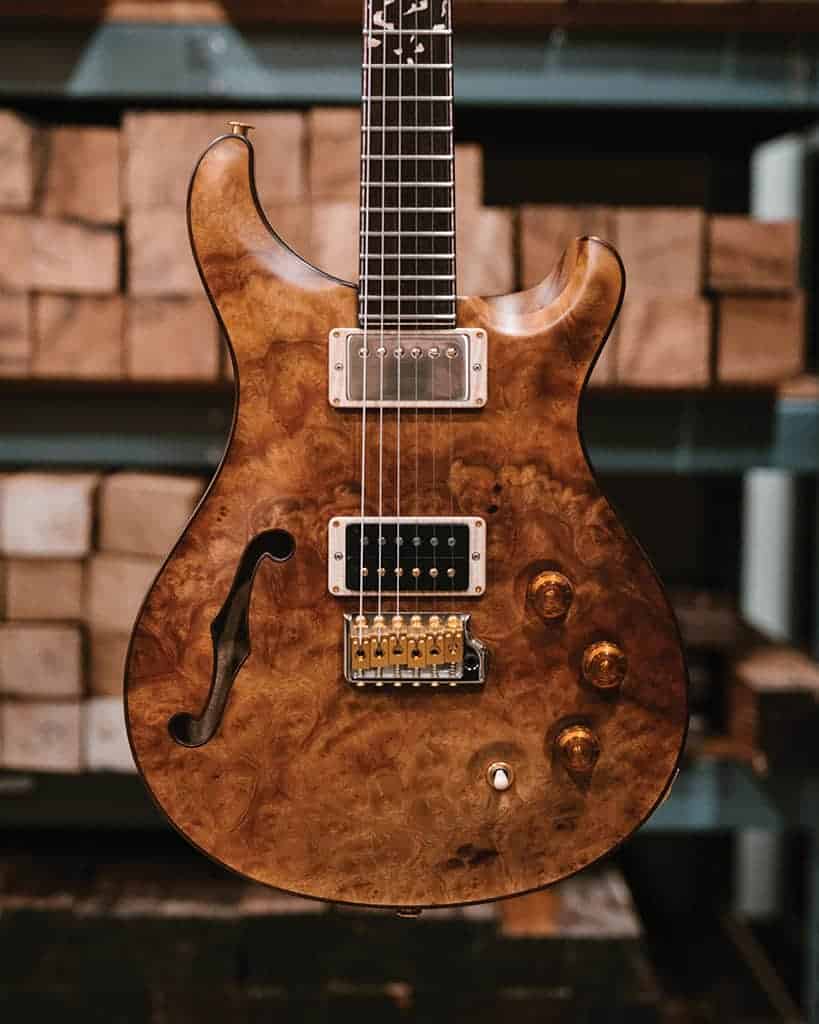 A leading manufacturer of high-end American solid, semi-hollow, and hollow-body electric guitars, pickups, acoustic guitars, and amplifiers, the company purchases at least 100,000 board feet annually in domestic hardwoods (grades determined by proprietary guitar specific). Domestic species included in the manufacturing process are Red, Sugar, and Big-Leaf Maple, Swamp Ash and Alder.
Domestic hardwoods are used in electric guitars for bodies, tops, necks, fingerboards, head plates, binding, knobs, truss rod covers and back plates. In acoustic guitars, domestic hardwoods are used for tops, backs and sides, necks, fingerboards, bindings, bracings and head stocks.
Additionally, PRS purchases the following imported species: African, Caribbean and Big-Leaf Mahogany, East Indian Rosewood, Gaboon Ebony and many other imported species. All totaled, PRS purchases over a quarter million board feet annually in both domestics and imports.
Inside the doors of the manufacturing facility, Senior Wood Manager, Michael Reid said the process of making guitars that produce the best tone and meet expectation starts with wood selection. "All of the wood that we select is carefully examined and chosen for tonal qualities (how will it sound); appearance (how attractive is it visually); and weight (it is generally better to have lightweight body wood and heavier fretboard wood for example). With every increase in factory size or production output, we build tighter quality control to make sure our standards remain extremely high."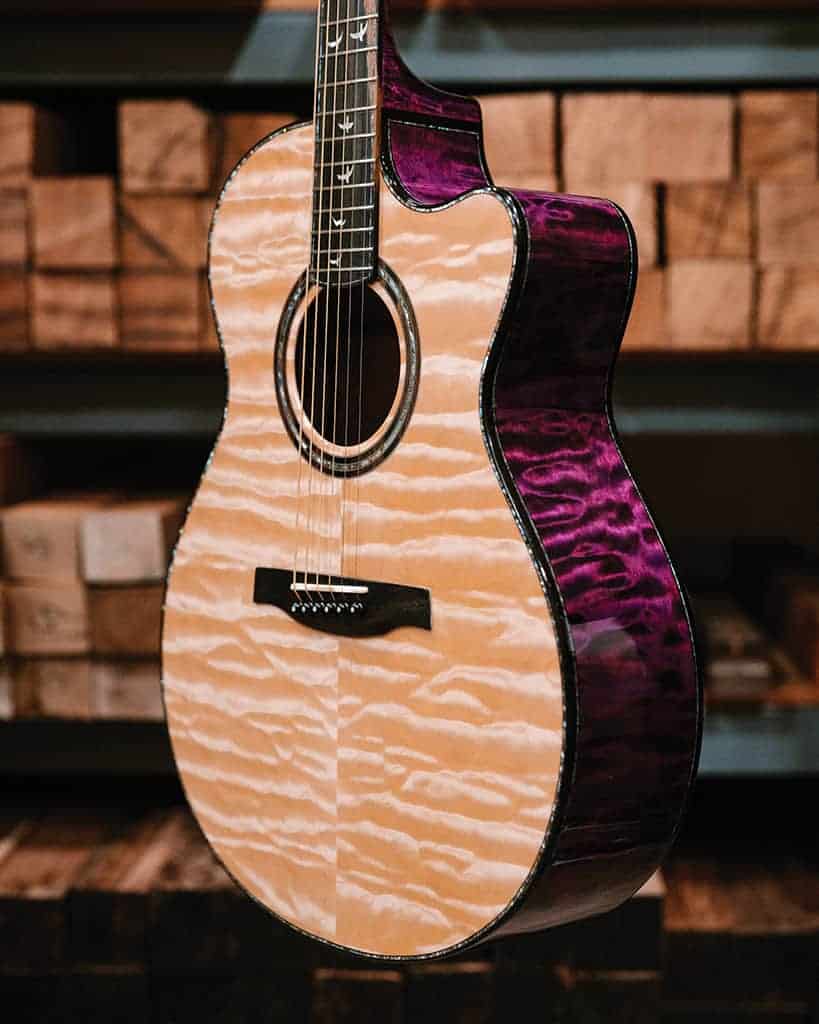 As for the equipment used to build an iconic guitar, Reid said, "We use many different kinds of equipment, including a Baker resaw, Hitachi band saw, Grizzly jointer and a Northtech crosscut jump saw. Each year we introduce new products in varying amounts. As an example, in 2021 we had around 14 new product introductions in addition to a handful of more minor product updates."
Reid said PRS is flexible for available wood species but never flexible on the quality and grade. "Our strength lies in the degree of flexibility we have when considering supply options and new wood species," he said. "It's in the dedication of our team led by Paul Smith to constantly improve quality. Direct communication with the salespeople is key and above all else, the unparalleled value we place on the relationships we have with all of our wood vendors, no matter how large or small."
During a factory tour, Chief Operating Officer Jack Higginbotham said, "The discovery that comes along with guitar manufacturing is what really drives us every day, that's the passion for making a guitar, the passion of chasing sound. Every day when we walk into this factory we're basically walking in on a tightrope and we are performing a balancing act in a lot of ways. Some of the ways are the balance between history and technology and where we're pushing the art of making guitars. Then there's the balance of the art of the guitar itself versus manufacturing that leads us to the balance of machines and the craftsmanship and handwork that goes into making a fine instrument. We feel strongly about the ingredients that go into making a guitar. If you have good ingredients and a good recipe you end up with a guitar that looks good, feels good and performs as you want it to perform."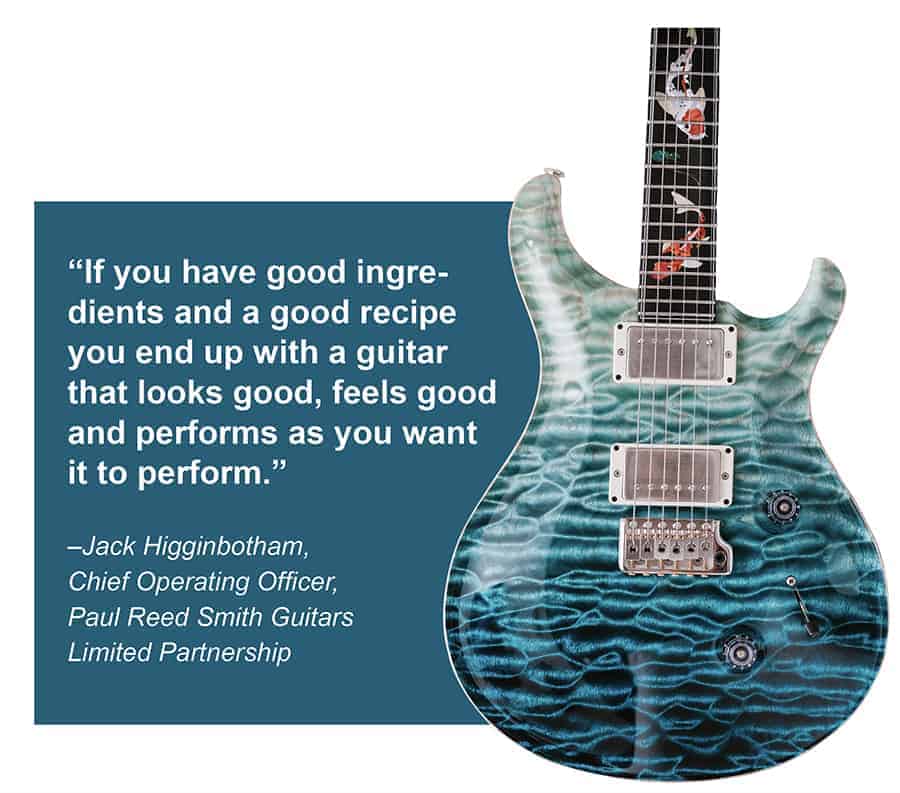 Discussing the manufacturing process he added, "Guitar making is composed of materials, design, and processes. The rough cut is where we compile all of our materials. These materials form the foundation of the guitar. It creates the sound of the guitar from the woodworking point of view. Once we have the materials in house, it's up to us to nurture them and to get everything we can out of the wood to make the best guitar we can. That starts with the drying process. You have to be very careful with the drying of Maple because Curly Maple is very sensitive and it actually can be easily damaged if you don't dry the wood correctly. So, we start with an air-drying process where the wood is book matched. Book matching is the process where we take a block of wood and bandsaw it in half on our horizontal mill and it folds out just like the pages on a book. The wood is then put on a pallet and separated by stickers, just pieces of wood that separate them from each other so that air can go between them and slowly dry the moisture off the wood. Once we get that moisture content down to a reasonable level, we are then able to put the wood in our drying rooms where we have forced hot air that circulates in the room and slowly works the moisture out of the wood and gets it down to below what our humidity levels are in our factory."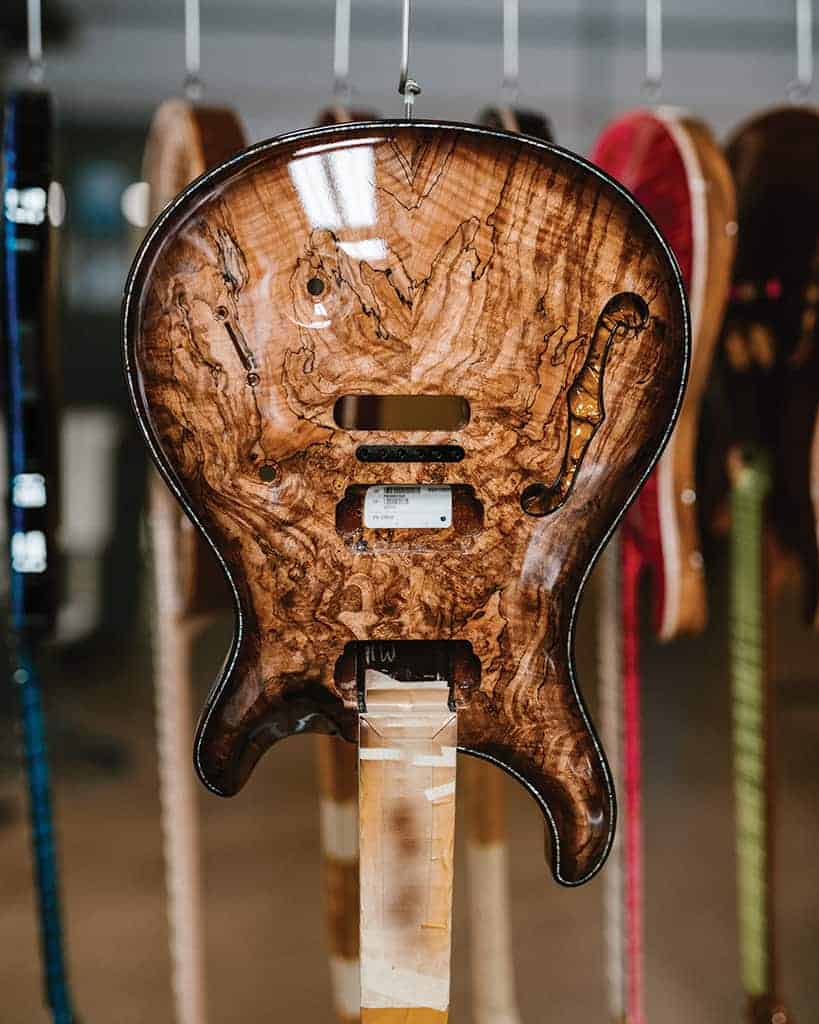 He continued, "How well you dry that wood is directly correlated to how well that guitar is going to vibrate. It also has a direct correlation to how well it will stay in tune because if you get that moisture out, you lock it down and that guitar becomes very stable. You still have to make sure that you have a quality bridge, quality tuner, quality set up; and that the nut is cut correctly from the right materials. All these things can ruin a guitar easily, but you don't stand a chance of having a guitar that stays in tune if you don't have a stable platform. We divide our materials into two groups, we have our core materials and we have our S2 materials. Inside both groups we use a grading process. When you look through the factory and you see stacks of Curly Maple with different colors on the end of them, it's that way so that we can quickly build a schedule, put our guitars together and make guitars each day based upon the demand of customers."
In a recent YouTube feature with creator and host of Acoustic Life, Tony Polecastro, Paul Reed Smith said his personal favorite wood for tonal preference in an acoustic guitar is between Ebony and Honduras Rosewood. "It depends on the guitar," he explained. "History has shown that an Ebony bridge and an Ebony fretboard works. You can make it with an Ebony bridge and a Brazilian Rosewood fretboard or you can make it from Honduras Rosewood. But Ebony works for the guitar, just like a Maple bridge and an Ebony fretboard works for a violin."
Smith also said, "The guitar is the violin of our time. It's basically a harpsichord where you can change the length of the strings with your hand and there's this visceral feeling between you and the guitar. It's the next most intimate instrument other than voice or saxophone."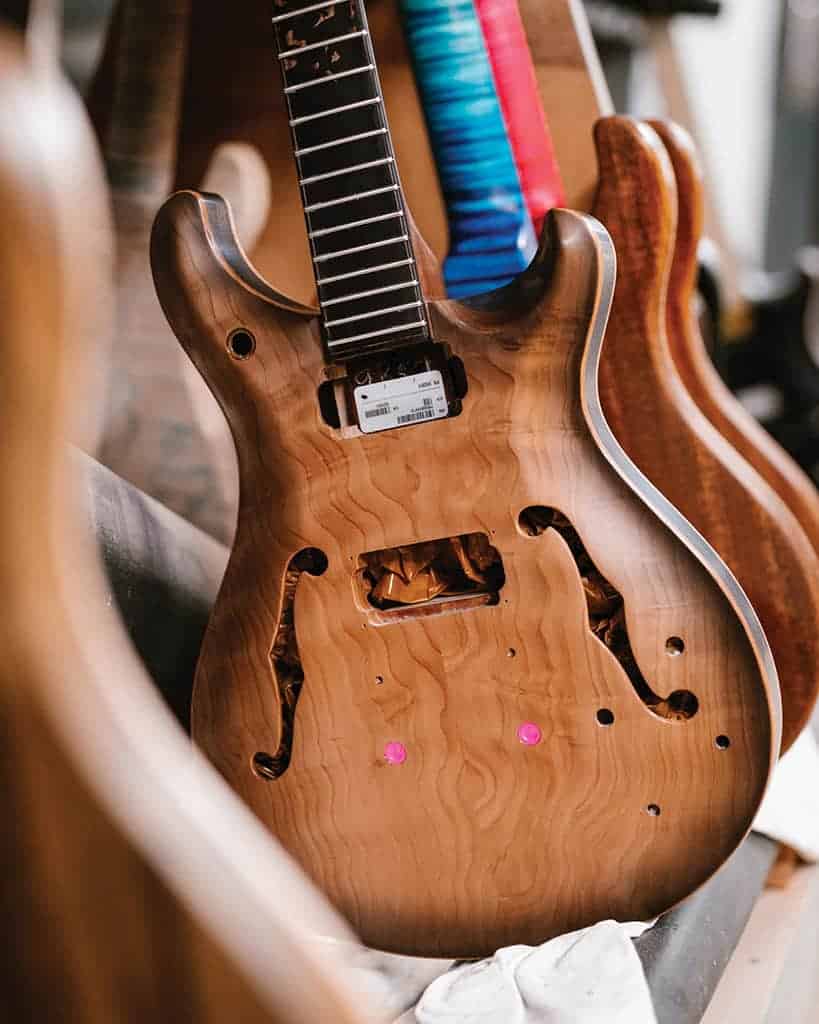 He continued, "I'm always looking for an emotional response to the music. Either it makes me want to dance, or laugh or cry even. It gives you a feeling that stays with you. I can mention so many tunes. 'The Wind Cries Mary' will always be in my heart, it's just beautiful. I can listen to it a thousand times."
Smith credits, at least in part the success of PRS Guitars to a combination of being both a skilled musician and luthier. "I tried to make guitars that were close to what my heroes played," he said. "That's the way it's done. My experience is that you have to do it like a musician. You have to learn the language before you can learn to be a novelist. Somebody's going to wake up tomorrow and their job in life is going to be to make guitars. I'm pretty good at letting people do what they're good at. That's why they're experts."
Key personnel include Managing General Partner, Paul Reed Smith; Chief Operating Officer, Jack Higginbotham; President, Jamie Mann; Senior Wood Manager, Michael Reid; and Wood Supply Manager, Paul Platts. PRS Guitars is a member of the International Wood Products Association, Indiana Hardwood Lumbermen's Association and National Hardwood Lumber Association.
For more information visit PRSGuitars.com or check out their YouTube channel at youtube.com/prsguitars.