Equipment and services companies that serve the Hardwood lumber industry have introduced new equipment and made numerous installations in recent months. However, as one company leader put it, "With the softening of the lumber markets, we anticipate that big mill projects will slow down, and mills will focus on critical projects over the larger capital investment projects."
Another company leader echoed the observations of many others in this forecast. He stated, "As automation technology advances, the need for some people onsite in sawmills and machine shops will be reduced. With the implementation of AI and automated systems, the industries' labor requirements will see a shift to workers who can complement this automation including remote operators, IT personnel, as well as machinists, advanced welders, and other technicians who can maintain facility machines."
Still another company head said, "2022 has been a very successful year. The challenges that might present in 2023 will be similar to those in 2022; however, we believe there is a light at the end of the tunnel and will continue developing ways to create savings for our customers."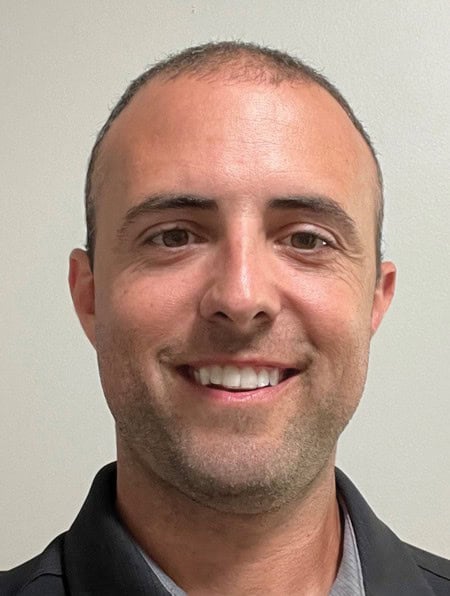 Travis Shepherd, VP of sales and services McDonough Manufacturing Company Eau Claire WI; Mactaquac, Canada
We work with both Hardwood and softwood companies. For new equipment, mills were focused on recovery, reducing workforce, and making jobs easier for employees through machinery and automation. For the service side we had lots of older bandmills getting a fresh makeover with new bearings and wheels. Parts are still available but lead times are much greater than normal. Labor is still a challenge in the industry.
We anticipate that in 2023, McDonough's AutoMaxx resaw will be available. It's a resaw designed for maximum throughput with little operator input.
McDonough offers band mills, resaws, edgers, gang edgers, Carriages and material handling. These can all be used for both Hardwood and softwood.
Continued development in optimization and automation will further automate processes inside of mills, allowing for fewer operators.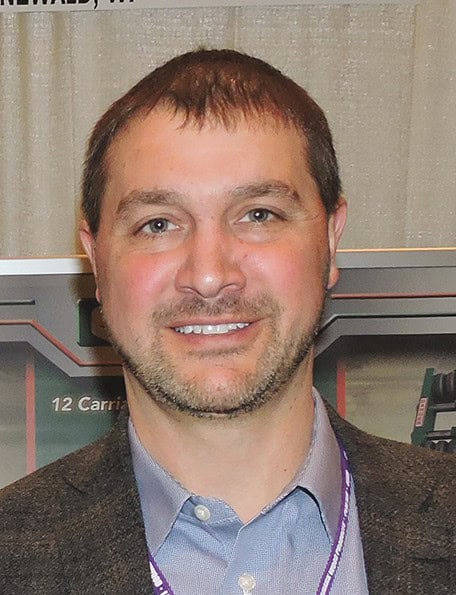 Paul Cleereman, Cleereman Industries and Cleereman Controls Newald, WI
Cleereman Industries and Cleereman Controls works with both Hardwood and softwood mills.
The trend in our industry is still focused on optimization and getting the most yield out of a log or board. The next issue is labor and trying to find help.
Most capital projects are focused on optimization or replacing hard-to-find employees by automating or improving work areas to make jobs less strenuous on employees. We expect this trend to continue in 2023 as well.
With the supply chain issues, companies that maintained a good inventory of parts benefitted from having these parts on hand for customer service and will continue to benefit from this practice as their customers know they have customer service and support from their equipment manufacturer. Cleereman Industries and Cleereman Controls have both been trying to keep everything in stock for our customers.
With the softening of the lumber markets, we anticipate that big mill projects will slow down, and mills will focus on critical projects over the larger capital investment projects. With this in mind Cleereman Industries offers a cost-effective hydrostatic retrofit kit to replace older or obsolete, worn-out electric carriage drives. We are finding that a lot of the older electric drivers are at the end of their lifespan and mills have a hard time servicing the electric drives. A lot of mills are getting away from using electric drives and are instead replacing them with our hydrostatic carriage drives. Our retrofit package can be installed over a weekend, and we stock all parts on the shelf. This comes with an easy-to-program electric controls package and electric joystick. Cleereman Controls offers the latest in controls options from proportional set-shaft to 3-D scanning controls on carriage lines along with edger and debarker lines.
Cleereman Controls uses the latest JoeScan heads with their optimization packages on Cleereman carriages and edgers. The new generation of scan heads provides an even better definition of the log or board they are scanning, helping the system achieve better yield or recovery. The new version of JoeScan heads is also a lot faster recovering the data for faster scans on both our carriage and edger lines.
Cleereman Industries and Cleereman Controls can offer a complete grade Hardwood or softwood mill. We offer everything from ground-up new mills to single-piece equipment or controls replacement. These services include onsite visits with a design engineer and everything from concrete drawings showing placement of steel embedments and electrical conduit runs. We also work with building contractors on sizing the correct building for new equipment. We have an in-house engineering department to handle all our customers' needs when building a new mill or upgrading a current mill. Our engineering department provides a complete set of layout drawings. We also offer everything from sub-structure to electrical cabinets for all our equipment, which saves the mill owners a lot of time and money when building a new sawmill. Most mill owners like the idea of us handling everything from the debarker through the trimmer and everything in-between. It makes their job a lot easier knowing everything is looked after and taken care of. Not a lot of companies offer an actual turnkey solution like Cleereman can provide. This makes us different from a lot of our competitors.
I think the trend will continue to focus on ways to improve efficiencies in sawmills. With no end in sight on the labor shortage, manufacturers will be focusing on improving ways to reduce labor with automation of their equipment and making their equipment more user friendly.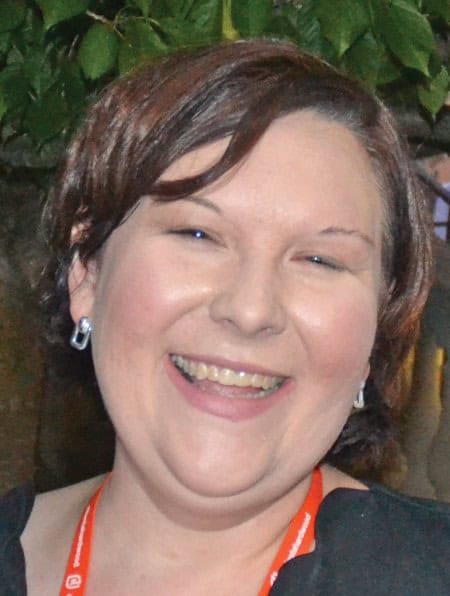 Frances Cooper, CEO Cooper Machine Company Inc. Wadley, GA
Our company works with both Hardwood and softwood.
We expect the trend of labor reduction to continue into 2023 as it did in 2022. We also are seeing a trend for mills that need equipment for smaller logs. We are busier than we have ever been, yet parts that we have typically gotten easily have been delayed, especially electric and hydraulic parts. Importing/exporting is also more challenging due to the freight delays due to lack of trucks and drivers, but mainly more costly. We are also seeing labor has had inflationary pressures and is going up, especially for competent help.
Cooper Machine has developed a new lumber sorter that is more affordable for smaller/midsize mills that cannot find labor to stack lumber. This system includes an unscrambler that feeds the lumber through a scanner and into the sorting system. The sorting system itself comes as modular units with electric drives, kickers that kick the lumber into either left or right through a tipple into the bin. This system is on the ground for ease of installation and maintenance. The lumber sorter is available with a lumber grader.
Here at Cooper Machine, we offer our customers optimization to get a better yield. Cooper Machine is rolling out an updated ultrasonic board and eye that will work for our equipment, as well as others. We are also developing an updated controls system to be rolled out in 2023.
Cooper Machine is best known for our quality Scraggs. These are good for both Hardwood and softwood customers and have different options to assist in making pallet boards, chips, lumber, cants, mats and crossties. Whether it be for small or large logs, we have options. We also build edgers and gangs as well as merchandising systems and sorting systems for both the Hardwood and softwood industries. We have a new version of our pole/post merchandiser/sorter system for softwood mills that is more high production, which merchandises up to six tree-length logs per minute and sorts 24 posts/poles a minute.
A popular question we hear these days is how many people does it take to operate a particular machine/mill? This is why we have developed a pallet mill that only takes six people to run the line. We also have an option for midsize softwood customers that want to chip the slabs and have a finished cant with just one operator to run the Sharp Chain and gang line. And of course, sorting lines are popular to save manpower and workers comp claims from stacking cants, ties and lumber.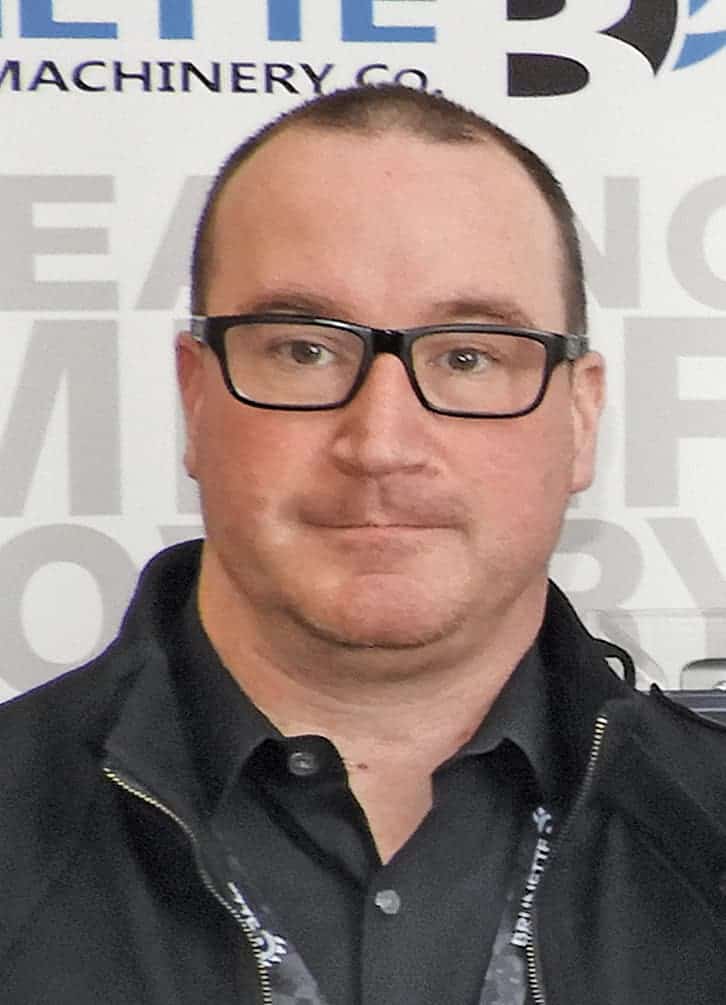 Kirk Forbes Brunette Machinery Co. Inc. Surrey, BC
We work with both Hardwood and softwood. Our wood processing machines can be configured to handle various materials, including Hardwood, softwood, and wastewood.
We saw a jump in sawmill upgrades and an increase in maintenance services of existing machinery in 2022. In 2023, we expect to see a greater demand for wood processing equipment for use in the bioenergy/biomass sector.
While supply chain issues, transportation costs and a diminishing labor force have been challenging, we have worked around those concerns by diversifying our transportation providers, widening our vendor pool, increasing inventory, securing long-term purchase agreements, and seeking out contemporary avenues of recruiting new team members.
With the global biomass power market poised to grow at an exponential rate throughout the next eight years, we expect a heightened interest in products such as our Brunette BioSizer SmartVIBE, and Whole Log Chipper as demand for wood pellets and other biomass materials see an increase worldwide.
Products such as our Optical Belt Scale with Bluetooth handsets have given mills the power of accurate data. This scanner has a 99.8 percent accuracy reading, so mills will be able to definitively measure chips and hog fuel for improved returns.
Advanced computer programming and software applications that are aimed at automating and streamlining wood processing plants are becoming more important in the industry for maximizing profits and improving the execution of maintenance work as well as minimizing the effects of labor shortages.
We are exploring new ways of implementing modern technology to complement our machinery such as AR (augmented reality) software to provide real-time 3D assistance in performing maintenance tasks and training. Other innovative trends that are making inroads in the industry in both the Hardwood and softwood sectors are advances in wireless PLC controls that remotely attach to systems for remote monitoring, troubleshooting and upgrades.
Brunette Machinery specializes in wood processing and material handling systems for the sawmill and biomass industries. Our machines can be configured for either Hardwood or softwood. Our experienced technicians provide on-site service for our machines, and we offer machine repairs in our facility in Prince George, BC.
As automation technology advances, the need for some people onsite in sawmills and machine shops will be reduced. With the implementation of AI and automated systems, the industries' labor requirements will see a shift to workers who can complement this automation including remote operators, IT personnel, as well as machinists, advanced welders, and other technicians who can maintain facility machines.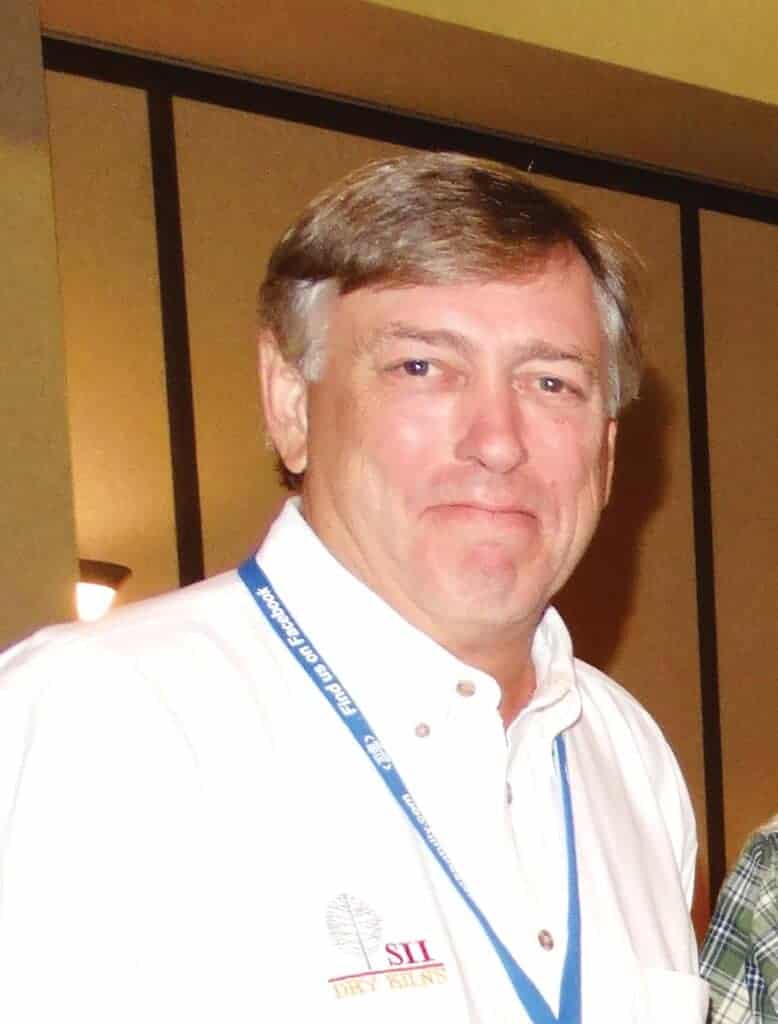 Dan Mathews, A.I.A., President SII Dry Kilns Lexington, NC
We provide equipment for both Hardwood and softwood.
Hardwood companies – In the southern states we have seen Hardwood mills purchasing equipment for drying yellow pine and/or utilizing Hardwood kilns for drying pine. In northern states we have seen many projects that are expanding production of existing facilities and the replacement of antiquated kilns with modern energy efficient kilns. As the cost of energy rises in the future, many companies will find that running older equipment with poor energy efficiency will become too costly to operate. Another trend that has been seen is that more and more customers are wanting kilns that have extra airflow, heat and venting to have more flexibility for faster drying Hardwoods or as mentioned above in some cases, softwoods.
Softwood Companies – We continue to see strong sales in softwood kilns, Dual Path Kilns, adding extensions to existing kilns to modify them to Dual Path and Batch Kilns. Additionally, we have seen a larger interest in pole and post kilns as well.
Pallet kiln sales in 2022 were very strong because of the ever-increasing demand for dried pallets.
In 2023, we expect to see much of the same. However, with so many material delays in the supply chain, labor shortages, and overseas shipping issues, it would be surprising to see capital equipment purchases continue at the same rate as 2022. Many equipment suppliers are already quoting deliveries into 2024 and most Hardwood providers will not be willing to wait that long given the market volatility. We have been fortunate to have gotten through most of 2022 without major material or labor shortages; however, electronic components are beginning to impact our ability to complete some orders.
For Walnut producers, we have a new line of "fully welded" stainless steel steamers available in both track and package loaded models. The major benefits to the customer are the following: 1) ability to steam without using steam "spray" versus a closed loop steam system that boils a pool of water contained in a "vat" and returns all condensate to the boiler and 2) the fully welded interior keeps the "Walnut juice" inside the unit and avoids leaking out into the ground or storm water sewer. Note: For every hour that 2" spray valve is open at 15 psi, approximately 320 gallons of water are released into the steamer. The steam that is not absorbed by the wood must go somewhere. Our systems are designed to keep that water inside the chamber and reuse the water for boiling, which improves color.
For producers who are frustrated with high fuel costs, we offer our SII-HX heat exchanger for new or retrofit projects. These units can save up to 70 percent of the latent heat that is exhausted while moving all the moist air out of the kiln. These units are designed specifically for Hardwood kilns and are compatible with other kiln manufacturers' controls.
The SII Computerized Control System provides you with the tools for real-time kiln management utilizing in-kiln moisture measurement with "Sample Watch," our integrated weight-based platforms and/or moisture probes. "Utility Watch" as a part of your control system is a powerful tool to help you manage your energy load when approaching "peak load," thereby reducing your electrical costs. Operating in the background, the SII "Steam Management" system allows you to prioritize the steam load for your kilns which, in turn, allows you to maximize your drying operations when available steam drops below your normal operating range. These systems, combined with the support offered by SII Dry Kilns, provide you with the tools you need to improve your profitability and maximize product quality.
For over 50 years we have put our experience to work for you – our customers – while building long-term relationships. SII is a full-service dry kiln manufacturer offering custom designed kilns. Hardwood – package kilns, track kilns, large capacity center fan wall package kilns, cross flow and down-draft pre-dryers, fan sheds, Walnut steamers, pallet, and firewood kilns. Softwood – Dual Path kilns and Batch track kilns. Our controls department is second to none, period. The design of our control systems is based on the idea that our customers know what is best for their operation rather than assuming that we know your lumber better than you do. We utilize Wonderware software to create the "KILN DRY" system that is recognized throughout the industry. From manual to semi-automatic to fully automatic control options, we provide them all.
We also offer Thermal Modification and vacuum kilns through WDE Maspell, the world's most respected name in vacuum drying. As thermally modified wood becomes more popular, the opportunities for many of our customers to produce product for a fraction of the cost that custom treaters charge becomes a considerable improvement in their bottom line.
We are selling and quoting more of our Sample Watch & Moisture Probe control systems primarily because of the automation that it provides for the kiln operators. By providing real time monitoring based either by samples or probes it allows the kiln operators a much quicker glimpse at kiln charge MC percentage vs. selecting and weighting a large volume of samples.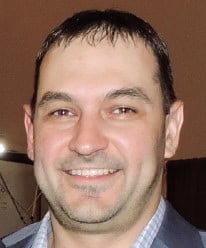 Jeremy Mortl, Messersmith Manufacturing Inc. Bark River, MI
2022 has been very successful for Messersmith and we look forward to continuing that success in 2023. We service both the Hardwood and softwood industries.
Our customers use their wood by-product to burn in our boiler systems for heating their facilities, drying lumber in dry kilns, and generating power. As fossil fuel prices continue to rise, our wood boiler system business has been very good as mills look for ways to cut their fuel bills for long term sustainability. We also do controls upgrades on existing wood boiler systems which saw a big increase this year.
We have a new combustion system design that allows us to burn a wider variety of fuels and increase the boiler system efficiency while reducing emissions.
In addition to our new combustion system design, we are also now manufacturing our own boiler emissions control equipment and offer a wider range of material handling conveyors, so our boiler systems are adaptable to a much wider range of fuel sources.
We have been able to retain our employees and hire a few new employees as needed but it has taken much longer to find new employees than in the past.
Increased cost and longer lead times to book trucks has been our experience when it comes to transportation. There are much fewer drivers available.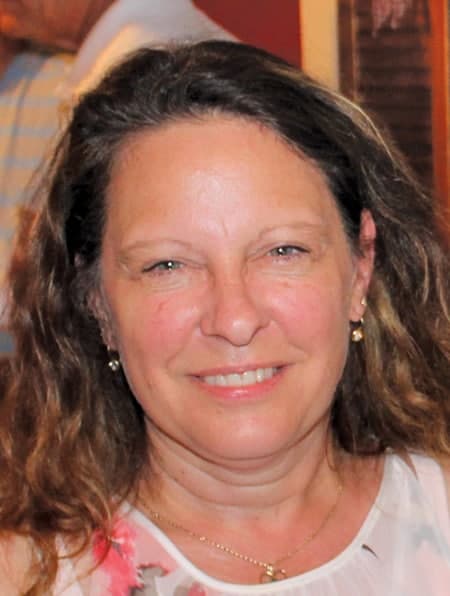 Stacy Mellott, Mellott Manufacturing Co., Inc. Mercersburg, PA
We provide equipment for both the Hardwood and softwood industries. Equipment sales have been strong for 2022 and 2023, and sales look as though they will be the same in 2024. With a backlog of orders going into 2024 and with the higher interest rates, we anticipate that new sales will moderate. We also expect inquiries to continue as customers plan further ahead for future projects.
There are possible long term effects related to inflation and high transportation costs. We have found similar challenges in sourcing as have most manufacturers, particularly with hydraulic and electronic components. Availability and lead times have been a major factor in meeting customer deliveries, which seem to be improving overall, but can still be unpredictable.
As a result of supply chain issues along with increased costs, we are seeing some common items obsoleted and several major suppliers restructuring and even merging. In the near future, purchasing power may be limited but will level out over the next year as supply catches up with demand. The costs related to transportation are now a major factor compared to the once common freight allowed terms.
Industrial labor is in high demand in our area and with the strong economy it is challenging to find and retain qualified people to fill positions, both labor and middle management type positions.
Mellott Manufacturing has added a linebar attachment for cutting grade lumber to our product line.
Since 1965, Mellott Manufacturing has been designing and manufacturing quality log and lumber handling equipment for primarily Hardwood but will also work for softwood applications. Mellott has an onsite engineering and design team available to provide solutions for your next project and will consult and work with you to present the best options for your application. We offer material handling integration with new and existing systems. Mellott offers a full line of log and lumber handling equipment along with debarkers, log flare butt reducers, bandsaws, linebars, drop saw trimmers, tilt hoists, crane mat drilling and a full line of tie handling equipment (sorting, stacking, dapping, end plating).
Mellott uses the latest "off the shelf" control components from Rockwell Automation and Delta Computer Systems. Mellot also offers machine troubleshooting and logic changes that are provided remotely via the internet.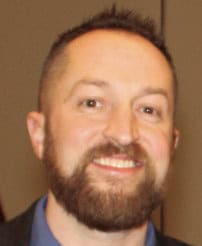 Jeremy Howard, Nyle Dry Kilns Brewer, ME
2022 has been a very successful year. The challenges that might present in 2023 will be similar to those in 2022; however, we believe there is a light at the end of the tunnel and will continue developing ways to create savings for our customers. We service both the Hardwood and softwood industries.
Our customers fall under the category of sawmill owners and operators. Besides our normal product line of dry kilns this year, we have had a large uptick in our kiln optimizing equipment.
This year, on top of our regular equipment offering, we introduced new equipment directed at kiln optimization. Our heat recover vents (HRVs) utilize the heat being vented from the kiln to warm the incoming air minimizing the need for "reheating," reducing the overall fuel consumption, and increasing overall production quality. We have seen our customers save up to 80 percent of lost heat when installing an HRV.
Our new NDK2.0R control boasts the same features we have had in our controls for years while adding advanced features such as an electronic wet-bulb/dry-bulb, mobile/web-based controls, and an advanced scheduling system. The "R" in the controls name stands for "retrofit," meaning their control will integrate with any existing kiln, not just those manufactured by us. These additions join Nyle's wide range of equipment offering dry kilns, including dehumidification, indirect-gas-fired, steam and hot water, as well as a full line of heat treating systems for pallets and firewood.
We believe that sawmills will be turning to their equipment suppliers looking for ways to make their equipment smarter and more capable which will help combat some labor shortages in the short term. This equipment will also create more higher skilled jobs once these updates translate into higher production capabilities as well.
We have doubled our manufacturing facility this year and are in the process of building a new test drying chamber to develop drying schedules more accurately for the industry.
Having enough employees is not a problem for us; in fact, we have increased our staff this year by about 20 percent and are still hiring!
We have been experiencing a rate increase in shipping almost daily for the last six months. We are hopeful that this is something that will change in the near future, but it has been a challenge.
Supply chain issues have plagued us all, but we are doing our best to work through the difficulties that we are facing to adapt and overcome where we can. Communication is a key tool in turning a bad situation into something manageable. Unfortunately, 2023 will be no exception.
We are constantly moving forward, developing new technologies and equipment to help our customers continue to grow. I think we will continue to see innovative equipment that is tied in with intelligent data driven decision making, which will allow our workforces to be more productive.